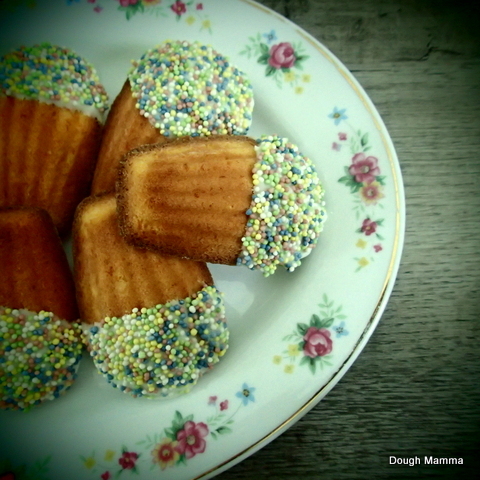 I grew up celebrating Easter with my mom's side of the family, the sweet southern side if you will. Every year we would gather at my grandmother's or my aunt's home, to feast on amazing home cooked food. Honey baked ham, biscuits, quiche, iced tea, mimosas and a variety of desserts were often center stage at our Easter brunch. The whimsically decorated confections and candies colored in spring pastels were always considered the highlight of the meal. The place settings and flowers were always beautiful, reminiscent of a tea party and one couldn't help but get into the spirit of Easter. For some reason, I have no memories of the men in our family being present at these lovely gatherings. Perhaps they were hiding in a corner somewhere until mealtime was announced.
I searched the Internet for Easter dessert inspiration. I was on the hunt for something delicate, feminine and sophisticated. Finally, I landed on the French madeleine cookie. Their beautiful shell shape and cake like texture was intriguing. Having never made these cookies before, despite having the cake mold pans for years, I was a bit intimidated.
Madeleine cookies have a reputation for being difficult to make. In fact, I never even made them in culinary school. This may have been our instructor's decision due more to our inabilities than to the cookie itself. Our class was notorious for making many mistakes. Luckily, one of the pearls of wisdom we learned in baking class was, almost any dessert faux pas can be turned into bread pudding. Needless to say, our class hit an all time record for bread pudding sales at our cafeteria.
Though this recipe does require at least one hour of time, not to mention cleanup, I found the process quite approachable. Madeleine cookies are actually more cake like than they are cookie. They rely on whipped egg whites for their volume, making mixing and folding challenging, as you don't want to overdo it. If you over mix, they will come out tough, almost dry tasting. Finding the correct finesse to properly incorporate the ingredients while still maintaining the volume of the egg whites, may require a couple of attempts; but hang in there as these cookies are well worth the effort.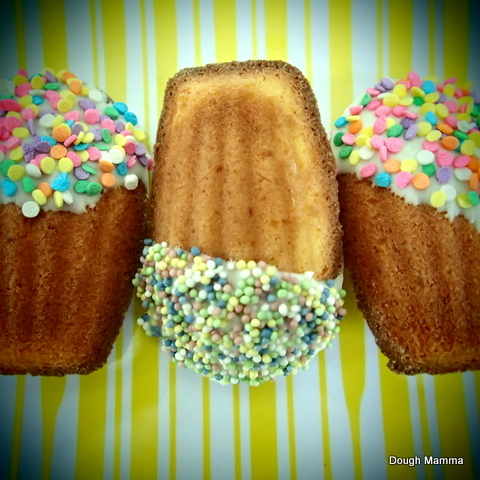 Title: Easter Madeleine Cookies
Author: Adapted from Julia Childs
Prep Time: 45 mins
Cook TIme: 10 mins
Total TIme: 55 mins
Yield: 24 cookies
Notes: I made a few adaptations to the marvelous Mrs. Child's recipe. I made a couple of errors as well. For one, I believe I filled my cookie molds too high. Filling your molds 3/4 of the way should be sufficient and still yield beautifully robust cookies. Secondly, I should have reduced the temperature to 325-350 degrees since my mold pans are on the darker side, contributing to faster cooking. Your cookies should be a nice light golden color, they should not be as dark as mine. I used both organic and non organic sprinkles. You can find organic pastel colored sprinkles at Whole Foods. I also used choco maker vanilla, which melts in your microwave. If you prefer a more organic version of white chocolate, simply melt in a double broiler or in your microwave and stir. Reheat as necessary.
Ingredients
3 Tbsp of unsalted brown butter melted (you can use regular butter too)
4 1/2 oz (1 1/4 cups) of sifted cake flour plus 1 Tbsp of cake flour
2/3 cup sugar divided
2 large eggs room temperature
4 large egg yolks, room temperature
1 tsp of Grand Marnier
3 Tbsp of orange zest
1/4 tsp of almond extract
8-16oz of melted white chocolate (8 oz if dipped halfway, 16 oz if covered)
1/4-1/2 cup sprinkles
Instructions
Set your oven to 350 degrees. Grease your madeleine pans with non-stick spray. You can also make your own organic cake release by mixing: 1 cup of organic flour+1 cup of organic canola oil+1 cup of shortening (spectrum). This will last in your refrigerator almost indefinitely.
To make brown butter, simply dice your butter and place into a lightly colored saute pan. Heat over medium. Once your butter starts to foam, start to swirl occasionally while keeping a close eye on it. As soon as you start to smell a nutty aroma and the color turns a light golden/amber hue, remove from heat. It can take up to 12 minutes to make brown butter, don't get impatient and crank your heat up, it will happen on medium heat - I promise. Make a big batch of brown butter if preferred and store the rest in the freezer. Take your 3 Tbsp of brown butter, place in a bowl and set aside.
Sift your flour, 1 Tbsp of sugar and salt. Place in a separate bowl.
Put the eggs, yolks and 1 Tbsp of sugar in your stand mixer with whisk attached. Mix until mixture turns white and the consistency of medium stiff whipped cream. This should take about 8 minutes.

When you lift up your whisk it should leave a ribbon on top that sits for at least 10 seconds. If the ribbon immediately falls through the batter, whip for a few more minutes and test again. Add your alcohol, extract and zest during the last 3 minutes of whipping.
Remove the bowl from the mixer and gently fold in 1/3 of the flour mixture using a rubber spatula. Rotate the bowl as you fold in flour, stop once combined. Do not over mix. Add the remainder of the flour in 3rds, using the same folding method.
Carefully spoon 1 cup of cake mixture into the bowl with the butter and gingerly fold together until combined. Now take this mixture and gently fold it back into the rest of the cake mixture until combined.
Spoon your batter into a pastry bag fitted with a round tip. Fill the molds about 3/4 of the way full. Cook for about 10 minutes. Take a look around the 8 minute mark just to make sure they aren't getting darker than intended. When they are ready, they should be a lovely yellow golden hue and should spring back nicely when touched.
Remove from oven and allow to rest in the pan for 2 minutes before transferring them to a wire rack.
Once they have cooled completely you can begin the dipping process. Set aside two cookie sheets covered with parchment paper. Place your sprinkles in a wide bowl. Simply heat your chocolate until a fluid consistency is achieved. Taking one cookie at a time, dip your madeleines into the chocolate, shaking excess off. Holding your cookie over the bowl with sprinkles, spoon sprinkles onto your cookie. Lay your decorated cookies on the parchment paper.
Allow your cookies to dry completely before placing in an airtight container. Madeleines are best eaten the day they are made, but can still be tasty for up to 2 days if stored in an airtight container and kept in the refrigerator. Remember to allow the cookies to come to room temperature before serving, otherwise their full flavor is likely to be masked by the cold texture.