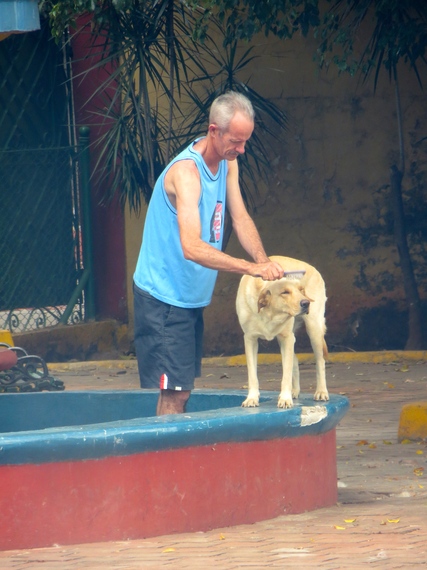 We were bird watching in Cuba, but I kept noticing stray dogs. At a fountain in Ciego de Avila, the elderly man could be seen bathing and grooming his dog. It was just one brief observation that resonated with me. Universal unconditional dog love amidst free-range communal dogs. The people all appeared to be healthy and cared for, whether thin elderly people standing in line for their monthly stipend, or at the public markets or government stores.
Private enterprise has come to Cuba, and one could see garlic and peppers being sold from bicycles and cold drinks and bananas from small neighborhood kiosks. Our group was able to eat in the small, privately-owned and run paradores, including an organic one in Vinales overlooking the hauntingly-beautiful mountains of Pinar del Rio.
We heard that no one goes to Cuba for the food, but I gained weight. It was difficult turning away exquisite flans and plates of grilled lobster, black beans and rice. We could feel the anticipation of Cuba opening again to America and the loss of innocence of generations that have no remembrance of the Cuban revolution, and the flight and abandonment of property and livelihood of those who left for Miami in the middle of the night with only what could be carried. Many of those who left are buried in Florida.
Cuba reimagined will be the responsibility of the Cuban youth at home and abroad. Reconciliation and reimbursement will take time and commitment, but will not be externally dictated or timed. Forgiveness will include demands for justice and righting past wrongs, but will not see a return to 1950s Cuba, rather a 21st century Cuba. Eisenhower America is not Obama America.
And, yes, there is a John Lennon Park in Havana named for the ex-Beatle and the musical humanitarian that asked us to imagine a world living in peace. On our trip, laughter became communion.
Jimmy Carter came to Havana in his capacity as a scientist and a peacemaker. He also went bird watching in the Zapata peninsula adjacent to the Bay of Pigs. We honor others by seeing what they see, understanding what they value, understanding what they hold sacred.
Many Cubans secretly may revere Kennedy because they did not want to be just a rocket-launching site for the Russians. When the Soviet Union collapsed in the early '90s, so did many infrastructure projects, like an unbuilt subway in Havana. Cuba instituted a tourism initiative to survive and bring in vital foreign income. There is also a feeling that when American travel restrictions are finally lifted, all of this will change.
Clearly, there are those individuals and companies who have been making plans to return to Cuba for the past 56 years. General Motors, Ford and Chrysler could film product longevity commercials here without commentary. Just like Key West before Calvin Klein and cruise ships, there is so much opportunity. Let it be deliberate and wise.
When President Obama and Raul Castro shake hands this week in Panama, massive reconciliation efforts will publicly be able to continue behind years of family and group cultural travel.
There has been a massive government investment in restoring government buildings and hotels, and building new hotels and expanding the capacity of the harbor at Mariel. Buildings are being scrubbed. Old military airstrips are rumored to be part of the expansion of travel facilities to welcome future visitors. The Cuban national highway, which we traveled on from Playa Larga to Havana, is big enough to land planes on, and clearly was built for military use as well.
Every form of passage can be seen on the highway -- bicycles, horse-drawn carriages, motorcycles, trucks, buses and new rental cars, classic American cars, pedestrians, farmers moving cows from one side of the highway to the other. And, no guard rails, except a new one observed on a mountain road. What was built for one purpose can be adapted to a new purpose.
Everyone may not have a lot, but it appears that they have something. If nothing else, a belief that change is coming, and the need for economic investment -- not because the government has failed, but because the revolution succeeded.
The Las Terrazas school has 10 computers for several hundred students, but extraordinary social involvement by parents and teachers engaged in the education of the next generation of leaders as well as musicians, poets and artists valued as highly as science, literacy and mathematics. What a contrast between the priority of public health, education and the eradication of illiteracy with the reality that so many people left on pieces of wood, makeshift rafts and hoped for a better life in America. Let us remember those who left and died, as well as those who stayed.
Airports will have to be expanded and new ones are built. There are only two gates for charter flights to and from Havana and they handle an extraordinary volume of flights with manageable waiting times even on Easter weekend. It is possible to be bumped from an overbooked charter flight; however, it appears that there is a constant air shuttle between Miami and Havana, a 26-minute flight.
Every foreign tourist expects the possibility that they might be in Cuba when Fidel Castro dies. But, Fidel showed up last Monday and greeted a group of Venezuelan tourists. Calculated and symbolic, in solidarity with Venezuela, as well as background noise for the OAS summit; it seemed to be a robust "I'm not dead, yet."
In the eyes of this retired chaplain, I have hope. I kept hearing, in my mind, Gloria Estefan singing "Coming Out of the Dark," as well as full orchestras playing at the Buena Vista Social Club and the Tropicana Nightclub. Remember real brass and percussion? For President Obama's normalization visit, will he bring Beyonce, Pitbull, Prince and Garth Brooks? After all, the only American act to appear in recent years has been Kool and the Gang. They killed it! Without Internet, pregnant women abound.
Obama will visit a country that is still growing sugarcane and tobacco, making cigars and rum, and needs America, too. Not just our billboards and neon, but also our willingness to learn from our Cuban hosts. There are five bio reserves and world heritage sites that are spectacular, and, a strong sense of family and community beyond the wide-screen televisions brought home by Cuban exiles. Environmental assessments are already being done to provide corridors for endangered avian and other species to delay extinction. There is music and national pride and Santeria and Catholic churches. There is autumn and springtime present in Cuba today.