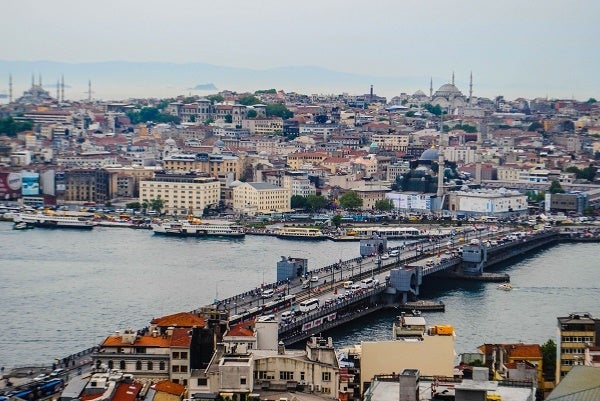 From the Bosphorus shores to the Balkans, Eastern Europe is full of hidden gems for travelers seeking new adventures. Home to numerous historical sites, natural wonders, and delicious cuisine, it's no wonder that tourism to this geographically and culturally diverse region is on the rise. If your next trip takes you to the coasts of Croatia or the rolling hills of Kazakhstan, read these twelve tips for a safe and culturally-savvy voyage.
It's a universal travel tip, so to reiterate…
1. Respect: We all have our own cultural conditioning. Wherever we choose to travel or live in this world, one thing is universally understood: respect. It is important to respect the various cultures and religions of Eastern Europe.
2. Neuroscience: Neuroscience has taught us that our brain determines caution, trust or danger about the stranger we just met – 9 seconds before we realize a first impression was made. We do this based on the stranger's appearance and behavior. Clothing and wardrobe selection impact how you will be received and treated.
3. Modesty: Men may wear shirts with collars, and golf-shirts are fine. Tank-tops are inappropriate. Women cover décolleté, arms and legs by wearing lightweight pants or long skirts, especially in eastern Kazakhstan, which is predominantly Muslim. Avoid shorts, sheer and sleeveless tops that may offend others. Pack neutral colored clothing in white, tan, navy, grey, and black.
4. Pick-Pocket Protection: Don't attract petty thieves by wearing clothing that announces "I'm a tourist & a target." Leave bright colored clothes, neon sneakers, flashy jewelry, expensive watches, diamond earrings, and important valuables at home. In Muslim countries such as Kazakhstan, cover your head with a scarf or hijab when touring mosques to show respect for the culture.
5. From Goulash to Banitsa: Eastern Europe has delicious food to explore and taste every hot dish. Avoid leafy greens and vegetables because they may be unwashed, or washed with unfiltered water. Substitute another side dish, or choose a different option for your meal.
6. Bottled Water: Don't believe it when they say it's safe to drink the tap water; drink only bottled water with an unbroken seal. Avoid ice. Hotels, restaurants and bars use their own water to make ice, and rarely buy packaged filtered ice. Ask before you order a soft drink or adult beverage, otherwise skip the ice!
7. Health & Medical: The world is a different place today, and traveling to certain areas of the globe requires knowledge, precautions, and immunization. Allow plenty of time to get a physical exam and schedule an appointment with a travel clinic to assess your need for inoculations for the destination countries. Resources to check include: the World Health Organization International Travel and Health Interactive Map and the CDC Travel Health Notices. Additionally, bring U.S. pharmacy verification of prescription medications (if any), for compliance with strict international law requiring proof.
8. Travel Documents: Make copies of these important travel documents: front & VISA page of passport, driver's license, ATM/debit card, credit cards, birth certificate, travel & medical evacuation insurance cards. Be sure to leave a copy with a trusted business partner or family member, for use in an emergency. Safely stow away copies in your carry-on baggage. International travel is vitally dependent on your passport. The time for obtaining a replacement passport may range from excruciatingly long to spectacularly short.
9. Finances: Have money or access to funds at all times. First, separate your cash and credit cards. Protect yourself by safekeeping your cash and credit cards in different locations in the unfortunate event your purse or wallet is stolen. Before departure, contact credit card companies to inform them of your destinations and dates. You don't want to exceed your limit nor have your accounts frozen.
10. Communicate: Wherever you go, let others know. Worst case scenario: lost, without a map, GPS in a foreign language, no one knows your location, and your battery is dying. It's terrifying. Prevent it. Share your itinerary with friends and family, and keep constant contact when possible. In an era of social media, make use of it and post photos. It's better to share your cuisine images than to hear nothing at all.
11. Heed Travel Warnings: Read the international news on-line daily and check the U.S. Travel Warnings. Know as much as possible about the country where you are traveling. Enroll in the Smart Traveler Enrollment Program to receive travel and security updates. It's common sense to avoid shortcuts, keep to the main roads and sidewalks, and stay in the public areas.
12. Register at the Embassy: Before departure, go online and contact the U.S. embassy in the destination country. Be sure that you, your family members, and your company are registered. Once you have an international chip in your phone, add emergency contact info for each destination. Travel.State.Gov has a comprehensive list of ambulance, fire, and police numbers for all nations.
Sharon Schweitzer, J.D., is a cross-cultural trainer, modern manners expert, and the founder of Protocol & Etiquette Worldwide. In addition to her accreditation in intercultural management from the HOFSTEDE centre, she serves as a Chinese Ceremonial Dining Etiquette Specialist in the documentary series Confucius was a Foodie, on Nat Geo People. She is the resident etiquette expert on two popular lifestyle shows: ABC Tampa Bay's Morning Blend and CBS Austin's We Are Austin. She is regularly quoted by BBC Capital, Investor's Business Daily, Fortune, and the National Business Journals. Her Amazon #1 Best Selling book in International Business, Access to Asia: Your Multicultural Business Guide, now in its third printing, was named to Kirkus Reviews' Best Books of 2015. She's a winner of the British Airways International Trade Award at the 2016 Greater Austin Business Awards.
Related
Popular in the Community