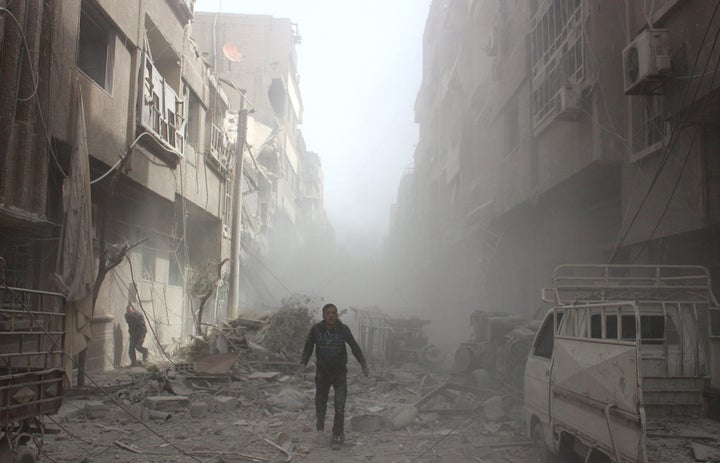 An aid worker in the besieged Syrian region of eastern Ghouta has spoken of the anguish and hopelessness felt by many trapped by airstrikes and unable to escape, saying it is a "wholesale slaughter witnessed by a motionless world."
Ghouta, a region bordering the capital, Damascus, has been targeted by government forces since 2013 as part of the Syrian civil war in an effort to flush out rebel and opposition forces garrisoned in the area. The government launched an operation to retake rebel-held areas of Ghouta in February, ramping up a bombing campaign and blocking medical help and food from entering the region.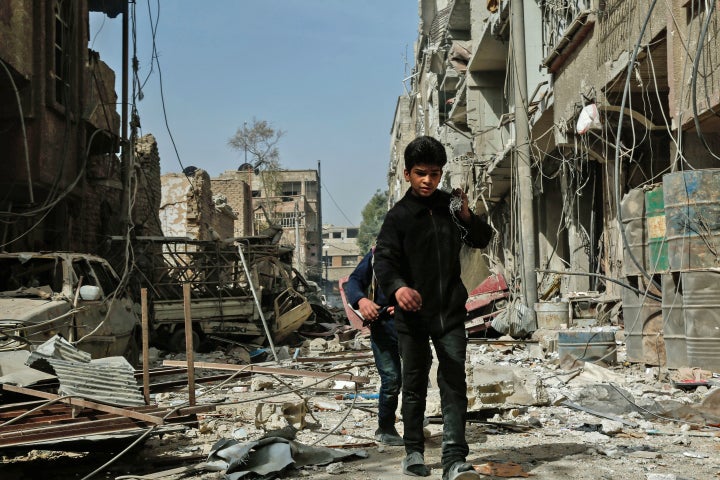 Amnesty International claims more than 500 civilians have been killed in recent months in a "catastrophic humanitarian situation," while thousands more have been injured. The Syrian Network for Human Rights, based in Britain, claimed in a February report that nearly 13,000 people had been killed in the region since 2011. Hospitals, schools and places of worship are among the buildings that have been damaged by bombings.
United Nations Secretary-General António Guterres said last month that the 400,000 people trapped in eastern Ghouta were living "in hell on earth," as the U.N. unanimously voted in support of a 30-day ceasefire in Syria and the lifting of the siege on Ghouta. However, calls for a cease-fire have been ignored ― indeed, reports claimed more than 100 were killed in the week following the resolution.
Abdelkarim Ibrahim, an aid worker partnered with Save the Children, is working in eastern Ghouta to distribute winter kits to civilians. Through a translator, he told HuffPost of the "hysterical panic" experienced by people trapped in the region in the face of "constant airstrikes, barrel bombs and artillery bombardment."
"There has been a devastating deterioration in quality of life for Ghouta's population," he said from Syria.
"The civilians of eastern Ghouta have never witnessed such a battering campaign where ... more than 4,200 airstrikes over the city of eastern Ghouta were launched. A city with a total area of 107 square kilometers [about 41 square miles] and 400,000 inhabitants has been battered by more than 4,200 airstrikes."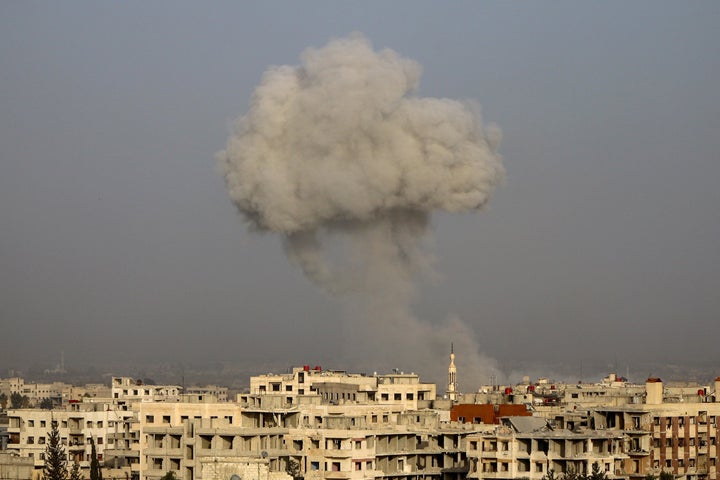 Ibrahim says the cease-fire conditions have effectively been trimmed back to just a two-hour window each day before military action resumes. He said this was not enough time for aid workers to enter and bring medical help or food. Civilians are sheltering from bombs in inadequate, overcrowded and unsanitary basements.
"The internal refugees lack the minimal essentials of human life ― food, medicine and clothes. Currently, all the people of Ghouta live in basements unequipped with the basics needed for living," he said.
"The basements are prisons for the masses ... . Such abject lack of cleanliness and health care facilities, such as water and personal hygiene equipment, have led to the spread of epidemics and other related issues, such as lice among children. The shortage of medicine for people with chronic diseases, such as diabetes and high blood pressure, has led to deaths. People with kidney disease are unable to have lifesaving dialysis sessions in Ghouta.
"There is difficulty in burying dead bodies. The city's graveyards are among the targeted areas by the bombardment, which makes it impossible for people to bury the bodies of the dead. In Douma people had to bury the dead in public parks and in the backyards of houses because it was not possible for them to make it to the city's graveyard."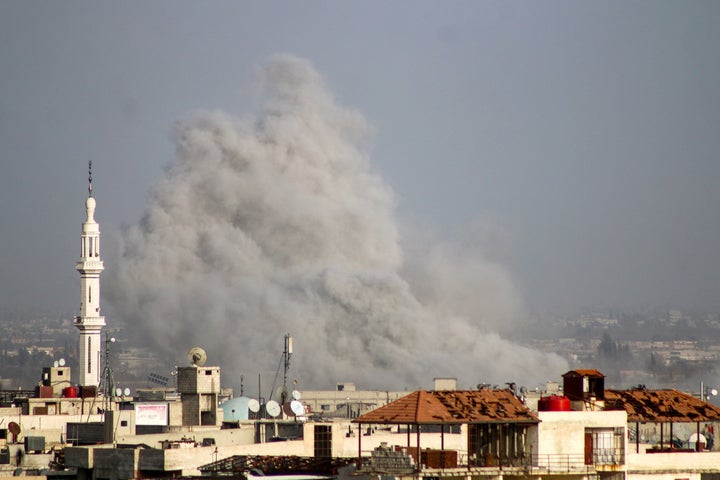 Ibrahim claimed people around the world had ignored the situation in Syria, saying the aid being pledged to, and reaching, eastern Ghouta was "an embarrassment to the world." He claimed assistance reaching those in Ghouta was enough for only 6 percent of the city's population.
"There is a growing inability of local aid agencies to provide aid to civilians. Food and medicine stores have been bombarded, and the work locations of humanitarian organisations have been targeted by attacking forces," he said, adding that food stores and medical facilities had been damaged.
"It is an option for people in other countries of the world to pressure their governments and the human rights organizations into taking a collaborative stand against the mass killing of civilians in Eastern Ghouta. Their success would save hundreds of thousands of people from the wholesale slaughter witnessed by a motionless world.
"They are just like any other people around the world. This is what people outside Ghouta should realize so that they can firmly use their efforts to save them and protect them against injustice and killing."
Popular in the Community