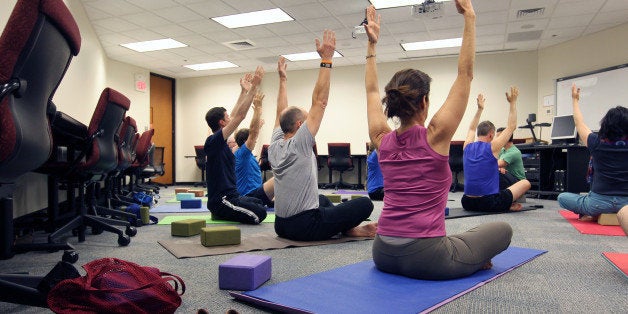 We live in a 24/7 digital world, constantly connected to technology as we're running from one place to another. From an employer standpoint, having employees ever at the ready sounds like an ideal situation; problems can get resolved with the "send" of a text or email. But it may be time for us to stop and think about the implications of this kind of information bombardment for employees.
Employee Wellbeing Month captures the essence of what drives individual success both inside and outside the workplace. Different from "wellness," "well-being" recognizes that all aspects of life are interrelated and, thus, should be treated holistically. Well-being looks at the physical, emotional, psychological, financial, social, and spiritual health of employees' lives.
From an employer's perspective, addressing all of these aspects can help maximize the performance and productivity of the current workforce -- not to mention attract a future workforce. Employee well-being should be a pressing employer concern no matter what the economic climate. Remember that during the economic crisis, the financial component of well-being rose to the top of mind for many individuals. Leading organizations recognized the importance of developing workplace initiatives that would support and sustain employee well-being, morale and productivity during this difficult time of layoffs, cost-cutting and employer-sponsored benefits reductions.
One of the items often overlooked is one's mental and emotional health. Although we continually read in the media how poor mental health takes its toll on individual and families, many employers have failed to address this aspect of well-being. According to the results of a Buck Consultants at Xerox survey report, "Promoting Mental Well-being: Addressing Worker Stress and Psychosocial Risks," Singapore-based employers stand out as being the most supportive at 78%, and the United States is noted as the least supportive at 46%. Despite this ranking, 88% of U.S. employers believe their corporate culture supports the mental well-being of employees.
One thing that organizations have started offering in the workplace to address this component of well-being is mindfulness meditation, which has its roots in Eastern spiritual practices. Dr. Jon Kabat-Zinn, an MIT-trained scientist, has been practicing mindfulness for almost 50 years, and began teaching it in 1979 to people suffering from chronic pain and illness. He developed Mindfulness-Based Stress Reduction (MBSR) at the University of Massachusetts Medical Center, a program that is used in more than 700 hospitals, clinics, and stand-alone programs worldwide. MBSR is helping to bring the practice of mindfulness meditation into mainstream medicine and demonstrating that practicing mindfulness can bring improvements in both physical and psychological symptoms as well as positive changes in health attitudes and behaviors. At this year's World Economic Forum, mindfulness was one of the hottest topics, with multiple sessions not only devoted to the science behind mindfulness, but also how to practice it.
Although mindfulness is a form of meditation, it is unique in that it attempts to bring awareness to your thoughts, physical sensations, and surroundings. The practice is about paying attention to the present without judgment. By focusing on the here and now, many people who practice mindfulness find that they are less likely to get caught up in worries about the future or regrets over the past, and are better able to form deep connections with others. Being mindful makes it easier to enjoy life's pleasures as they occur; helps you become fully engaged in activities; and creates a greater capacity to deal with adverse events (e.g. become more "resilient").
Sounds simple enough, doesn't it? Well, it's not. Think about it. I'll return to my original point and ask: How distracted are we today as we live in this 24/7 digital world? Our lives are filled with distractions, and most of us are on auto-pilot, rarely conscious of what we are doing and where we are going. "Going through the motions" has become the norm. This is probably why there is a growing movement in the United States to train people to appropriately address the stressors of daily life. It is not about avoiding major life decisions, but rather about arriving at a state of mind to more easily discern without the added stress/anxiety. It serves as a primer for sound, rational thinking.
In December, there was a very good piece on "60 Minutes" that addressed the topic. After watching it, I was able to relate to some of the practices demonstrated. Though I was familiar with many of the practices shown in the training, I recall that the first time I went through them, some of the exercises seemed a bit odd and a lot of the "homework" seemed overwhelming and challenging. However, over time, I began to better understand the reasons behind the approaches taken, and began reading more about the science behind it. A year later, when I took a "refresher" course, it resonated a bit better for me, and offered additional ways to address my emotional health.
So how does this tie back to business?
Mindfulness-Based Stress Reduction (MBSR) has started to move into the corporate world, along with yoga and other stress-reducing techniques. The primary business case is that if you are fully present in the moment on the job, you will be more effective in your decision-making and work better with other people. MBSR is offered to employees in organizations like Aetna, Google, General Mills, U.S. Military, Intel, Keurig Green Mountain, Goldman Sachs, Target, and others, often as part of a continuum of well-being offerings. Results have documented everything from lowering health-care costs, relieving stress, improving sleep, reducing chronic pain, and positively addressing depression and anxiety disorders.
Life moves so quickly. We miss the present. I'm sure many of us can relate to those moments when we're in the middle of a conversation with someone, but our minds are elsewhere: Where we need to be, what we need to do, where we need to go next. I sometimes miss the beauty of nature and relationships all around me. I struggle with practicing mindfulness because, well, it takes practice and mindfulness! But it's important to remember that practice allows us to change behavior! Meditation does not need to be 30 or 60 minutes; it can be 10 quality minutes done on a regular basis. Here is an article on what mindful people do differently every day. For me, mindfulness practice is another tool in the toolbox.
As we celebrate Employee Wellbeing Month, of which WorldatWork is a proud supporter, let's remember all of the components of well-being, including sound mental health. Along with a supportive workplace culture, mindfulness meditation, as part of an umbrella of well-being initiatives, has shown positive signs in improving physical and mental health, and enhancing employees' overall wellbeing
Body, mind and spirit. It's all connected! Appreciate and BE in the present moment, and remember to simply BREATHE.
Calling all HuffPost superfans!
Sign up for membership to become a founding member and help shape HuffPost's next chapter