 We're on the hunt for a playful dragon that jumps and jingles, sparkling firecrackers that splash vibrant color against the sky and tiny treasures wrapped in savory, secret packages. The clicks of Mahjong tiles tapping are heard overhead, like busy birds rustling in the trees. It's Chinese New Year and our 52 New Foods adventure has landed us in the heart of San Francisco -- Chinatown.
Are you coming? My kids will lead the way.
New sounds, smells and sights bombard our senses. Filled with the excited but overwhelming feeling encountered when crossing the threshold into a new city, we venture forward into the bustling fresh markets and crowded streets. Bushels of sweet, crunchy Asian pears, baskets of bright Mandarin oranges and bunches of leafy, green cabbage invite us to explore.
Are you hungry? Let's stop for a bite.
Easy Orange Granita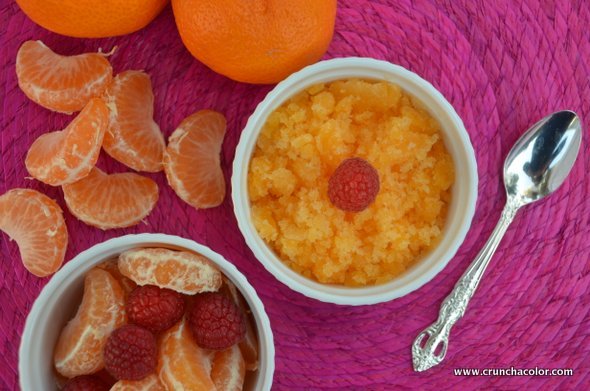 Like sparklers against a dark night sky, mandarin oranges at the local market add bright and cheerful pops of color to dreary winter days and herald the coming of Chinese New Year! Venturing forward into another year of trying new foods, we wanted to prepare our favorite "fast" food in a new way. With a little inspiration from our blended family, a combination of Chinese and Italian roots, we decided to make a classic Italian dish with our simple Asian ingredient: Easy Orange Granita Recipe.
Sesame Green Bean Salad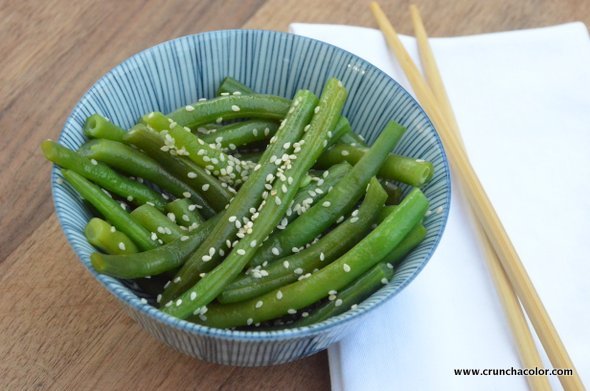 With the same joyful abandon that breaks through when adding sprinkles to cupcakes, my kids will scurry to sprinkle sesame seeds on everything from stir-fried veggies to chicken and rice. Why not add those subtle and nutty sesame seeds to give an Asian twist to one of our weeknight regulars? Sesame Green Bean Salad.
A Simple Bok Choy Recipe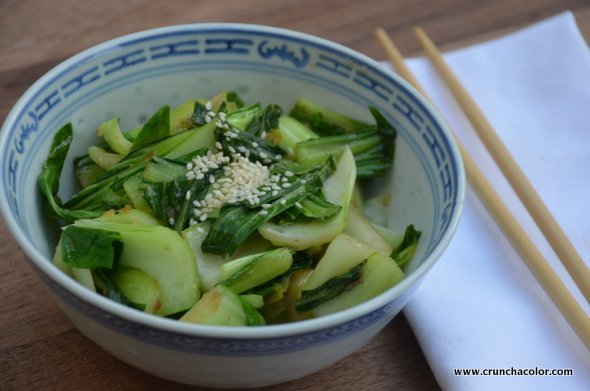 Last year I started to feature bok choy in clay pot rice -- sweet and salty flavors mingling together with a few crispy bites of green was a taste my kids loved. But my goal this week was to get them to enjoy this friendly Asian cabbage in the same way that they love a side of broccoli -- simple and green. The trick was lightly stir-frying the bok choy in freshly minced ginger and garlic, and adding a little touch of salty flavor with Tamari: A Simple Bok Choy Recipe.
Easy Asian Pear Sauce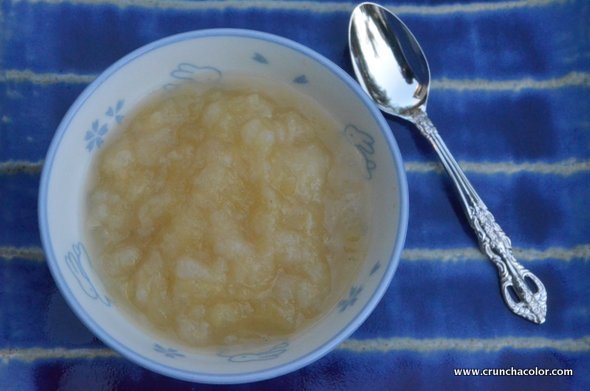 A visit to San Francisco's Chinatown would not be complete without heading home with a bushel full of sweet, crunchy Asian pears. Like a cross between an apple and a pear, they are delicious simply sliced into wedges as a snack. But on this brisk January afternoon, my kids craved a warm treat, so we whipped up a batch of Asian pear sauce with a hint of ginger, and not a drop of refined sugar. An easy and fun twist on homemade applesauce: Easy Asian Pear Sauce.
These easy Asian recipes make it fun to welcome health and happiness for start of the Chinese New Year. I hope you'll enjoy them with us. Gung Hay Fat Choy!
About the author: Jennifer Tyler Lee is a mom of two children and the creator of Crunch a Color® -- award winning nutrition games that make healthy eating fun. Like most parents, she struggled to get her kids to eat healthy, balanced meals, so she decided to make it into a healthy eating game and she's giving back to support non-profit kids' nutrition programs. Winner of the Dr. Toy and Parent Tested, Parent Approved awards, Crunch a Color® and Jennifer's 52 New Foods adventure has been featured by Jamie Oliver's Food Revolution, Rachael Ray's Yum-O!, Laurie David's Family Dinner, Kiwi Magazine, Dr. Greene, Yum Food & Fun For Kids, and Edible Silicon Valley, among many others, as a simple, fun and playful way to get kids to eat healthy and try new foods. Jennifer's passion is making mealtime fun and healthy for busy families. Her easy recipes, quick tips, and new food adventures are regularly featured at Pottery Barn Kids, Jamie Oliver's Food Revolution, The Huffington Post, and on her weekly recipe blog at crunchacolor.com.

Popular in the Community