Even if you don't live in Phoenix, AZ -- the city where the temperature most often climbs to 100 degrees and higher -- you'll quite likely experience a heat wave this summer. When the temps and humidity soar so high that you want to stick your head in the freezer (not recommended), don't fret. Take action!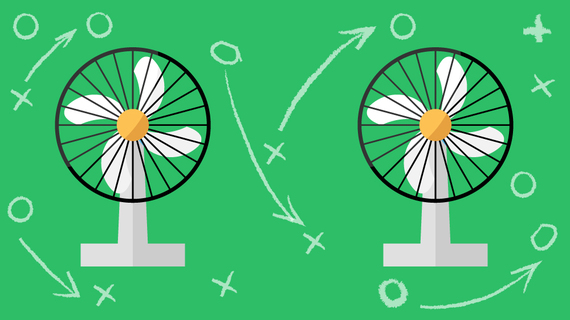 Forget instituting a ban on cooking, hot showers, and hot coffee. Instead, rely on your good sense to create a chill environment. Here are eight tips on how to cool down a room (or an entire apartment) with fans and a little ingenuity.
1. Crack a window at night
It might sound counterintuitive to crack open a window after you've just spent a day dodging heat and humidity, but temperatures tend to cool off in the evenings, so take full advantage! Position a standing or window box fan in front of an open window to bring the cooler air into your space and create a sleep-inducing cross breeze. Ah, white noise.
2. Keep the blinds closed during the day
Much like how you don't want your nosy neighbors peeking in, you don't want sun creeping in and heating up your home either. Close your blinds and curtains to keep some of the daytime heat at bay, or invest in thermal fabric. Have a window box fan? During the day, point it outward to push out warm, still air. This works especially well if you can run a ceiling or standing fan at the same time to circulate the inside air.
3. Ice, ice baby
Fair warning: This may look silly, but it works. Position a table or standing fan behind a shallow bowl of ice, frozen water bottles, or ice packs. Aim the fan at you so you get the ultimate cool breeze -- without the hefty air-conditioning bill. Brilliant, simple, and economical! Bonus: Add a small fan on your nightstand and keep a spray bottle of cold water to mimic this same technique.
4. Consider proper fan logistics
Ceiling fans can be a lifesaver in the summer. To get the most use out of them, make sure they rotate counterclockwise (if viewing from below) and set them to have a maximum downdraft. For a bedroom up to about 175 square feet, opt for a 42- to 48-inch six-blade ceiling fan, while a space up to about 365 square feet can benefit from a 56-inch blade. If your only ceiling fan is in the living room, camp out there to stay as cool as possible. Also, leave the fans on during the day to help speed up the cool-down process in the evenings.
5. Close off parts of your home
Even if you live in the coziest one-bedroom, close off spaces you aren't currently using so your fan doesn't have to work overtime. Kristen Van Dyk of Factory Paint & Decorating suggests leaving the bathroom fan on after a shower "to minimize the amount of warm steam and humidity in your rental unit." Bonus: This has the dual effect on cutting down on mold and paint peeling issues, especially in bathrooms without windows.
6. Use your kitchen
While you'll want to steer clear of the oven on hot days, your stove exhaust fan can actually help cool down a space. Definitely be sure to keep the exhaust fan on during and after using the cooktop, and if the heat is making you feel withered, use the hot weather as an excuse to eat out or dine on fresh (raw) vegetables.
7. Turn off unnecessay electronics
There's no sense in making your fans work overtime when they don't need to, and electronics give off heat when they're on. Power down computers and televisions during the day and turn them on only when you need them. The cooling fan in a computer adds more heat to a room (while keeping the computer cool), so you'll be playing catch-up when you turn on your own fans in the evenings. Use only the lights you need in the evenings and early mornings, and you'll cut down on your electricity bill that way too.
8. Ditch the clip-on fan
Clip-on fans are great for cubicle dwellers but not good at cooling an entire room. Retire those relics (or take them to work)! If you're tight on space, opt for a 12-inch lightweight oscillating tower fan (perfect for a desk or bedside table) with three speeds. Position it within 3 feet of your bed for optimum cooling.
What's your favorite fan strategy? Share your tips in the comments below!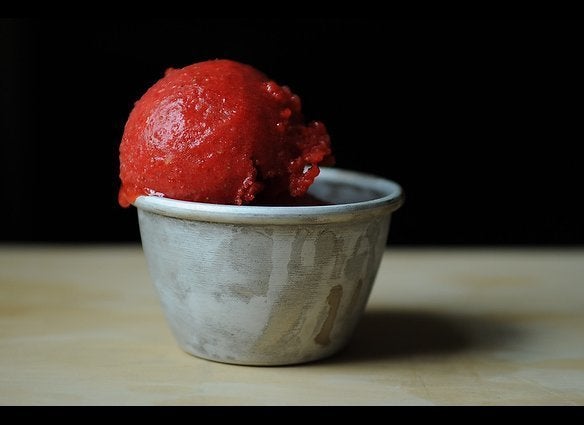 Light Desserts for Hot Summer Days
Related