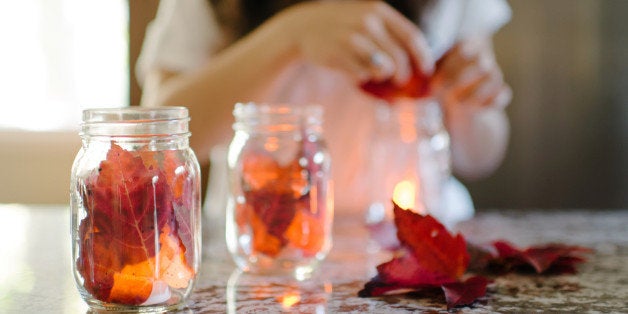 As summer comes to a close, we have started thinking about memories -- those we made over the summer, and those we are now creating -- and how we can make them last.
Three ways I love to capture memories -- that also make for lovely keepsakes -- are through photographs, artwork, and collections. Almost everyone has a treasure trove of digital photos that will bring him or her right back into a magical moment. And a collection of shells, ticket stubs or smashed pennies will remind you of the adventures you took. Here are some fun and simple ways to turn these memories into mementos that can last a lifetime (or two)!
Photographs
Build a tabletop or backsplash of memories.
Mod Podge -- a one-use glue, sealer and finish -- can be used to attach photos to Plexiglas, creating a unique backsplash or tabletop. Jacinda did this beautifully by printing a selection of family photos in black and white, then applying them to Plexiglas with thin layers of Mod Podge. Hang the Plexiglas as a backsplash above a sink, or use it as a tabletop in a playroom or sitting room.
Create a memory match game. Buy or cut 3-by-3-inch squares of thin wood. Cut your photos to the same size, or have them printed from Instagram using one of the many services available (make sure to print two of each photo). Paint one side of the wood squares a solid color and let them dry, then glue the photos to the other sides with bookbinding glue so the paper won't warp. Set the game pieces to dry under some heavy books. When dry, play a fun game of concentration by flipping over the pieces to find the matches.
Make memory candles. You'll need a printer, a mason jar or glass hurricane lamp, and some clear shipping labels. Print your photos onto clear shipping labels, then cut out and attach them to the jar or vase. Once stuck on, they won't come off, but if you plan to wash your candleholder, seal it with a clear spray acrylic sealer, available at any craft store. Drop a candle into the jar, and use it as a centerpiece at family gatherings or a light on your mantel.
Artwork
Bring your child's artwork to life as a toy.
Take his or her favorite drawing and send it to a service where a sewing expert will create a three-dimensional stuffed toy (you'll find plenty of custom plush animal creators online)! Your toy will look like it popped out of a dream.
Make a collage of your loved ones' artwork. If you have an artist in your circle, this technique allows you to create a simple, modern display that shows their work by including several of their drawings in one modern design. Scan several, let's say 25, pieces of artwork. Print each piece out at 2 by 3 inches, then arrange in rows and columns with uniform space in between, such as in a grid of five rows and five columns of five drawings each. Glue down with paper crafting glue, then mat and frame.
Collections
Turn seashells into a picture frame.
Display your collection of seashells and seaglass from far-flung and nearby beaches alike by hot gluing the shells to a picture frame in an attractive way, then hanging a picture from your travels within it. You can also take the extra step of spray painting the entire frame, shells and all, in a specific color to match your decor.
Make a ticket stub shadow box. Boarding passes, ticket stubs and maps of the cities you've explored are the stuff of a scrapbooker's dream -- but why confine these keepsakes inside a book? Instead, create a shadow box from a picture frame. Buy a deep picture frame and saw a slit into the top. Then, as you gather your paper treasures, slip them into the hole and watch as the shadow box fills up with memories.

Preserving your memories into DIY projects are just one snackable way to pack a punch into your daily life. Just like in Odwalla® juices, smoothies and bars, where you get a wide variety of the season's most delicious bounty. It's a sustaining tongue-twister of fruity, vegetably, proteiny, healthy goodness.