Let me start out by saying that as much as I love food, I am far from becoming the next "Top Chef." Over the last few months, however, my boyfriend and I have upped our cooking skills. Our friend told us about this recipe and of course we had to try it (I mean, who doesn't love avocado AND bacon)!
INGREDIENTS TO MAKE THE MAGIC:
• 2 ripe avocados
• ½ tomato, chopped
• ½ onion, chopped
• 2 tablespoons cilantro (optional)
• Lime (or lime juice)
• Salt and pepper
• 2 boneless and skinless chicken breasts
• 1 tablespoon Canola oil
• 4 strips of bacon
1. Preheat oven to 400 degrees and heat oil on a pan on high heat.
2. Cut avocado in half and scoop out the pit. Spoon out the avocado and combine avocado, onion, tomato and lime juice into bowl.
3. Clean and cut raw chicken breasts and season with salt and pepper (not too much). Cut chicken in half and cut a slit in the center of each half to make a pocket. Scoop the guacamole into the pocket of each chicken breast and close the pocket.
4. Wrap the chicken tightly with two strips of raw bacon. Place on pan and cook each side for 2-3 minutes. Then bake in oven for 10 minutes.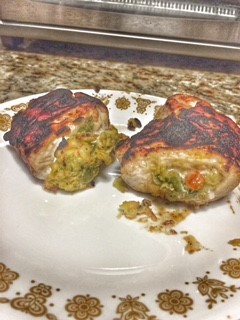 Follow Arielle on Instagram- www.instagram.com/glutenfreegalpal/