There's a lot of excitement during the summer—4th of July, BBQs, pool parties, thunderstorms— while mostly fun, these factors also make it a particularly risky time for pets. We have a saying in our office during the summer months: pool parties are better than search parties. Even so, more than 7.6 million cats and dogs enter shelters every year and more dogs are lost or brought to shelters during the 4th of July than any other day of the year.
I asked Whistle's Product Manager and Pet Expert, Caitie Steffen if she'd share her top tips for keeping your pets safe this busy summer holiday. Read on to hear what she recommends for all pet parents gearing up for a great Independence day: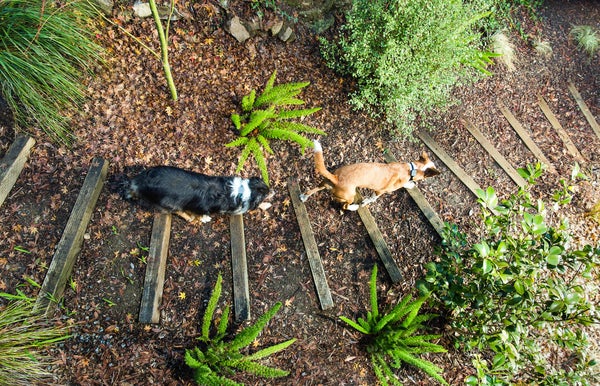 Talk Before You Walk - Ideally, you're home with your pet on July 4th, but if you have plans to leave, make sure they're in the care of someone who they're familiar with and trust. If you have to use a service such as Rover, make sure you schedule time for your dog to meet the sitter prior to the 4th so this person is not a complete stranger to them.
The Pet Perimeter - Secure your home's perimeter, including every window, door and gate, and make sure there are no escape routes. If your dog does get out, acting fast is critical. Hopefully, you have a Whistle so you can track where they go and get them home safe.
Hear No Evil - Creating a sound buffer for your pet can act as a calming aid. White noise machines, classical music or tuning into a non-animal-related tv channel are all great, affordable options.
The Canine Cave is Key - Setup a safe spot inside your home that is your dog's area. If they're crate trained, a crate with a nice fluffy bed and a large blanket draped over it can be an excellent option. And for a nice distraction from the loud noises outside, give them a large Kong stuffed with their favorite treat.
Vets Know Best - If your dog regularly panics around loud sounds, reach out to your vet or use a service like PetCoach to see if there is any recommended treatment for their anxiety. Sooner is better, as many pet owners flood to the clinic for last minute appointments in July.
Calling all HuffPost superfans!
Sign up for membership to become a founding member and help shape HuffPost's next chapter
This post was published on the now-closed HuffPost Contributor platform. Contributors control their own work and posted freely to our site. If you need to flag this entry as abusive,
send us an email
.