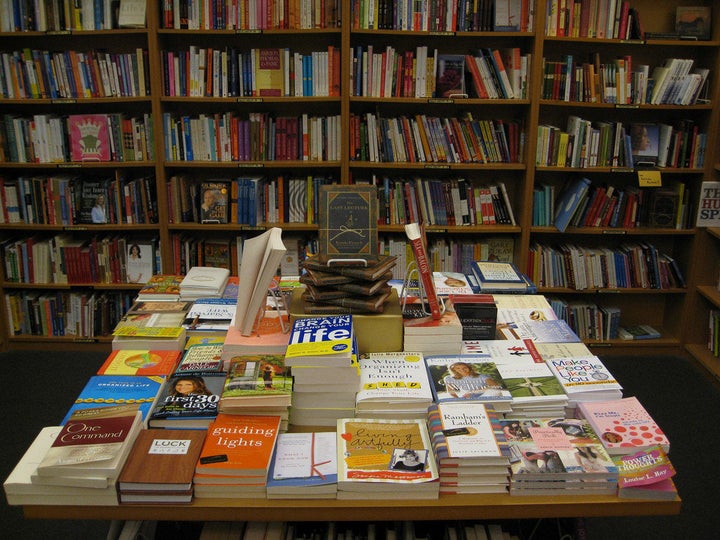 Book lovers, here's a full disclosure about reporter/bookist me and BookExpo America 2011 at New York City's Jacob Javits Center: I go for the giveaways. I suspect many attendees are the same, but maybe I'm the only one who'll admit it outright. Consider the crowds on the long autograph-signing lines -- autographs being giveaways, of course, and maybe even possessing eBay potential?
I'm confiding this at a time when publishing remains in unsettling flux. I found out quickly when the first booths I spotted were in the sizable Digital section -- perhaps not new this year but new to me. Mark Gaff, director of operations for My Tablet Books ("A better way to create and deliver your illustrated e-books and apps"), told me clients even come to him with no idea how to phrase their queries. So why should I have been surprised about the development when the headline on Calvin Reid's lead Publishers Weekly's Show Daily story was "IPDF: Digital Book 2011: The Year of the E-book"?
Back to the giveaways. I should mention totes first, since they're essential for holding all other giveaways. This year for personal reasons I only accepted black and white carryalls, the most commodious from Midpoint Trade Books with its two compartments and separate insert allowing for three divisions.
What are my criteria for what I collect? It's random, anything that catches my eye, although there are booth handlers who catch me catching their eye and then catch my figurative lapel with something to hand me I'm too embarrassed to reject. Out of my Midpoint tote, I now extract a M. Moliero bookmark featuring a renaissance image from Brevario de Isabel la Catolica. Speaking of religion, there's the Common English Bible, containing the controversial new New Testament translation. Just this minute, I opened to a page on which these (syntactically mellifluous?) "Romans" sentences appear: "Circumcision is an advantage if you do what the Law says. But if you are a person who breaks the Law, your status of being circumcised is changed into not being circumcised." At the Alislam booth where the Koran (Qu'ran?) was displayed in several translations, I took a CD on which The Holy Quran is spoken in English.
Going Jewish, I stopped at the Kar-Ben booth where Ms. Sussman handed me Marcel Marceau Master Mime, which concerns the performer's history in World War II's French resistance. Also for children to read out loud, Kar-Ben has The Queen Who Saved Her People, a play that tells Esther's brave story. Incidentally, I didn't speak to Ms. Sussman while chewing the gum I'd snagged at another booth.
But what other books, you may reasonably ask, did I acquire? Not that many. A partial explanation is that by anecdotal evidence, I'm going to say an over-abundance of bound galleys wasn't available. I'm talking relative to previous years, natch. Furthermore, not that many books by what might be considered A-list authors appear to be on fall or fall-winter lists. (Michael Connolly is.) Among lesser-known authors with books at hand, I had a choice between taking them all (on the theory they all must be promising) or taking none (on the theory I just don't have the time to start testing them all).
How to account for the seven more I did amass? I bagged the thickest in the booth Tom Rubython took to tubthump his 812-page(!) biography of Richard Burton, And God Created Burton. I'm a longtime Burton fan still mad he was nominated for the Oscar seven times and never won. I glommed David Stacton's novel The Judges of the Secret Court about John Wilkes Booth because I always admire what New York Review Books decides to reissue.
I accepted Theresa Ware's novel, The Orchard, because the Grand Central rep was so earnest, Andy Baggott's Blissology for its promising title, Booker T. Mattison's novel, Snitch, because it's set in Jersey City, Ed Hooper's history, Knoxville's WNOX, for a cover that conjured thoughts of an alternate Tennessee Grand Ole Opry, and Carolyn Brown's romance, Red's Hot Cowboy, because the first line is "The lights went out in Henrietta, Texas," and who knows what illicit or otherwise can happen then?
Did I take any catalogs? Not for long. The one I wanted and will keep for awhile at least is the hard-cover Assouline Fall 2011 edition. The art books the house issues are truly stunning and include, this autumn, a $250 "scrapbook" of Cecil Beaton photographs and sketches that'll knock your Harrod's socks off.
But again back to less pertinent freebies. Next to totes, pens might be the handiest. A fellow repping American Express buttonholed me with a smart-looking retractable pen to explain how I'd be saving money if -- as an independent businessman hawking freelance wares -- I opted for an American Express business card instead of either my green or gold personal cards. I have to admit, however, that I prefer the pens-and-pencils set contained in a smart cardboard tube donated by Cambridge University Press, which is plugging The Letters of Samuel Beckett, Volume 2: 1941-1956 and The Letters of Ernest Hemingway. And weren't those guys a couple of prolific pen- and pencil-pushers?
I Ching coins from Tuttle in honor of The Original I Ching and "based on recent discoveries" come in a small blue drawstring bag. They're replicas, but what the hey! As for plush toys, I've got a stuffed fabric doll from the For Dummies series folks. The pliable man with the triangular head wears a t-shirt boasting "For Dummies." The latter was one of those things held out to me I couldn't bring myself to turn up my nose at. I voluntarily took a stuffed cow from Magination Press where they're into "Self-Help Books for Kids." I have a friend who collects cow items--or did. She might get a kick out of it.
What else? A Harry Potter lanyard courtesy of Lego, buttons that say "My words, my way" and "I (Heart) Words." More? Too embarrassing to enumerate. Just believe it all adds up to a BEA floor as yielding as any that has preceded it.
Popular in the Community