We're convinced that the only reason homemade pickles aren't more common is because people are intimidated. (The fear of botulism is strong.) While that worry shouldn't hold you back from preserving the produce in your crisper drawer ― as long as you follow proper canning procedure, you will be safe ― there is a simple way around this: refrigerator pickles.
Refrigerator pickles are (obviously) kept in the refrigerator, so the jar isn't sterilized and sealed the way traditional pickles are (meaning you can't keep them at room temperature in the pantry). This means you don't have to worry about the safety guidelines that are so crucial in canning. They're a little easier to make because there's no need for more than a couple of steps. Plus, with the easiest refrigerator pickle recipe in the world you can go from cucumber to pickle in under an hour.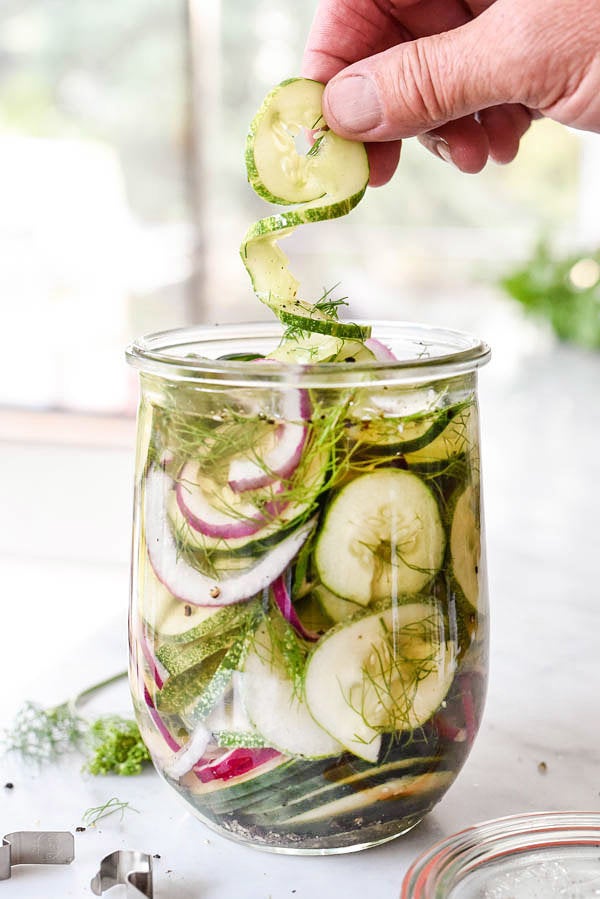 Refrigerator pickles don't last nearly as long as canned pickles ― only about a week in the fridge. You won't be able to dig into a jar of these pickles in the dead of winter, and not even next month. But they will help you happily eat up the rest of your cucumber stockpile once salad fatigue has set in. And they're really tasty pickles.
The refrigerator pickle recipe we found by Foodie Crush is easier than the others because you don't even have to chop the cucumbers for pickling. Just quickly run them through the spiralizer. If you don't have one, you can just chop them, too. That's fine.
Add the spiralized or chopped cucumbers to a sterilized jar with onions. Top with a homemade brine made up of vinegar, water, salt and dill. Then refrigerate for at least a half hour (though four hours will yield tastier results) ― and that's it. So simple. Get the recipe for this super easy refrigerator dill pickle recipe from food blogger Foodie Crush and get started on your pickle-making adventures.
Please help support Rescuing Leftover Cuisine, a nonprofit that operates in 12 cities across the United States, providing solutions to ensure excess food goes to people in need. Donate via the Crowdrise button below: