Step away from the soy sauce marinade and try these easy dishes, which are just as flavorful and might become your new standbys.
Less Sugar, More Spice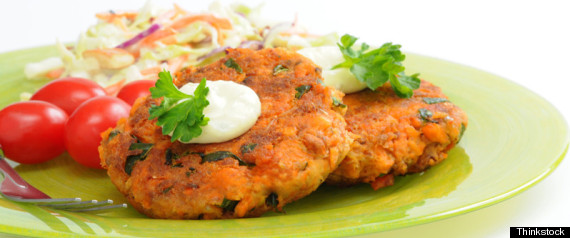 Salmon pairs so nicely with teriyaki because the sauce's sweetness tames the fish's, well, fishiness. Spiciness can serve a similar function, as it does in this salmon burger made with minced jalapeño pepper and topped with guacamole. You'll still taste the salmon, but it will be balanced by the chili's heat and smoothed out by the avocado and lime.
Dinner And A Show
Whether you use foil, parchment paper or paper bags, cooking fish inside a packet is the best way to ensure it won't dry out (and tearing open your own little package adds some drama to a Tuesday night dinner). We love this unusual trick for using the dishwasher to poach salmon and gently infuse it with the flavors of aromatic herbs, although a 400-degree oven works too (it should take about 25 minutes for the salmon to be just cooked through).
A Cinch To Make, And Tasty To Boot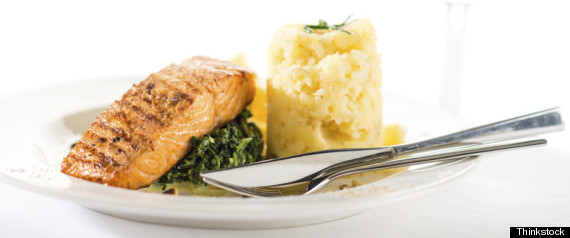 How do we love this recipe? Let us count the ways: First, it requires just five ingredients. Second, it uses the broiler, which heats up more quickly than the oven does. Third, the entire meal comes together in 15 minutes. The finished dish is delicious and healthy.
An Any-Time-of-Day Special
When salmon shows up on the breakfast or brunch table, it's usually smoked -- but this good-for-you recipe bakes in a superhot oven for just 15 minutes, which makes the skin crisp, while keeping the fish moist. Along with bright green kale and poached eggs, this colorful meal works for breakfast, lunch or dinner.
Toasty Nourishment In Less Than An Hour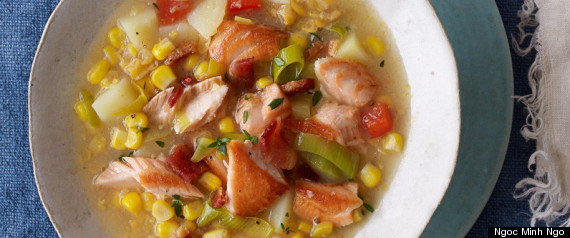 Chowder can take a long time to make, especially if it involves shucking clams. This 45-minute version relies on two magical ingredients -- bacon and leeks -- to deliver deep flavor fast. A red bell pepper, canned corn and cubed Yukon Gold potatoes are the other star players -- that is, in addition to boneless, skinless coho salmon fillets.
A Twist On The Familiar
Seafood dinners aren't usually considered comfort food, but here's a simple way to change that: Form a savory mixture of salmon, scallions, soy sauce, sesame oil, ginger, garlic, bread crumbs and eggs into a loaf, and bake. Topped with wasabi mayonnaise, this light, bright dish is a refreshing update to traditional meatloaf.
The Sweet Glaze That Seems Like Teriyaki But Isn't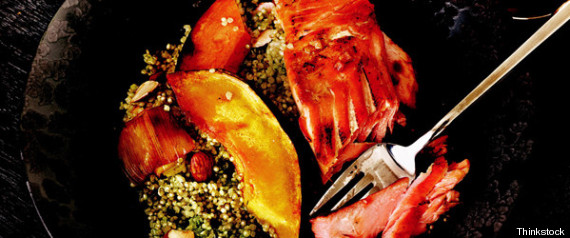 Classic renditions of the Japanese marinade include soy sauce, either sake or mirin (a kind of cooking wine), and sugar or honey. This update skips the alcohol and uses orange juice instead, plus a spoonful of toasted sesame oil. The result is a slightly tangier sauce that also works well with haddock, halibut or scallops.
The Any-Occasion Supper
Be warned: This one-pan weeknight supper has ambitions to wow Saturday night dinner guests. Basic ingredients -- mint, peas, carrots and salmon -- not only taste vibrant but also look gorgeous all together.
Calling all HuffPost superfans!
Sign up for membership to become a founding member and help shape HuffPost's next chapter
BEFORE YOU GO
PHOTO GALLERY
5-Ingredient Healthy Meals