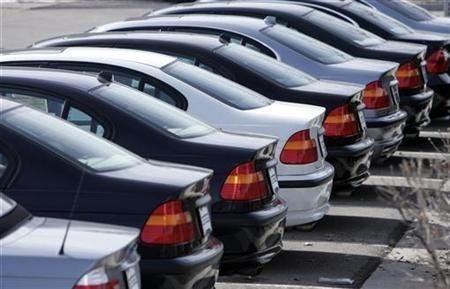 Welcome to 2009. Chances are, your New Year's resolutions do not include buying a new car. That might be a very new feeling for some auto junkies! No worries, the one you have now is likely perfectly good and able to last a lot longer than you may think. To get the most out of it, I would like to suggest these ten resolutions for you and your vehicle:
1) Make a commitment to be more pro-active with your car. You two are stuck together so make the most of it! You manage your own health, your children's affairs and possibly your parents' too. Why don't you make some time for your car? It may not talk back, stay out late, or charge too much on your card but it is a complex machine and it will not run forever without some attention.
2) Learn your service schedule. The people who built your car know it best. They know what servicing needs to be done at what intervals. Listen to them. If you don't know how often you should be servicing your car, check with your dealer or consult http://www.driverside.com where you can find every service schedule and can set email alerts so you never miss a checkup.
3) Find a good mechanic. In the first three years with a car, many people service at the dealer courtesy of the warranty. After three years, most people use independent repair shops which tend to have lower rates. Your mechanic is the doctor for your vehicle. Be sure you find one you trust. If you aren't sure, try a site like http://www.yelp.com or DriverSide and read how other customers review your local shops. Once you find a good mechanic, level with them about how long you intend to own your vehicle and make a service plan with them so you can rest easy.
4) Keep all receipts and maintain a complete service history. Where are your old documents? The glove compartment? The basement? Keep them in one place. Make a binder or store them online. A car or truck with a full history has greater resale value.
5) Don't skimp on elective maintenance. Tire rotations, oil changes and the like are vital to the health of your car.
6) Be proactive about recalls. You may not know if you are driving a vehicle with a problem. Check with the manufacturer, DriverSide, or the NHTSA to make sure you aren't subject to one.
7) Fluids are your friends. Mark one day every month to stop by a gas station and check your oil. Sea Foam engine restorer or other additives will help you avoid engine buildup. Add one to your shopping list. Also check the tire pressure.
8) Listen for any strange sounds or vibrations. You know your vehicle better than anyone. If something changes it is probably an indicator of a problem. Catching it early will save you money and keep you safe.
9) Consider adding new accessories. It amazes me how many people tell me they want a new car just because of some gizmo they don't have. When I ask them if they still like their current car they say yes. Well, why scrap a perfectly good car if you can add an aftermarket accessory to it? Whether it is a DVD player for the back of the minivan, a GPS system, the perfect IPod connector or whatever, you can have it added to your ride. For the best price, buy your accessory at Costco or http://www.motors.ebay.com and have your local mechanic install it for you.
10) Pay attention to appearances. Does your car look clean? Wear and tear on the finishes can wreck the appearance of your car or truck and harm the resale value. If you don't have them, get floor mats. The area of your carpet under foot is the first to go. Wax your car twice a year. Even if the paint doesn't look bad it may be suffering without proper care. Also keep your vehicle out of the sun and out of extreme temperatures as much as possible. You will need that extra edge in appearance!
While many of these tips seem simple, most people fail to employ any of them. Remember that your car is an investment and an asset. You may not be able to keep your stocks from depreciating but you can protect your car's value.

Popular in the Community