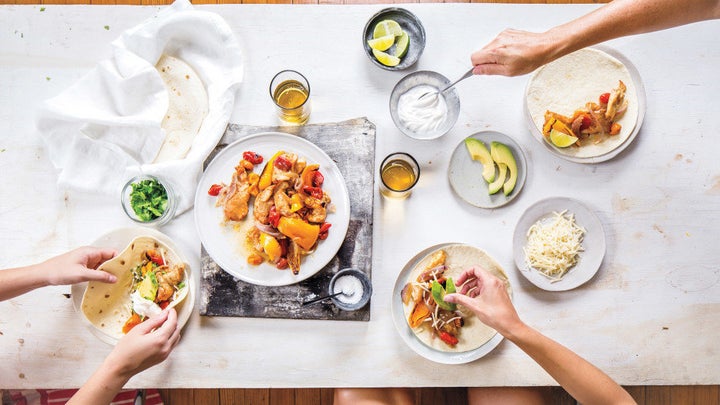 No-Mess, No-Stress Fajitas
Mothers and friends Caroline Campion and Kathy Brennan are familiar with the nuttiness of juggling work, after-school activities, sports commitments and erratic schedules ― and they
also
happen to be former
Saveur
editors and cookbook authors. So when this duo offers up a great weeknight dinner recipe, we listen. This one, from their latest book
The Dinner Plan
, is for crowd-pleasing chicken fajitas, with a smart trick for streamlining the cooking process. While fajitas are typically prepared on a very hot grill or griddle in two stages (first meat, then veggies) with lots of smoke and sizzle, Campion and Brennan have found that you can also cook them at the same time in the oven. It's more convenient, less messy ― and the results are excellent.
Get the recipe: Sheet Pan Chicken Fajitas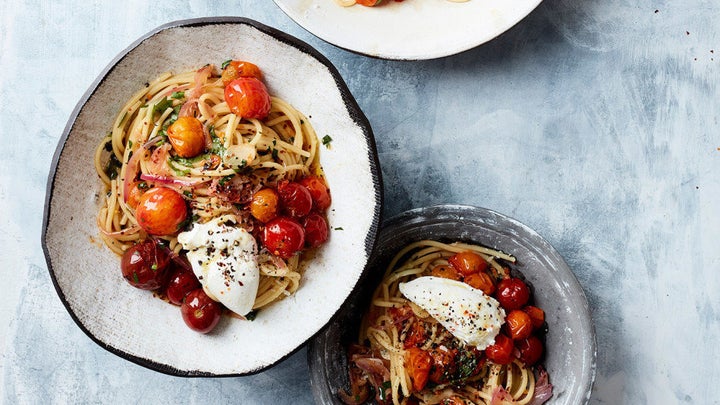 Globe-trotting
Top Chef
host
Gail Simmons
knows she's most recognizable as a discerning TV food critic, and admits that people often ask her, "Do you cook at home?" Her new book,
Bringing It Home
, answers that question with a resounding "Absolutely!" The wife and mom shares the dishes she cooks for her family and friends, and this simple pasta is one you'll want to put into heavy rotation. It relies on ripe cherry tomatoes for color, sweetness and liquid; as you cook them in warm olive oil, their skins burst open, the sweet juices simmer and in the brief amount of time it takes to boil pasta and chop a few herbs, you've created a silky, sumptuous sauce. Creamy fresh ricotta and a sprinkle of Parmigiano-Reggiano add luxurious touches.
Get the recipe: Spaghettini with Burst Cherry Tomatoes and Basil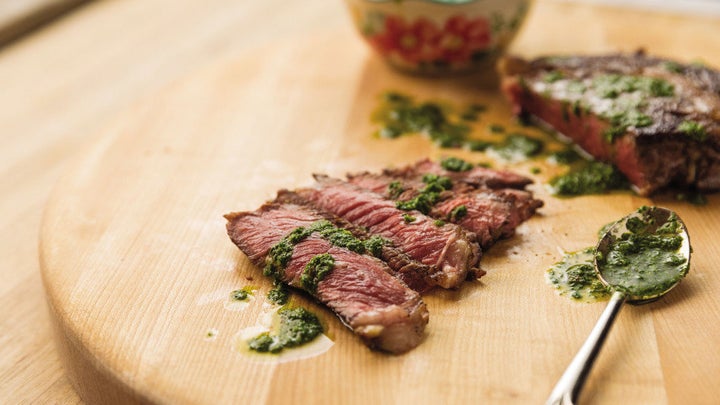 A Meal That's Both Meaty and Fresh
Ree Drummond
has a
lot
going on: She lives on a cattle ranch, has four teenagers and recently opened a store and a restaurant. She also knows how to turn pretty much any piece of beef into a quick and tasty supper. This recipe, from her latest cookbook,
The Pioneer Woman Cooks: Come and Get It!
, stars always-popular steak with an herbaceous sauce. As Drummond points out, there's a steak to fit any budget, from pricey filets and ribeyes (great for a special occasion) to sirloin and bottom round (hello, weeknight supper). Any cut you choose ― if it's about an inch-and-a-half thick ― will cook within eight to 10 minutes on a hot cast-iron skillet. Drummond's chimichurri includes cilantro, parsley and mint, plus garlic, red wine vinegar, red-pepper flakes, salt, pepper and olive oil. Spoon it over the cooked steaks for a fantastic combination of hearty and vibrant.
Get the recipe: Steaks with Chimichurri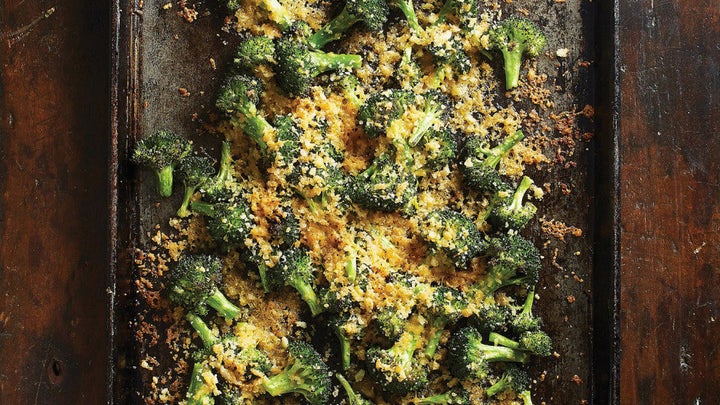 Quite Possibly the Quickest Casserole You'll Ever Make
The humble sheet pan could be the most versatile item in your kitchen, since it's big enough to hold an entire meal, and its low, inch-high sides make it perfect for roasting foods without steaming them. And with this creative recipe, food writer, co-author of more than 20 cookbooks and mother of two Raquel Pelzel shows how it can even turn out a casserole-style broccoli gratin. In her new book
Sheet Pan Suppers Meatless
, Pelzel explains that the sheet pan is perfect for a veggie gratin; since it's shallower than a traditional baking dish, every single morsel of broccoli gets an ample coating of crispy-cheesy-bread-crumb-y topping. Bonus: Pelzel preheats the pan
with
the oven, which speeds up the entire process and will help you get dinner on the table in just 20 minutes.
Get the recipe: Blissed-Out Cheesy Broccoli Gratin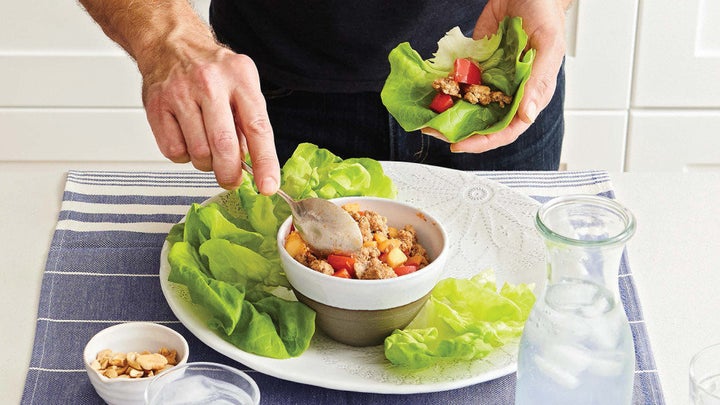 A Nutritious, No-Forks-Necessary Dinner
Here's a delicious meal that gets extra points for being fast and healthy, too. It's from journalists and moms Laura Keogh and Ceri Marsh, whose new book is
The School Year Survival Cookbook
, and combines two beloved elements: the sweet and spicy flavor of an Asian stir-fry with the laid-back ease of tacos. The filling is a savory combo of ground turkey, red bell pepper, scallions, garlic, ginger and water chestnuts cooked with rice vinegar and soy sauce (add as much or as little sriracha as you'd like). Then, you pile the mixture into Boston or Bibb lettuce leaves, garnish with chopped cilantro and cashews and enjoy.
Get the recipe: Turkey Lettuce Wraps
Support HuffPost
The Stakes Have Never Been Higher
Related
Popular in the Community