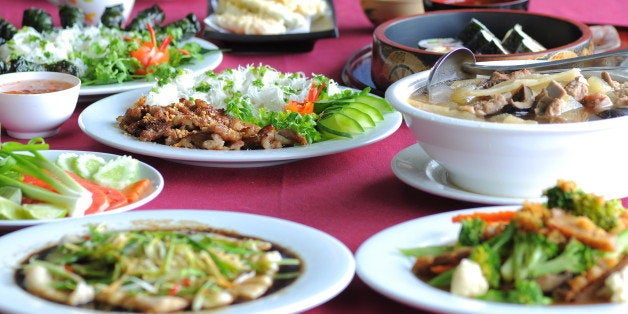 It's that time of year again. I can tell because my stomach is growling and my mouth is watering. It must be time for another Luckyrice Festival Grand Feast. Only this year it's a little different. They moved it up two months, from May to March (this Friday, March 20, in fact). Which, frankly, is fine by me. And this Grand Feast, at the Mandarin Oriental hotel in Columbus Circle, is going to be the biggest one yet. Which also gets my imprimatur of okey-dokey.
So you might be asking, what the heck is a Luckyrice Festival Grand Feast? Well, Luckyrice is the brainchild of Danielle Chang, a Taiwanese-born New Yorker who wanted to expand the horizons of folks whose knowledge of Asian food didn't go far beyond General Tso's Chicken and California rolls. She got a lot of high profile chefs and sponsors on board -- from Masaharu Morimoto and David Chang to confirmed non-Asians like Daniel Boulud -- and in 2009 launched the first Luckyrice Festival in New York, a decidedly Asian cuisine-savvy town. Having an Asian food fest in a town crammed to the gills with amazing Asian restaurants of all regions and cuisines might have seemed like a hard sell. But it was successful enough that six years later, it's expanded to half a dozen cities in the U.S., some of whom may need a little more help doing battle against P.F. Chang's and the like. The roster of events has also expanded to include "night market"-type street cuisine, Asian-themed "cocktail feasts," and ramen-based "slurpfests."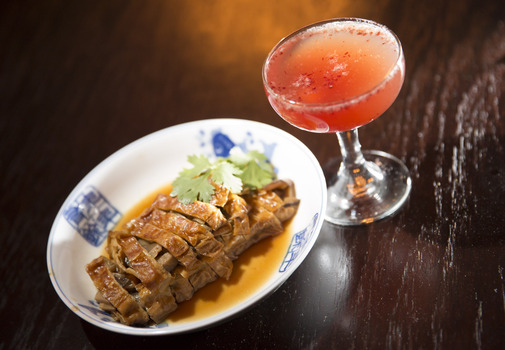 A teeny-tiny sample of the deliciousness you'll find at the Luckyrice Grand Feast.
This year's Grand Feast is even grander than previous Grand Feasts (I've been to a couple, and believe me, they're grand). It's a celebration of Luckyrice's entire six-year existence, so it's going to be a "greatest hits"-type amalgam of some of the biggest and best showcases they've put on, from street food to banquet food, with a reach spanning the entire continent. You're gonna get steamed Dungeness crab & shrimp dumplings from Red Farm. From Bricolage, you'll have "Beef on Beef" (Vietnamese beef carpaccio on a beef tendon chip). For sushi fans, there's Clement's Saffron Chirashi with Long Island fluke, kombu, and trout roe. Morimoto brings the noodles, specifically spicy cold noodles with pork belly, crispy garlic rayu, and sesame. You can even find pork & cricket flour dumplings courtesy of Yunnan Kitchen, if that's your bag. And that's just a few of the approximately five zillion dishes, cuisines and restaurants to be featured.
Luckyrice is sponsored by Bombay Sapphire East gin (which is Bombay Sapphire with the addition of Thai lemongrass and Vietnamese peppercorn to the botanical mix), so you won't be wanting for cocktails either. Drinkmakers on hand will include Brett Hughes of Madam Geneva and Orson Salicetti, who made his bones at Apotheke and who's about to open Lumos, the first bar in New York devoted primarily to baijiu, the Chinese sorghum-based spirit.
As a stay-at-home dad with a gastronomically unadventurous daughter, I love that I'll be able to sample the fare of so many restaurants in one gluttonous evening, a task which would, given my current schedule, take a few decades. I love that I'll be encouraged -- all but forced, in fact -- to break away from my Chinese-Japanese comfort zone and try eats from all over the continent. And of course I'm excited to eat delicious food and drink delicious cocktails to delicious excess.
The gorge-fest doesn't come cheap; two hours at the trough will run you $150, an extra "VIP" hour will cost $100 on top of that. But isn't that the equivalent of a night out at a steakhouse? And won't this be far more interesting and fun? Now that I've convinced you, learn more here here. You can thank me later, when we're both waddling out of the Mandarin Oriental swearing we won't eat again until the next Grand Feast.
Calling all HuffPost superfans!
Sign up for membership to become a founding member and help shape HuffPost's next chapter