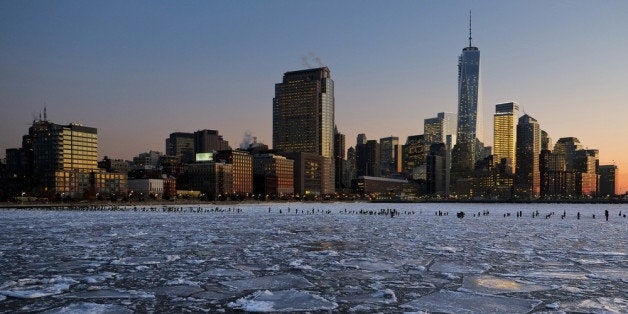 New Yorkers are forever promoting the fact that we enjoy four distinct seasons here. Yet that premise is at its most challenging in the dead of winter. But we're nothing if not adaptable, especially when it comes to discovering warmth by means of food and drink. Here are six ways we do it.
1. A steaming bowl of ramen
There are few dishes more satisfying on a blustery day than the flavor-infused bowl of Japanese broth and noodles known as ramen. Right outside the #1 line on 125th street you'll find Jin, a small, but serious ramen parlor. You might start with a hot sake and the house made gyoza dumplings before proceeding to your choice of rich ramen (or rice bowl), offered with a variety of toppings and sides. Often crowded with nearby Columbia students, but well worth the wait. (Jin, 3183 Broadway)
2. Hot soup & hearty sandwich
Forget your usual tuna salad or turkey sandwich in this weather. You need to dig into meat that's sliced on the carving board while it's still steaming. I'm talking corned beef or pastrami. If that's all you hunger for, you could easily drop into Katz's, the high temple of smoked meat on E. Houston street. But when it's cold and snowy, you first need to warm up with a nice bowl of mushroom-barley soup. A textbook version of that -- coupled with a glorious pastrami sandwich -- can be enjoyed at the 2nd Avenue Deli. (2nd Avenue Deli, 162 E 33rd Street)
3. The Oyster Pan Roast
Let's not kid around; this is one of NYC's most iconic dishes. Come in from outside and get yourself a seat at the counter of the Oyster Bar in Grand Central. There you can actually watch your glorious seafood stew being assembled. Decadently rich and creamy, studded with Blue Point oysters, this is beautiful eating that will warm the cockles of your heart. (Grand Central Oyster Bar, 89 E 42nd Street)
4. A Cocktail and a Crowd
Sometimes all you need is a stiff drink and a convivial crowd of likeminded citizens to lift your spirits. I'd head over to Flatiron, which is buzzing now, and grab a seat (and a Manhattan) at the bar in The Breslin. They take their cocktails seriously and make them professionally. But go hungry and you'll discover some of the best "gastropub" food in town. The lamb burger is simply stunning. I feel warm just thinking about it. (The Breslin, 16 W 29th Street)
5. You Need a Fireplace
Well, that seems obvious. So head over to the historic Keen's Steakhouse in Midtown West and get a table in the Pub Room. (Just call ahead to make sure the fire's lit.) Enjoy the crazy pipe collection amidst the historic ambiance, order a single malt and bring your appetite. Then consider the renowned mutton chop, the city's signature version. (Keen's Steakhouse, 72 W 36th Street)
6. BBQ Right at Your Table
Of the many good dining options in the heart of the always lively Koreatown, I head for Korean BBQ when it's chilly. At Madangsui, choose from a variety of meat and fish that is grilled table side and then wrap your delectables in lettuce leaves. Even though the soju (Korean sake) is served cold, it will surely warm up your insides. (Madangsui, 35 West 35th Street)
Alternatively, you can sit upstairs at Kang Suh, and they will place burning embers of coal at your table for your internal BBQ. Feeling warmer already, aren't you? Sure, you might leave smelling of smoke, but you'll be full, warm and happy. Plus the added bonus here: the place is open 24 hours a day. (Kang Suh, 1250 Broadway)
~~
Robert Rosenthal, The Food Humorist, is a Manhattan-born man-about-town who writes, produces and hosts programs about food. Some can be found here.
Popular in the Community