Eat Drink Lucky 2016 Beverage Trend Predictions
From soda to cider to Aquavit and smoky cocktails, 2016's beverage trends truly have something for everyone. So raise a glass (or two!) and toast to the year ahead, perhaps with a glass of orange wine.
Orange wines are popping up everywhere, including at Chicago's Bar Marta, and at The Red Hen in DC, which has a section of its wine list dedicated to orange wines from around the world. In NYC Lois has its own orange wine, made for them by Red Hook Winery. But what is orange wine? It's white wine made with grapes that still had their skins on, resulting in an orange tint and a slightly nutty flavor.
Aquavit - One of our favorite takeaways from the whole Nordic cuisine trend. Start looking for it in bars now, it's going to be huge. It's been spotted in cocktails including the Pellet Gun #2 at Chicago's Sink/Swim, at Austin's Garage in the Aquavit Last Word and at recently opened Cadence in SF in their drink Nectar, with sarsaparilla honey, lime and cava. In DC, New Columbia Distillers has the seasonal Ginavit, a gin-aquavit hybrid aged in apple brandy barrels.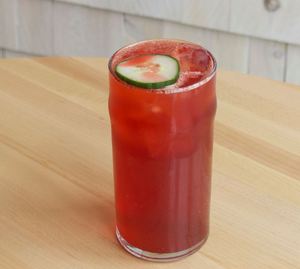 Sink/Swim Pellet Gun #2
Artisan Sodas - These are partly a throwback to the really old days but in addition to those more traditional flavors (like sarsaparilla and birch) you'll now find flavors like Red Currant & Shiso (Brooklyn Soda Works) and in bars and restaurants, look for custom flavors like the tamarind molasses spritz at Spritzburgers in Chicago.
Cereal, and the milk that goes with it. What started as Cereal Milk (kind of like what you had in your bowl after eating your Froot Loops but made famous by Christina Tosi) has taken firm hold of everyone's imaginations and is now a full blown trend. LA's Nighthawk Breakfast Bar has spiked cereal milks, like Honey Nut with bourbon and Cocoa Puffs with brandy (and if you're looking for something sweet to eat, Cafe Dulce makes Fruity Pebbles donut holes). At The Sixth in Chicago they've made Trix-flavored ice cubes for The Silly Rabbit; and in Denver, the Cerealiously Count Chocula brew by Black Bottle Brewery actually created Count Chocula shortages in the area. The list goes on -- NYC's The Clocktower has the American Cereal Killer, made with Cheerios' milk and bourbon; Boston's Griddlers makes shakes like the Frosted Flakes shake and in SF, Barbarossa Lounge's Bandit's Way has whiskey, bourbon, bitters and cereal milk.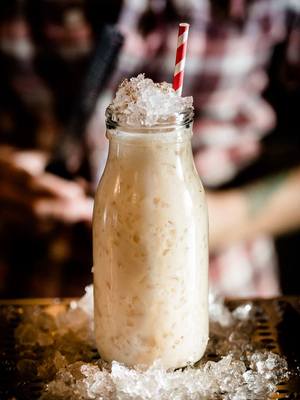 Barbarossa Lounge, Bandit's Way
Vinegar. Shrubs. Tinctures. It turns out that secretly many bartenders have tendencies that lean more towards a chemist's or scientist's behavior. If you look closely at the shelves near many bars these days you'll spot rows of hand labeled bottles. Ask about them and you're sure to hear about housemade tinctures, or shrubs, and the many uses of vinegars in cocktails. Gardner, in Austin, has a Bloody Mary with roasted tomato vodka and horseradish-jalapeno gin finished with a black pepper tincture, celery bitters, fermented mushroom powder and arugula syrup; Seattle's E. Smith Mercantile makes a Fir-Get-Me-Not with rye, Cocchi Americano, fir tip tincture and grapefruit bitters.
Smoky cocktails. Moving on to our final cocktail trend, which is right in line with bartenders as chemists, are the smoky cocktails. Smoke pours from cocktails in Chicago's Oro's 1854; in Portland, Maine, Tempo Dulu's Jakarta, made with Knob Creek Rye Whiskey and smoked with Chinese five-spice blend; Chicago's Bottlefork serves Brandy & Cigars, complete with cigar smoke, and Hakkasan in SF has a Smoky Negroni with a Grand Marnier Smoke Infusion.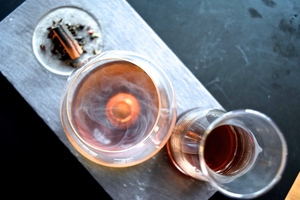 Tempo Dulu, The Jakarta
Have fun spotting these trends on cocktail menus across the country, and let us know what trends you're seeing in your city. Share your discoveries on our Facebook page or on Instagram using our hashtag: #eatdrinklucky.