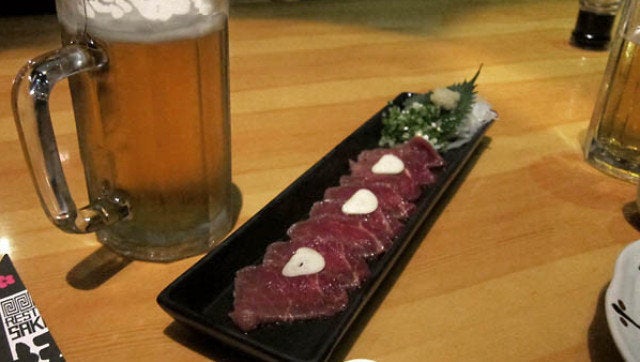 Horse meat sashimi is a delicacy in Japan, and I'd long been dreaming of ordering it here in Beijing. It's served up sliced thin like carpaccio, with mashed ginger and scallions and onions and soy sauce. There, it's called basashi (馬刺し). Here it's 马肉刺身 (Mǎròu cìshēn) and costs $10 for a few slices.
Back in the States, of course, this would be completely illegal. Good ol' Lindsey Graham has been working with The Humane Society to make sure no-one back home enjoys a nice plate of mare. His latest bill, pushing it further, will see that no more "children's ponies are inhumanely transported and slaughtered, their meat shipped to places like France, Italy, and Japan for human consumption."
Here in Beijing, the plate arrived an hour later, the steed gorgeously laid out with thin slices of garlic riding it like little sashimi cowboys.
"No horsin' around here," my girlfriend laughed, as she carefully lifted a slice. It was a full, deep red. This is the color of meat. In Japan, the meat is called Sakura (桜), or Sakura Meat (桜肉), because it reminds people of cherry blossoms.
It was also chewy. And dripping, almost as if it had been injected with water.
"All the farmers do this," my friend Little Yellow had told me, a few days earlier. "They inject their animals with water, so they can sell the meat for more money." Steaks from our local grocery are heavy, but so bloated they can be ripped apart with your hands.
"I don't think this is done to horse meat, though," she told me later. "Beef, and pork, but not horse."
This sliced stallion maybe was a frozen ride. That hour we waited, an hour of defrosting. I didn't get the feeling this was a dish many people ordered.
We rolled it up tight around the garlic and scallions, and dipped it in soy sauce. Wrapped in so many flavors, like a burrito, the meat was reduced to a delivery mechanism. A thick and chewy tortilla of spicy glory. Maybe Lindsey has it right. Perhaps this is an inhumane use of a healthy children's pony.
Next time I'll try the donkey, and see if that's any better.