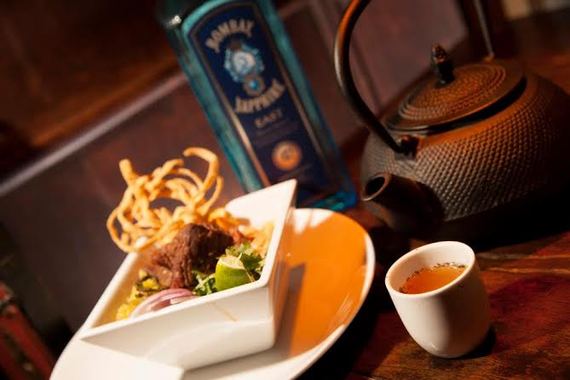 It's not like New Yorkers need a special occasion to seek out amazing Chinese food. Being hungry is as legit a reason as any to schlep to Chinatown, Flushing, or any one of umpteen hot spots for the most unknown underground, authentic, outré, plain old tastiest Chinese food available in the five boroughs and beyond. But if you actually feel like you need an excuse to eat the stuff, there's no occasion more festive than the Chinese Lunar New Year. Danielle Chang, the founder of the LuckyRice festival, a celebration of Asian cuisine in all its myriad forms, has figured it out as well. Throughout its five-year history, LuckyRice has launched in NYC in early May, a lovely time of year to be sure. And really, there's no bad time to eat Asian food. But this year, LuckyRice is launching its season of education-through-ingestion just as the Lunar New Year kicks off -- on Tuesday, to be precise -- at China Blue, the new temple of Shanghainese gastronomy which opened in Tribeca in December.
Dim sum (meaning, literally, "touch the heart," but as far as I'm concerned it means "f***ing delicious") originated in Canton, but of course it's popular in Shanghai as well, and Yiming Wang and Xian Zhang of China Blue have selected judiciously, including small dishes like red bean puffs, savory bean curd wraps and Shanghai shumai in their New Year's menu. The look of the place, as with their Sichuan-themed restaurant Cafe China, leans retro (specifically the '30s), but the food is a mix of traditional and cutting edge. I asked them how difficult it was to mix the old and the new and still remain authentic. Yiming answered, "I think in our culture we have a deep curiosity and attachment to our root and tradition... I think all well-thought products with efficient executions are cutting-edge. Retro theme is the style I selected, but it's delivered with a modern spirit."
A new innovation in Asian cuisine that was really born in America is the pairing of food with cocktails -- and since Bombay Sapphire East (a gin with distinctly Asian botanicals like lemongrass and black peppercorn) is one of the event's sponsors, you can bet there'll be a lot of specialty drinks to go with the food. Yiming says, "More people have Chinese food with wine and cocktails. Before people tended to drink only beer with Chinese food." Danielle Chang adds, "It's exciting that there's such a buzz around incorporating Asian flavors and ingredients into cocktails here in the U.S... It's another opportunity to introduce Asian flavors."
The Year Of The Horse Party, as it's called, kicks off LuckyRice's most ambitious year yet. New York foodistas are the big beneficiaries, as they've got no less than four events, each with a different regional theme, to loosen their belts for between now and May. In addition to Tuesday's event, there's a "Ramen Slurpfest" scheduled for March, a Thai water festival (featuring Thai cuisine and cocktails as well as, you know, water) in April, and a weeklong 5th anniversary bash in May which will feature many of the top Asian-American chefs and mixologists from all over the country (Luckyrice participants and consultants include superstars like David Chang, Anita Lo, Daniel Boulud and Masaharu Morimoto).
The act then goes on the road, hitting Miami, Las Vegas, Los Angeles and San Francisco before 2014 is through. Chang wants to keep expanding the festival: "My hope is that we can bring more events to the cities that we are currently in... We wanted to create a format where we can be producing an holding events throughout the year, instead of just in one frenzied week of eating and drinking! This also gives us an opportunity to celebrate key Asian festivities -- Chinese New Year, mid-autumn harvest moon festival, [and] Thai Songkran, for instance." Personally, I think cities like Duluth or Peoria need something like LuckyRice more than cities that already have great Asian cuisine, but there's an old saying: "Too much dim sum is like too much fresh air, although too much fresh air doesn't give you a stomach ache."
More info on the Year Of The Horse Party can be found here. I've just about finished digesting all the amazing food I ate at last year's LuckyRice fest, so I'm rarin' to go .