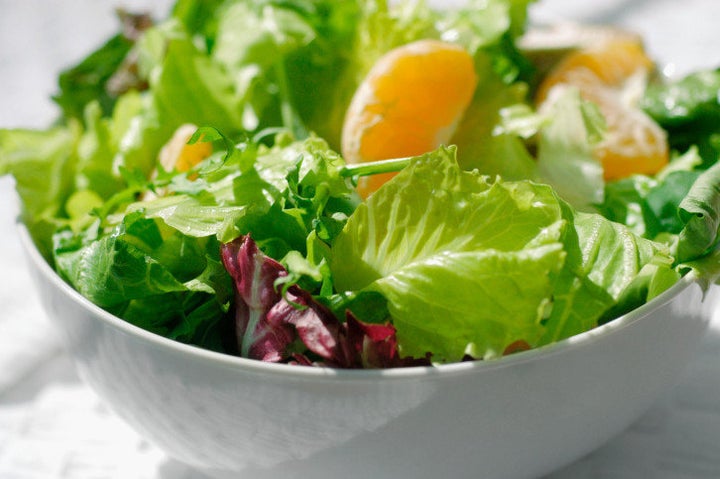 Are you hungry all the time and frustrated with your weight?
Given the most common food sources, your hunger is really no surprise.
Can't Get No Satisfaction
Fast food, restaurant food and even many of the foods in the supermarket can leave you feeling unsatisfied and overweight at the same time.
The problem is that the typical, modern foods are so high in calories and low in nutrition that if you eat enough to satisfy your appetite, you get more calories than you can burn off in a day.
Breaking the Vicious Cycle
What if there were a way to eat more healthy food, and lose weight?
Salads are an excellent example of high nutrient density meals that help you lose weight: The vegetables in garden salad have a high ratio of nutrition to calories. In other words, you get lots of nutrition for very few calories.
High nutrient density meals such as salad allow you to eat more, satisfy your appetite and stick to a healthy weight loss plan.
And salads are a wonderful way to get more vegetables -- a lot more -- into your day. This is important because optimum nutrition requires nine or 10 servings of fruit and vegetables per day, which is the target amount in the meal plans of my book "The Fat Resistance Diet." (Please see link below for free recipes.) Having salad is a delicious way to move toward getting nine or 10 per day.
The latest research shows us the amazing health benefits of lettuce, arugula and endive, and motivates our family to eat a big salad every day.
Benefit from Antioxidants
These are items you can find in your supermarket that can add important nutritional elements to your meals. For example, romaine and red leaf lettuce, spinach and arugula are all excellent sources of anti-inflammatory, antioxidant nutrients, such as carotenoids and phenolics.
The positive effects on your body start right away. For several hours after you a eat large bowl of fresh romaine lettuce, there is a significant increase in your blood of:
Total antioxidant activity
Vitamin C
Beta-carotene
Quercetin, an important bioflavonoid
Phenolics
Arugula is a trendy green leaf found on Italian restaurant menus. Arugula is not only an excellent source of bioflavonoids, but it also contains calcium. Arugula has Vitamin A, which helps build immunity and potassium that is important for muscles.
Endive, which is widely used in northern Europe (especially Belgium and Holland), is a source of Vitamin K for strong bones, as well as Vitamin A.
Fat is essential for carotenoid absorption. For maximum benefit, eat your salad with a little extra virgin olive oil or walnut oil.
When shopping for salad, freshness is key. You want to get vegetables that are vibrant, brightly colored, firm and crisp. A farmstand in the countryside or a farmer's market in the city is a great place to shop for farm fresh vegetables.
For romaine lettuce and arugula, look for deep green leaves that look freshly picked. Skip anything that is wilted or waterlogged
At home, all vegetables should be washed carefully, whether packaged or not.
For endive, look for something that is very firm, with white leaves touched by green. Avoid any that has become brown or softened. They should be firm to the touch when you buy them.
For romaine lettuce, pull off the outer leaves and cut the bottom stalk. Tearing the leaves is an easy way to prep romaine for a salad. For arugula, cut off the bottom stems, then tear the leaves
into bite-sized pieces.
For romaine lettuce and arugula, soak the leaves briefly in lukewarm water to remove any sand or dirt, then rinse well in cool water. Repeat soaking and rinsing until clean, then dry in a salad spinner.
For endive, remove outer leaves, cut the bottom stalk and chop the leaves.
Now I'd like to hear from you:
Do you eat salad, and how often?
What do you put in your salad?
How do you feel after eating salad?
Please let me know your thoughts by posting a comment below.
Important: Share the Health with your friends and family by forwarding this article to them, and sharing on Facebook.
Leo Galland, M.D. is a board-certified internist, author and internationally recognized leader in integrated medicine. Dr. Galland is the founder of Pill Advised, a web application for learning about medications, supplements and food. Sign up for FREE to discover how your medications and vitamins interact. Watch his videos on YouTube and join the Pill Advised Facebook page.
References and Further Reading:
This information is provided for general educational purposes only and is not intended to constitute (i) medical advice or counseling, (ii) the practice of medicine or the provision of health care diagnosis or treatment, (iii) or the creation of a physician--patient relationship. If you have or suspect that you have a medical problem, contact your doctor promptly.