For many years, popular references to ethnic humor were assumed to include veterans of the Catskills, vaudeville, and the Borscht Belt. A quick list of famous Jewish comedians (and comedy writers) includes such popular entertainers as Sophie Tucker, Sid Caesar, Sam Levenson, Carl Reiner, Woody Allen, Joan Rivers, Mickey Katz, Jack Benny, Milton Berle, Mel Brooks, Totie Fields, Buddy Hackett, and George Burns.
Whereas the source of ethnic humor was once identified as immigrant families from Europe and Russia, new generations of laughmeisters are coming from Asian cultures. Stand-up comics like Margaret Cho, Dat Phan, Aasif Mandvi, Bobby Lee, Kal Penn, Rex Navarrete, Aziz Ansari, and Henry Cho have gained popularity in comedy clubs, on television, and in film.
Movies like American Fusion, Ping Pong Playa, The Wedding Banquet, The People I've Slept With, and Colma: The Musical have given audiences new ways to laugh at themselves. Talented Asian-American filmmakers like Q. Allan Brocka, H.P. Mendoza, Michael Kang, and Quentin Lee have continued to push the comedic envelope.
One of my favorite groups of Asian-American comedians is the OPM sketch comedy troupe in Los Angeles, whose website states:
"OPM (which stands for 'Opening People's Minds') is not your typical urban American sketch comedy troupe from L.A. One reason is that it actually reflects the urban American experience, one that includes perspectives from our so-called 'minority' communities -- whether based upon ethnicity, gender, or sexual orientation. In particular, OPM gives voice to the Asian-Pacific-American experience, due in part to the heritage of most of its members (as well as the ready abundance of comic material yielded by an immigrant upbringing). All this while keeping the humor universally accessible."
In addition to performing before live audiences, the talented members of OPM have made some wonderful videos. Here are three of their funniest:
Each year, the San Francisco International Asian-American Film Festival screens some shorts made from an acutely Asian-American/LGBT perspective. Some show a wealth of imagination and take the viewer on some wildly unexpected turns. The following three shorts won me over in a heartbeat.

* * * * * * * * * *

Directed by Tina Takemoto (who also stars in the lead role), Looking For Jiro is a fascinating music video which focuses on a frustrated young gay man working as a baker in a Japanese-American internment camp during World War II. Takemoto conceived the character of Jiro Onuma as a young gay man who liked fine clothing and fantasized about athletic men with extremely muscular bodies.
In Looking For Jiro Takemoto performs as a Japanese drag king, showing how Jiro's ability to survive the isolation, homophobia, and humiliation of life in an internment camp was helped by his ongoing fantasies and an extremely homoerotic approach to baking which allowed Jiro to shove his arms into the braided breads he baked so that he could then wear themn as substitutes for the bulging biceps he coveted.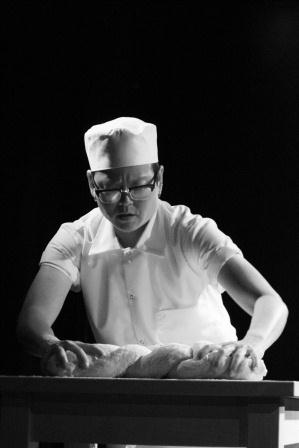 Tina Takemoto as Jiro Onuma baking bread
Photo by: Maxwell Leung
Takemoto has done a splendid job of contrasting archival footage from Japanese-American internment camps with historic clips of Eugen Sandow (frequently hailed as "the father of modern bodybuilding") as he poses and flexes for the camera.
Narissa Lee's short film, The Arrival, uses an old-fashioned science fiction meme about invading aliens to describe the anxieties of members of a "reconciling" United Methodist Church who dread the arrival of "the gays" as new members of their congregation. Made with the cooperation of the Pine United Methodist Church of San Francisco, The Arrival is a delightful four-minute mockumentary featuring a nervous female Japanese pastor who once had a bisexual friend in her congregation in Japan.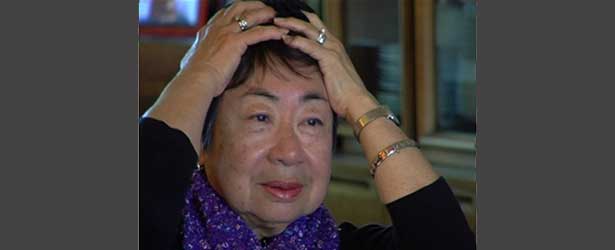 Kay is a nervous elderly parishioner in The Arrival
Slated to receive its world premiere during this month's festival, The Arrival does a short and very sweet job of depicting the homophobic hysteria gripping members of the congregation and contrasting it to their feelings after gays have been part of their church group for a while ("They really like to sing!") The film is a perfect little comedic gem.
Alex Chu's ridiculously over-the-top Fortune Cookie Magic Tricks may well hold the honor of being the world's first gay Asian-American martial arts zombie musical mashup. Derek Liu stars as Justin Huang, a handsome young gay Asian American who lacks health insurance and is stuck waiting in a discount hospital for a kidney transplant.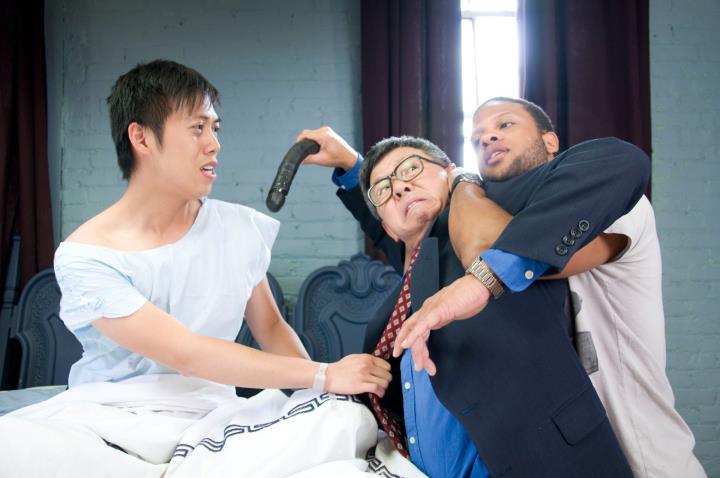 Derek Liu, Jim Lau, and Elijah Rock in Fortune Cookie Magic Tricks
An unexpected visit from Justin's father (Jim Lau) brings the conservative old man face-to-face with Justin's lover, Chris (Elijah Rock), who has a big, black rubber dildo dangling from his mouth. When Tong Chee tries to "cure the gay" by offering his son all kinds of DVDs filled with straight porn, Chris launches into a hospital room music number entitled "He Don't Like The Va Jay Jay."
Sticking with the traditional approach to such matters, Tong Chee hires two Chinese exorcists (Rick Liu and Paul Kwo) whose efforts are thwarted by an enraged homophobic Christian zombie (Martin DeBoer) who hungers for much more than brains.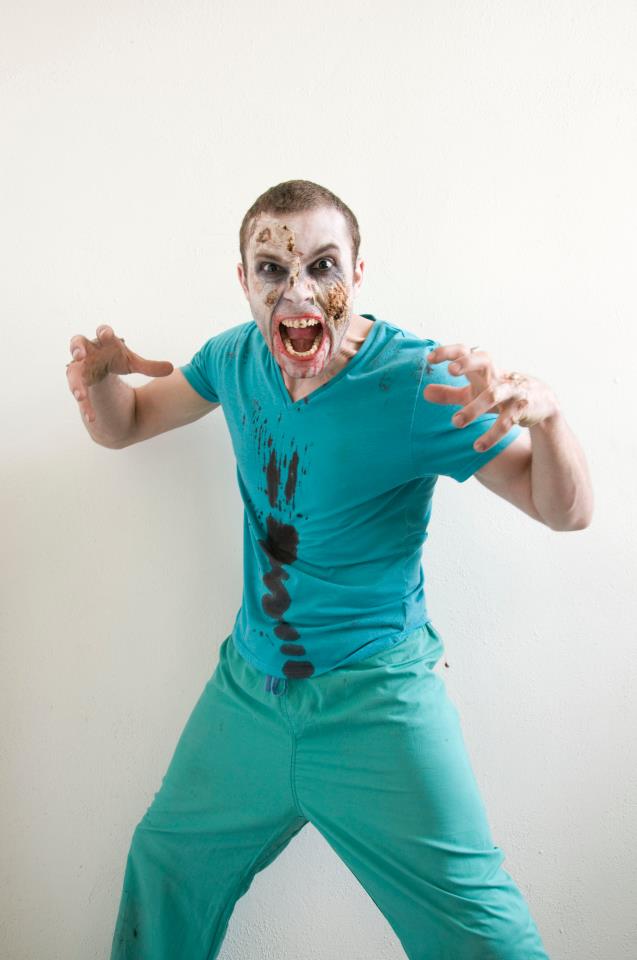 Homophobic Christian zombie Warren McBeck (Martin DeBoer)
Chu's script is filled with laughs as it spoofs classic stereotypes of Asian and zombie films. Fortune Cookie Magic Tricks also manages to cover a surprising amount of political ground with a truly hilarious payoff at the end. Here's the trailer:
Related
Popular in the Community