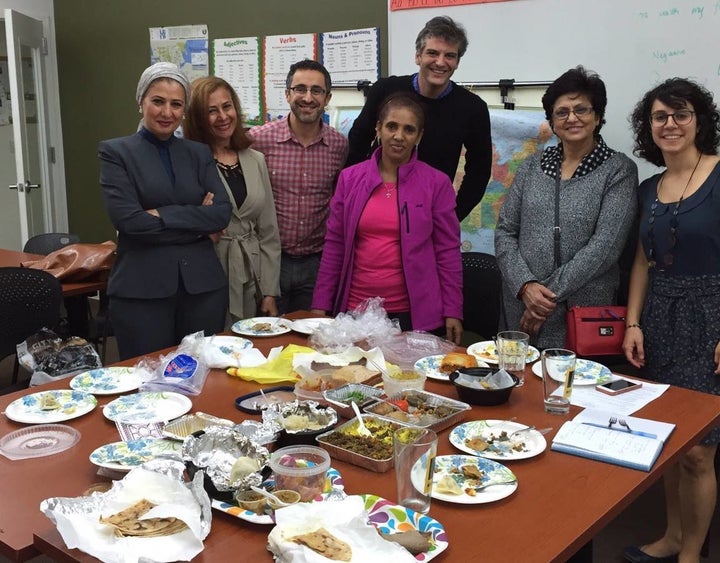 New York is a crowded market for food delivery services, but a new startup, Eat Offbeat, stands out for a big reason: all of the company's chefs are refugees who have resettled in the U.S.
The three chefs who are currently employed by the startup cook traditional dishes from their home countries, Nepal, Iraq and Eritrea. They were recruited through the International Rescue Committee, an American refugee resettlement agency. 
The only hiring requirements for the chefs were that they liked cooking and that they had some experience cooking in the past, even if just for their families.
Eat Offbeat was founded by Lebanese immigrant siblings Manal and Wissam Kahi. Manal moved to New York in 2013 for to study public administration at Columbia. She became interested in the food industry because she couldn't find hummus as good as her Syrian grandmother's. Her brother, a management consultant, suggested she try making her own, she told the Huffington Post on the phone.
The siblings' idea for a hummus startup eventually transformed into one for a food delivery service when they met the professional chef Juan Suarez de Lezo. He is now the "Chief Culinary Officer"of Eat Offbeat and has trained the chefs in food preparation, hygiene, and how to scale up their family recipes to deliver in large quantities. 
"The cooking talent is all homegrown," Kahi said. "Juan doesn't intervene in the recipes at all, he just ensures quality."
Right now, Eat Offbeat is still in a soft launch stage and caters only to large groups of 10 or more. The Kahis deliver each order themselves by car. Each menu, which consists of three or four courses from the cuisine of each chef, costs $20 per person. They are working to launch individual orders for Manhattan residents through their website in coming weeks. 
The chefs cook in a shared commercial kitchen in Long Island City. All the chefs currently work part-time, but as business increases, they will likely be employed full-time. The initial funding for their startup came from the Center for Social Ventures at Columbia.
Kahi said their most popular dish at the moment is "Cauliflower Manchurian," battered and fried cauliflower in sweet chili sauce, made by the Nepali chef Rachana Rimal. Another surprise hit is Iraqi Mahsi, stuffed onions in tomato sauce.
The eventual goal for Eat Offbeat is to provide refugee residents with skills and training so they can find full-time employment in a number of fields. 
Kahi said they don't just want to change the lives of these refugees -- they want to change American attitudes as well. "We want New Yorkers to see that refugees have a lot to offer." he said. "We want them to see that they are bringing in something great. And we can show that through their food."
Calling all HuffPost superfans!
Sign up for membership to become a founding member and help shape HuffPost's next chapter