The cast of the upcoming film Eat, Pray, Love enjoyed an intimate dinner last night at Thomas Keller's renowned The French Laundry in Napa, following the week's press junkets in the area. Sony Pictures executives Amy Pascal, and Marc Weinstock were in attendance, along with cast members Julia Roberts, Javier Bardem, Billy Crudup and Richard Jenkins, along with film Producer DeDe Gardner, and Director Ryan Murphy.
The group of 20 started with a canapé reception and led to a 7-course tasting menu put together by Keller and and Chef de Cuisine Timothy Hollingsworth (the 2010 James Beard Award winner for Rising Chef of the Year), which featured The French Laundry's famous "Oysters and Pearls" dish and their "Coffee & Doughnuts" dessert.
The only curious inclusion was a Sautéed Fillet of Atlantic Halibut dish. Atlantic Halibut (even wild-caught) is classified as "Avoid" by the Monterey Bay Aquarium's Seafood Watch and as an "Eco-Worst Choice" by the Environmental Defense Fund for being "extremely depleted." The French Laundry is a bit closer to the Pacific, whose Halibut happen to be classified as "Best Choice." It should be noted that Keller is otherwise one of the most thoughtful chefs in the country if not the world for the quality and level of sustainability of the ingredients he uses in his myriad restaurants -- many through direct relationships with some of the best farmers in the country.
Below is the menu for The French Laundry's Eat, Pray, Love dinner along with photos of two of the signature dishes.
"OYSTERS AND PEARLS"

"Sabayon" of Pearl Tapioca with Island Creek Oysters
and White Sturgeon Caviar
Lewis Cellars, Sauvignon Blanc, "Reserve," Napa 2008

tart of french laundry garden Tomatoes
Summer Squash, Burrata Cheese, Niçoise Olive
and Garden Blossoms
Shafer, Chardonnay, "Red Shoulder Ranches," Napa 2008

"Macaroni and cheese"
Hand-Rolled Semolina Macaroni, Montgomery's Cheddar
and "Sauce Périgourdine"

sautéed fillet of atlantic halibut
Tomales Bay Clams, Cauliflower, Sultana Raisins,
Spanish Capers and Brown Butter-Sage Emulsion
Patz & Hall, Pinot Noir, "Jenkins Ranch," Russian River Valley 2007

Snake River Farms "Calotte de BŒUF grillée"
Fingerling Potatoes, King Trumpet Mushrooms, Nantes Carrots,
Petit Onions and "Sauce Bordelaise"
Modicum, Cabernet Sauvignon, "Rutherford," Napa 2005

andante dairy "cavatina"
Peach Cobbler, Piedmont Hazelnut Streusel,
Watercress and Australian Truffle Coulis
mango sorbet
Lime-Chili Granité, Andante Dairy Yogurt,
Summer Melon and Mint

"coffee and doughnuts"
Cinnamon-Sugared Doughnuts and "Cappuccino Semifreddo"

valrhona guanaja chocolate "marquis"
Goat's Milk Mousse, Bing Cherries,
Thai Long Peppercorns and Cassis Sorbet

and

honey-glazed Santa Rosa Plums
Pine Nut Nougatine, Mascarpone Cream, Vanilla-Basil Ice Cream
and 100 Year Aged Balsamic Vinegar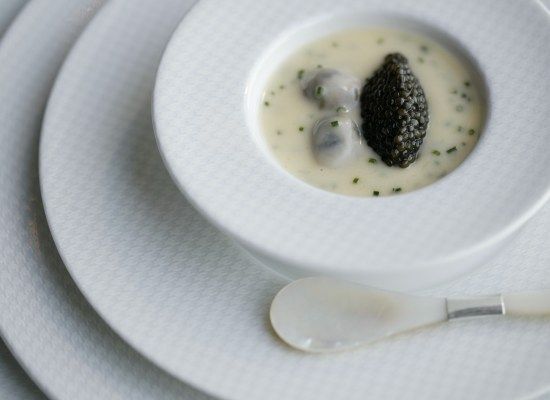 "Oysters and Pearls": "Sabayon" of Pearl Tapioca with Island Creek Oysters and White Sturgeon Caviar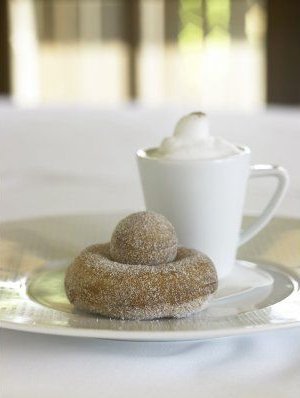 "Coffee and Doughnuts": Cinnamon-Sugared Doughnuts and "Cappuccino Semifreddo"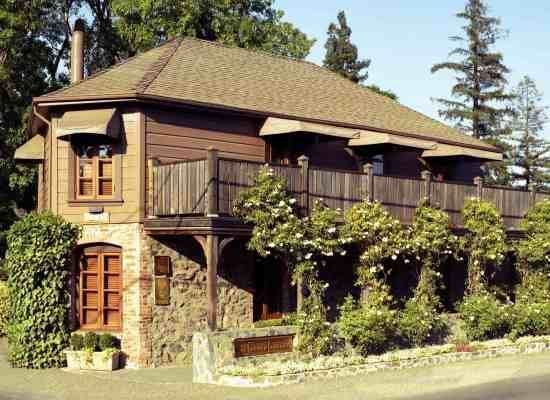 The French Laundry, in Yountville, California
Calling all HuffPost superfans!
Sign up for membership to become a founding member and help shape HuffPost's next chapter