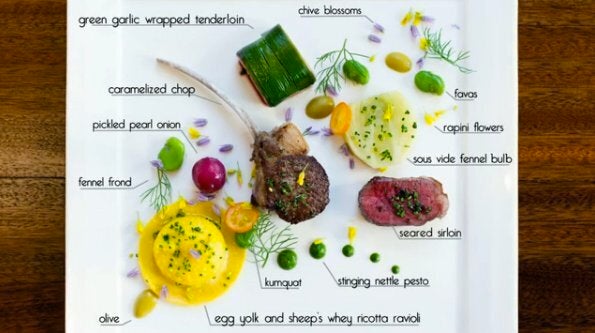 When people discuss food miles, they are usually referring to large-scale channels of moving food across the country, if not farther. Barndiva Restaurant in Healdsburg, Calif. brings the concept to a more micro scale, with a beautifully-shot video that explores the path of various ingredients for one single dish (albeit, this dish has many components). The clip offers a small-scale visual map of how food travels from farm to kitchen to plate, in this case, all from farms nearby the restaurant.
Jil Hales owns Barndiva, along with her husband Geoffrey Hales. She was inspired to make a movie because she noticed that the words "farm to table" started appearing everywhere, and the phrase was losing its meaning.
Below, a real example of "farm to table" fare.
Related