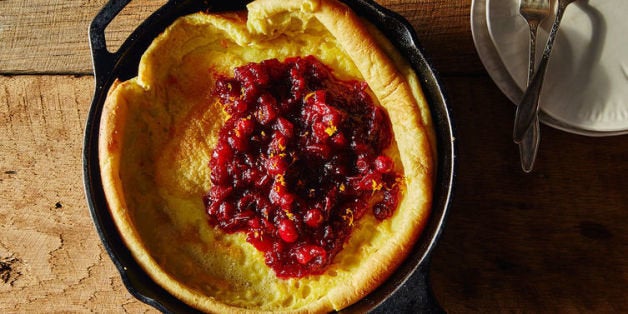 For those nights when you get home hungry, stressed, and impatient, Hangry is here to help. Each week, Kendra Vaculin will share quick, exciting meals to rescue anyone who might be anxiously eyeing a box of minute rice.
Today: Forget the Swedish and their pancakes. Forget the French and their toast. In the arena of skillet-cooked breakfast goods from across the Atlantic, the Dutch and their babies reign supreme.
I grew up in a family that treated the Dutch baby with reverence. It was a blessed day whenever my mother pulled an egg-y, cake-y, puffed yellow mass from the oven, a welcome sight at any hour. In my house, a Dutch baby functioned equally well for breakfast or breakfast-for-dinner, and leftover slices kept in the fridge rarely survived the night. We smothered our pieces with maple syrup and powdered sugar (even for dinner) and relished in finding the little pockets of warm butter, unincorporated into the mix, that spilled from the crevices we found with our forks. In the grace we said before we ate, the silent additional prayer in all of our minds was a thanks that my mom saw syrup cake as a totally normal meatless Monday option. Praise.
Debate rages amongst D.B. enthusiasts about which form of the dish reigns supreme -- thick and baked up like a casserole, or the very strange sort of thin sliver variety. Clearly my allegiance is with the former. If Dutch baby is pizza, I am Chicago all the way -- which is the inverse of how I feel about actual pizza.
Whichever form of the dish you prefer (using the recipe below or your own family tradition), try it with a cranberry orange compote, the only stray holiday vestige I can stand to whip up even into the new year.
1 bag cranberries (8 ounces) fresh or frozen
1 tablespoon finely minced orange zest
Pinch each of cinnamon and ground cloves
Food52 is a community for people who love food and cooking. Follow them at Food52.com -- and check out their kitchen and home shop, Provisions.