In 2016, HuffPost Lifestyle is challenging you to up your game and develop healthy habits you can stick with all year long. Every month, we're asking you to examine a different part of your life and make small tweaks that add up to big change. This month, your mission -- and ours -- is to eat healthy foods that'll help your mind and body to be at their best.
Food is such an integral part of every human's daily existence -- we all need to eat, and we all face temptations to make unhealthy decisions throughout the day (and week, and month...). We're here to help you be more conscious of those decisions, and to come up with a plan to both prevent and conquer those moments of weakness.
To be clear, our Eat Well, Feel Great challenge is NOT a diet. Rather, it's a series of small, doable daily challenges that'll arm you with the tools and knowledge you need to make healthy choices in your everyday life -- whether that's learning how to navigate the takeout menu, how to avoid eating an entire bag of M&Ms at 4 p.m., or figuring out how to be a slave to coffee. Because after all, half the challenge in changing your lifestyle is understanding that it's shaped by the tiniest little choices you make every day.
Sign up and dive in, even if you may have gotten started after the challenge gets rolling on March 1.
What is the Eat Well, Feel Great challenge?
We're here to help guide you on a transformative journey. Each day, we'll deliver content related to healthy eating in the form of daily tips, food swaps, nutrition info, and easily digestible (no pun intended) steps to get you on the path to a healthier lifestyle.
How do I sign up?
Where can I see previous challenges?
Check out our interactive calendar below, which shows previous challenges and gives you a sneak peek at what's ahead. The calendar also allows you to add daily tasks in your phone as a reminder.
How else can I follow along?
How time consuming are the challenges?
They are pretty simple! Each challenge is something that should be easy to achieve -- one day you might swap your coffee for tea, another day we might ask you to eat one more vegetable than you normally do. The initiative is designed to fit into your hectic schedule. The overall goal is to make small, positive changes every day that put you on the road to a more healthy lifestyle.
Why should I do this?
Because we've all had those moments when we realize that we're not treating our bodies with the respect they deserve. Since this isn't a diet, but rather a path toward being more conscious of what you're putting into your body, this challenge can benefit everyone.
Do I have to do it alone?
No, of course not! In fact, we encourage you to sign up for the challenge with a family member, friend or co-worker.
Are you ready to eat some delicious food and feel a whole lot better? Let's get going!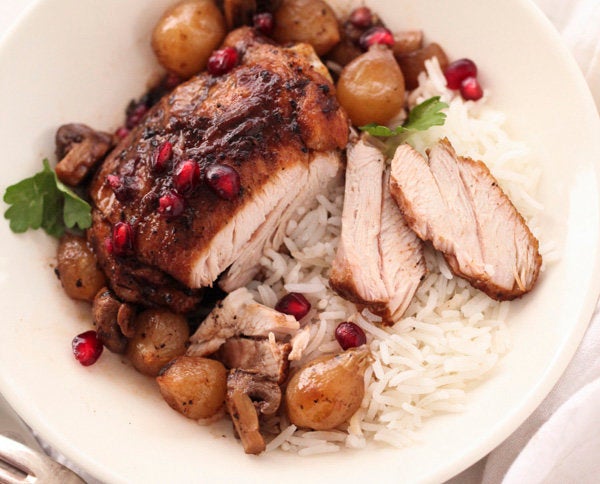 Healthy Recipes We Want To Eat
Popular in the Community