As a food writer and cookbook author, my mission in life is pretty much to encourage people to cook more at home. So I would be really remiss if I didn't post during Eating In week. In fact I'm a little embarrassed that I'm just getting around to it now; the problem is that I've been busy, well, cooking. With a 7-year-old. All weekend. This little person is a total gift in my life (though a very high-energy one!) For some reason, when she comes to visit, she likes nothing better than to stand on a little stool at the end of my kitchen counter and mix, stir, spoon, drizzle, and ladle whatever is on the menu. This weekend we made homemade pizza with about 15 different toppings. We also made roasted tomatoes, which we call tomato candy. Yum. Surprisingly, this 7-year-old is really open-minded about vegetables.
That's a good thing, since my house is vegetable central. I spent the last couple years developing more than 100 vegetable side dish recipes for my first cookbook, Fast, Fresh & Green, which is being published by Chronicle Books this spring. I also develop a lot of vegetable recipes for Fine Cooking magazine, and now for my under-construction website, www.sixburnersue.com. All of this is a bit ironic, as I myself wasn't terribly open-minded about vegetables as a kid, and as an adult, I'd still rather eat chocolate than just about anything else. But not all the time. I really do believe--and it's something I wish I could shout out loud--that everyone would eat more vegetables if they learned how to cook them deliciously. I am hoping that Huff Post's Eating In Week might help some folks get friendly with vegetables, so I thought I'd share some recipes that I've found to be crowd-pleasers.
Today I'm posting a carrot stir-fry, as carrots are so darn friendly that just about every generation likes them. Of course, if you've got bad memories of mushy, overcooked carrots, you might be wary. Just remember two things when cooking carrots: Cut them into evenly sized pieces so that they all cook at the same rate (I like sticks). Then remember that high heat--sautéing, stir-frying, roasting--will caramelize their sugars and turn their flavor from slightly mineral-y to sweet and toasty. One caveat--carrots can dry out with too much dry, high, heat, so finishing them off with a little liquid (or roasting them with a thorough coating of olive oil) will yield the perfect texture.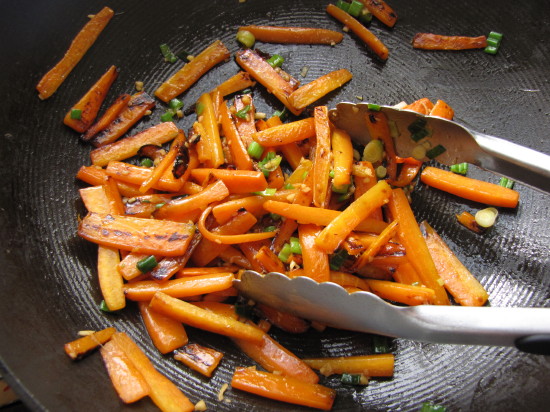 Gingery Stir-Fried Carrots with Cranberry and Orange
If you don't have a nonstick stir-fry pan, use a large nonstick skillet instead. The bowl shape of the stir-fry pan is an advantage, as there is lots of surface area for the carrots to brown up, and they also steam a little bit from their own moisture as you toss them around the pan. The result is delicious flavor and perfect texture. My favorite stir-fry pan is a 12-inch Circulon.
1 pound carrots
1 tablespoon cranberry juice (unsweetened)
1 tablespoon fresh orange juice
1/8 teaspoon balsamic vinegar
½ teaspoon kosher salt
1 tablespoon vegetable oil
¼ cup (about 2 small) sliced scallions, white and green
2 teaspoons minced fresh ginger
pinch red pepper flakes
1 teaspoon unsalted butter
Trim and peel your carrots and cut them into sticks that are 2 to 3 inches long, and between ¼ and 3/8 inch thick. Combine the cranberry juice, orange juice and balsamic vinegar in a small bowl.
In a large (12-inch) nonstick stir-fry pan, heat the vegetable oil over medium-high heat. When the oil is hot (it will loosen up), add the carrots and salt and stir well with tongs. Cook, stirring only occasionally and spreading out the vegetables after every stir, until the carrots are browned in places (they should have lost their stiffness; some will be slightly blackened), about 10 minutes. Adjust the heat up if the carrots are not browning after a couple minutes; lower the heat if the carrots are browning too much after five or six minutes.
Turn the heat to low, add the scallions and ginger, and stir until fragrant, about 30 seconds. Turn off the heat, add the cranberry/orange/balsamic combo and stir until the liquids have mostly reduced and been absorbed. Take the pan off the heat, add the butter, and toss and stir gently until it melts. Serve warm.
Recipe by Susie Middleton. Follow Susie on Twitter @sixburnersue.
Calling all HuffPost superfans!
Sign up for membership to become a founding member and help shape HuffPost's next chapter