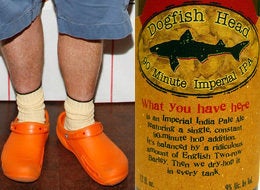 In a development that can only be described as something like the Traveling Wilburys of restaurants, or more simply, the "Best Idea Ever," Mario Batali (through his B&B Hospitality Group with Joe Bastianich) is teaming up with Delaware-based American craft beer kingpin Dogfish Head and three other American and Italian craft breweries to open Eataly, a rooftop restaurant and brewery in New York. The other partnering breweries are Birrificio Le Baladin and Birra del Borgo, both of Italy, and the Russian River Brewing Company.
A locavore's paradise with, like the Turin original, an indoor greenmarket of sorts, highbrow groceries, and prepared foods.
The first floor of the building at 200 5th Avenue will house Eataly, an epic Italian specialty foods market and multiple restaurants which pair gourmet foods with artisanal beers and wines. Additionally, there will be an 8,000 square foot rooftop brewery and restaurant operated by B&B Hospitality's Mario Batali and Joe Bastianich.
Brilliantly, some of Eataly's beers will be brewed on the rooftop itself, which will have views of the Empire State Building and the Flatiron Building:
The rooftop bar and restaurant will house a copper-clad brewing system. The idea is to create an artisanal, old world Italian craft brewery that just happens to be located on a rooftop in Manhattan, says Dogfish Heads Sam Calagione. The four brewers are working together on recipes for Eatalys house beers. Those beers will feature Italian and American ingredients. The beers will be unpasteurized, unfiltered, naturally carbonated, and hand-pulled through traditional beer engines for the most authentic and pure presentation. The four individual brewers will also occasionally brew beers under their own names on site. The rooftop restaurant project will pair artisanal rustic, homemade beers with the artisanal, rustic cooking of Chef Mario Batali. Additional Italian and American regional craft beers will be served both at the rooftop bar and within the downstairs restaurants.
Batali, Bastianich, and the brewers are partnering with the existing and original Eataly emporium, located in Turin, Italy, which you can read more about here.
New York's Eataly will be located at 200 5th Ave., right off Madison Square Park (home of Danny Meyer's original and immensely popular Shake Shack), in the flatiron district, and will open this summer.
Popular in the Community