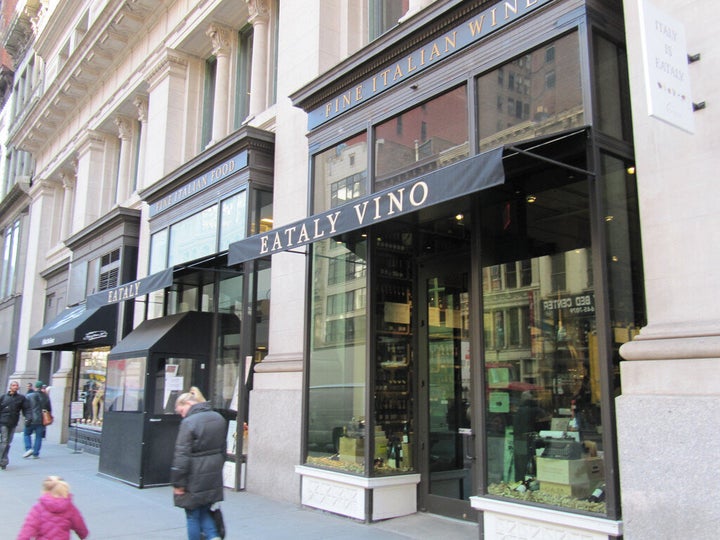 Eataly is big. The 40,000-square-foot Italian food-and-drink emporium already comprises a wine store, a beer garden, a bakery, a grocery store and six restaurants, all on 23rd Street in Manhattan. Eataly is so big that Little Italy's merchants have been complaining that it's stealing business from Mulberry Street. But by the end of 2012, if all goes according to plan, it will get bigger.
That's when Joe Bastianich says he and Eataly's co-owners (who include superstar chef Mario Batali) hope to have opened their second of three American branches of Eataly they currently have planned—in Los Angeles and Washington, DC.
Bastianich says the two new locations will be at least as big as the first, and that they, too, will include both restaurant and market components. "What we've learned from opening Eataly New York," he told the Huffington Post, "is that, because this is a big idea, it needs a big platform. Whereas your instinct might be, in a smaller market, to go smaller, we're actually thinking now that we should go bigger."
The main barrier to opening, according to Bastianich, has been finding a proper space. "Obviously, the biggest challenge is locations," he said. When Eataly signed its lease in New York, their broker, CB Richard Ellis, called it "Manhattan's signature retail real estate transaction of the year." (A representative from CB Richard Ellis was not available for comment on Eataly's expansion, due to a confidentiality agreement.) The difficulty of finding a site means that Bastianich cannot yet say whether the LA or DC location will open first.
Rumors of the LA opening have been swirling for months, but Batali and Bastianich had not yet revealed plans for a third Eataly in DC.
He told the Huffington Post, though, that he was excited by the prospect of Eataly DC. "I think it's great, I welcome it. I've very much enjoyed Eataly whenever I've been in New York," he said. Voltaggio also said that 9,500-square-foot North Market Kitchen will differentiate itself from Eataly through its emphasis on local food. "It's Joe Bastianich and Mario Batali. It's very, very, very Italian. It started in Turin. They have a lot of imported goods," he said of Eataly. "Mine's going to be very much based on American cuisine, with meat and poultry from within 200 miles of Frederick."
Related