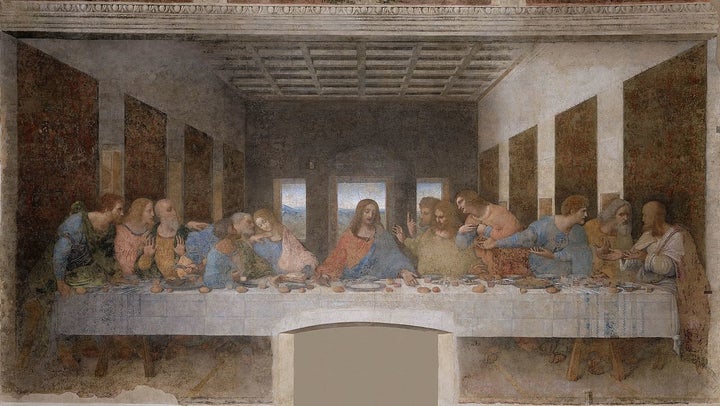 Eataly, the fancy Italian market chain fronted by chef Mario Batali, is down to protect a good Italian meal in need.
The famed eatery recently announced its plan to back an innovative air-filtration system meant to conserve Leonardo da Vinci's iconic 15th-century painting "The Last Supper," which depicts what is possibly the most epic Italian meal of all time.
Da Vinci's tempera-on-gesso masterpiece, depicting Jesus and his disciples deciding to sit on only one side of the dinner table, has been in a steady state of decline since its creation in 1498.
The artist's experimental construction method ― not to mention the fact that the work was once stored in a prison ― contribute to its rapid fading, which is aggravated by the "microscopic dust" of the visitors who make the pilgrimage to see it at Santa Maria delle Grazie in Milan, Italy. As of now, restoration attempts have been largely unsuccessful, and only 1,300 visitors are allowed to see the work each day in order to limit the dust-induced damage. 
According to an Eataly spokesperson, Italy's Ministry of Cultural Heritage and Activities and Tourism has developed a system designed to protect this invaluable relic of Italian culture, and Eataly has graciously agreed to help foot the bill.
Italian research institutes ISCR, CNR, the Polytechnic Institute of Milan and the University of Milano at Bicocca have teamed up to create a mechanism that will filter in around 10,000 cubic meters of clean air into the convent where the work is housed. That's almost three times the current amount of sweet, un-dusty air coming in at present. The system aims to protect da Vinci's work for the next 500 years, Eataly wrote in an email to The Huffington Post, meaning that all of your potential great-great-great-grandkids will get to see Judas, Peter and good ol' Bartholomew in the flesh ― or, at least, in the paint.
The installation is slated for completion by 2019, which also marks the 500th anniversary of da Vinci's death. 
If you've previously felt irked by Eataly's high prices, know the profit from that $9 bag of pasta is going to a great place.
Calling all HuffPost superfans!
Sign up for membership to become a founding member and help shape HuffPost's next chapter
BEFORE YOU GO