**Scroll down for photos of Eataly**
Eataly, a 50,000 square-foot emporium devoted to the food and culinary traditions of Italy, opened today at 200 Fifth Avenue in New York, across from Madison Square Park. Manhattan's Eataly is the new sister of the original in Turin, founded by Oscar Farinetti. Mega-chef Mario Batali and his longtime restaurant partner Joe Bastianich (also a co-host of Fox's MasterChef) and Bastianich's chef/restaurateur/TV food personality mother Lidia, joined forces with Farinetti to open Eataly, which expects to attract millions of customers a year -- "at least four million a year, perhaps six," according to Farinetti:
"Do I look like a dreamer? Well, Eataly in Turin gets two and a half million visitors a year. And Turin has a million residents. There are eight million people in New York. Plus 45 million tourists, half a million of whom are from Italy. It's the most-visited city in the world: Paris comes a poor second with 23 million. Do you think I'm being over-ambitious?".
HuffPost Food visited the Italian food funhouse and our photos of just some of the offerings are below. It is clear that Batali & co. spared no expense to ensure that Eataly's offerings set the bar for Italian food and products to a new level. Three wood-burning ovens -- one for Eataly's bread and two for its pizza -- were hauled in from Italy, not to mention six pizza chefs who arrived from Naples just last week. Eataly will require around 300 employees and will be able to seat 600 in its various restaurants.
Check out the photos and read more about Eataly's myriad culinary options, below.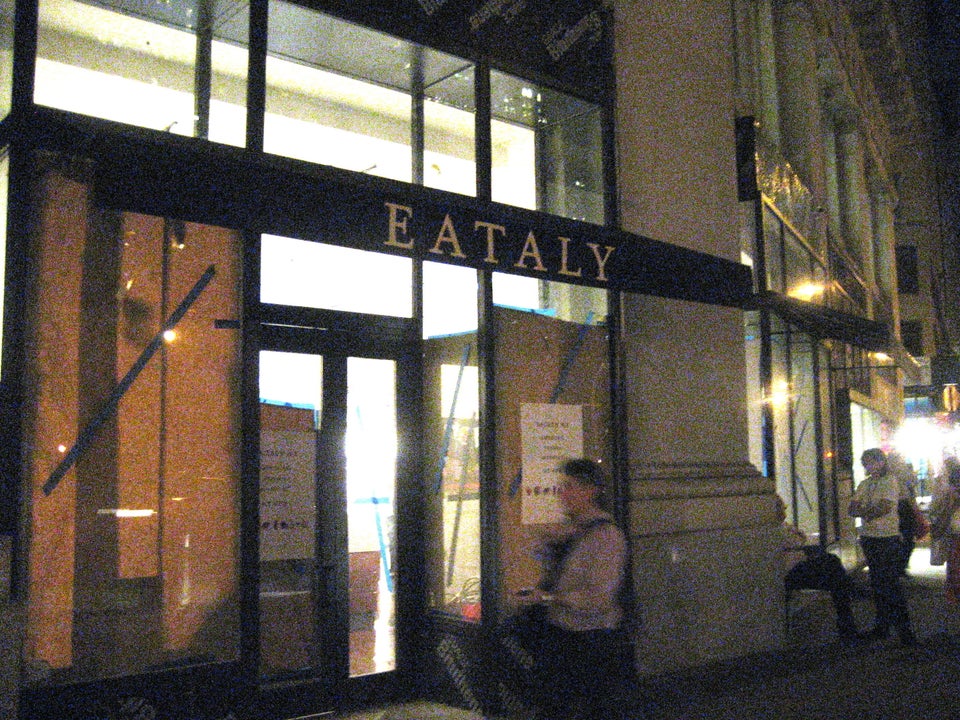 Eataly: Batali & Bastianich's Temple Of Food
Eataly's options for the hungry and/or curious visitor, many of which are pictured in the slideshow above, include:
A bakery helmed by Nancy Silverton, of La Brea Bakery, using a wood-fired oven -- visible to the public -- that was brought in from Italy and will run most hours of the day. Bread and focaccia will be baked continuously both both for purchase and for Eataly's various restaurants.
A Salumi e Formaggi counter
A fresh pasta counter offering a huge variety of handmade pastas for home cooks
Pizzeria Rossopomodoro, helmed by six pizza makers who arrived in New York from Naples just last week, using wood-fired ovens hauled in from Italy.
Il Laboratoria De La Mozzarella, where fresh mozzarella will be made daily
Uber-local produce, direct from the Brooklyn Grange, a rooftop farm in Queens.
La Verdura, a vegetable bar and restaurant that will feature a highly-publicized vegetable "butcher" that can prep any vegetables you purchase for ease of cooking at home (think artichokes and the like).
A paninoteca
A rosticceria
A macelleria (butcher) that will showcase two exquisite beefs: a grass-fed Italian Piedmontese variety ideal for raw preparations, and "a grain-fed superbeef that will be engineered...by beef guru Adam Perry Lang."
Il Manzo, the only restaurant in Eataly that will take reservations, headed up by Michael Toscano, formerly of Batali's Babbo.
A fresh fish counter
A crudo bar and seafood restaurant Il Pesce, run by David Pasternack, the chef of Batali/Bastianich-owned seafood restaurant Esca
A pasticceria run by Italian pastry chef Luca Montersino
A gelateria that also includes a variety of pure-fruit "ice creams" made entirely of single fruits like bananas, figs, etc.
An espresso counter featuring Lavazza coffees
La Scuola, a cooking headed up by Lidia Bastianich that will offer courses on Italian food, wine & beer, with guest chefs galore including Bastianich and Batali
Imported, packaged Italian goods galore: dried pastas, grains, anchovies, olive oils, vinegars, jams, honey, canned tomatoes and sauces, and pretty much everything else good from Italy
And, for good measure, a working Italian Bank's ATM
That doesn't even include the veritable cherry on top of the Eataly megaplex when it opens later this fall: La Birreria, a 300-seat rooftop microbrewery/beer garden/restaurant that we described back in February as potentially Nirvana-esque. La Birreria will feature food from Batali along with a microbrewery headed up by Sam Calagione of America's own Dogfish Head Brewery, and Italian microbrewers Teo Musso of Birrificio Le Baladin and Leonardo Di Vincenzo of Birra del Borgo in Rome, plus, "guest brewers every month that come from Italy to brew regionally- and seasonally-specific beers."
Eataly: 50,000 square feet meticulously engineered and curated to smother us with pleasure.
Related