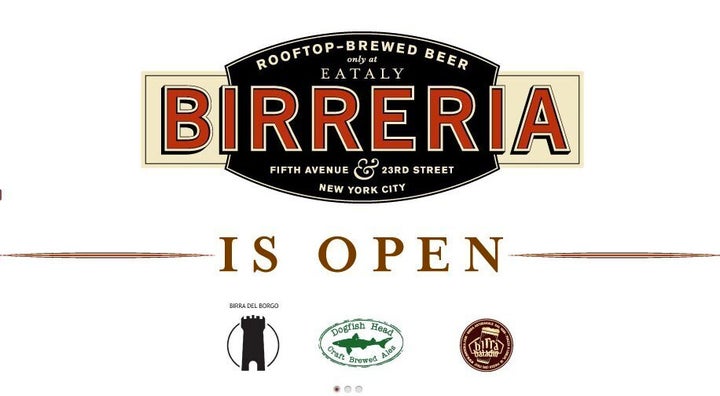 Eataly, New York's massive Italian supermarket, is about to get even more crowded thanks to the addition of La Birreria, a rooftop bar that fits 160 patrons. "This is probably the highest brewery in the country," brewmaster Sam Calagione remarked while looking at sweeping views of New York City.
La Birreria features rotating beers through a collaboration of three brewers. Calagione of Dogfish Head Brewery (Delaware) has been working with Italian brewers Teo Musso of Birra Baladin (Turin) and Leonardo Di Vicenzo of Birra Del Borgo (Rome). Eataly's head brewer Brooks Carretta apprenticed at all three breweries to prepare for his current role.
Italy has "no beer culture," explained Di Vicenzo, but since there aren't particular expectations, a freedom of experimentation has resulted. Thanks to Italy's deep food culture, brewers like to focus on Italian ingredients and try things with different ingredients. For example, Musso uses tobacco (not legal in the U.S.) and chestnuts in some of his recipes. The brew team trio is currently experimenting with ugli fruit, ginger, and both orange and eucalyptus honey for the next beer. It's a sexy recipe, joked Calagione.
Creating a brewery on a Manhattan rooftop had a host of issues, including challenges with the steam boil system and the logistical issues of how to brew beer in a very small space. But, despite the many delays, it is now up and running, featuring custom-designed beer glasses by Musso and beers named after famous Italian women ranging from a pale ale with thyme (Gina) to a seasonal peppercorn beer offering (Sofia).
In addition to beer, La Birreria also offers wine directly from the cask and a food menu with items such as sausages and pretzel bread inspired by the Italian Alps (get it? -- because the Alps are high up, just like the rooftop).
Eataly co-owner Nicola Farinetti confessed that when Eataly first opened last year, "we had no idea what to do with the roof." Looks like they figured it out.
Watch the video below by The Feast in which Sam Calagione explains a little bit more about the process to create La Birreria.
Popular in the Community