"What is Malaysian cuisine?" That was my first question interviewing Chef Christina Arokiasamy, the first ever Malaysian Food Ambassador to the U.S.
Chef Christina was born and raised in Malaysia, is the author of "The Spice Merchants Daughter" and is also considered a spice expert, coming from 5 generations of spice merchants. I couldn't recall ever going to a Malaysian restaurant and Malaysian ingredients weren't something I searched for when I went grocery shopping. The National Restaurant Association spotlighted Malaysian cuisine as one of the top 3 trending flavors of 2014 but yet I couldn't find anyone that would recommend any Malaysian restaurants in my area. Meeting Chef Christina would prove to be very educational, enlightening and a great introduction into a delicious cuisine.
Chef Christina recently joined forces with The Malaysian External Trade Development Corporation for their new project called the Malaysia Kitchen USA program (MKUSA). The purpose of the program is to heighten the awareness of Malaysian spices and cuisine throughout the United States. The Malaysia Kitchen USA program and Chef Christina made their first appearance at the Specialty Food Association Summer Fancy Food Show recently in New York with 10 booths. "The curiosity behind Malaysian ingredients remains untapped in the U.S. market" says Arokiasamy. "By introducing our Malaysian food and beverage products that are all-natural, value-driven, easy-to-make, and authentic in taste, American families can access and enjoy flavorful, healthy choices from packet to plate in the convenience of their own homes."
MKUSA recently had a food tasting with Chef Christina showcasing the ingredients that make up Malaysian cuisine, which is a culmination of Chinese, Indian, Indonesian & Thai spices. I was super excited to have the opportunity to try so many authentic dishes. It was definitely a delicious exploration for my palate. And it was an opportunity to see up close how simple the dishes are to make with the spices available now in the U.S. because of the Malaysia Kitchen USA program. The program caters to the needs of the time-savvy home cook with easy preparation methods. The sauces and spices have already been pre packaged, without compromising flavors and nutrition so all you have to do is add the meat, or the shrimp, fish or tofu.
I was not prepared for the amount of food that was on its way out of the kitchen. We started the night off with appetizers of Mango Kerabu (Malaysian mango salad), Beef Rendang Sliders (braised beef sirloin cooked in coconut lemongrass sauce) and Wok Prawns (wok-tossed chili sesame prawns with curry leaves). Then we went into the lunch menu which featured Chicken and Beef Satay with Peanut Sauce and Roti Canai (hand-tossed griddled Malaysian bread, dipped in Malaysian coconut curry with potatoes). Then the dinner bell rang and out came Ayam Masak Merah (braised chicken and tomato in tamarind sauce), Sambal Shrimp (Nonya-style shrimp and asparagus sautéed in sambal belachan) and Malaysian Curry Laksa (spiced coconut noodle curry with shrimp, fishball, eggplant and bean sprouts). At this point everyone in the room was slouched down a few inches and about to go into a food coma. But we couldn't end the night without a few sweet treats. The delicious icy sweet concoction called Chendol (shaved ice with pandan jelly and palm nectar) made an appearance and another popular Malaysian dessert called Kaya Toast, which was topped with pandan & coconut paste.
As Chef Christina says, "At breakfast we talk about what we are going to eat for lunch, at lunch we talk about what we are going to eat for dinner. Our life revolves around food."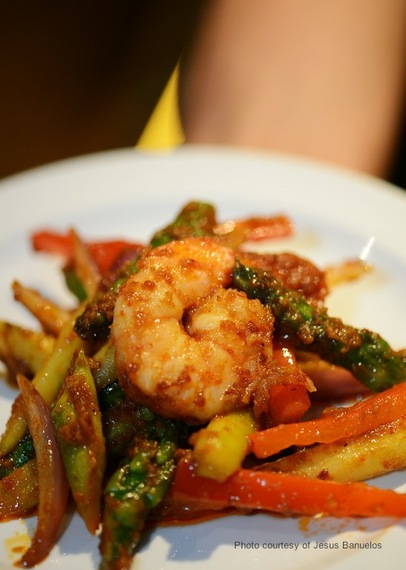 Sambal Shrimp. Nonya-style Shrimp and Asparagus sautéed in Sambal Belachan. Product Spotlight: Tean's Gourmet Sambal Tumis & Sharifah's Sambal Tumis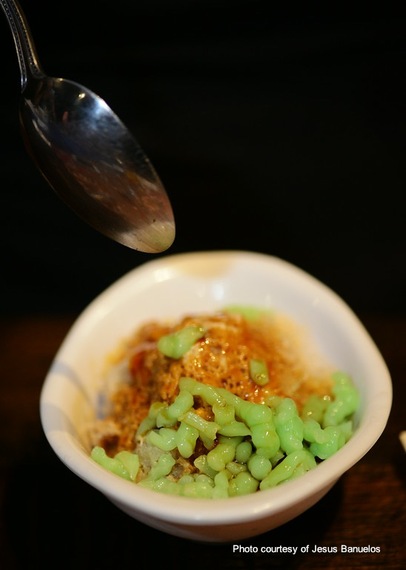 Chendol (Shaved Ice with Pandan Jelly and Palm Nectar) Product Spotlight: S&P Santan Instant Coconut Cream Powder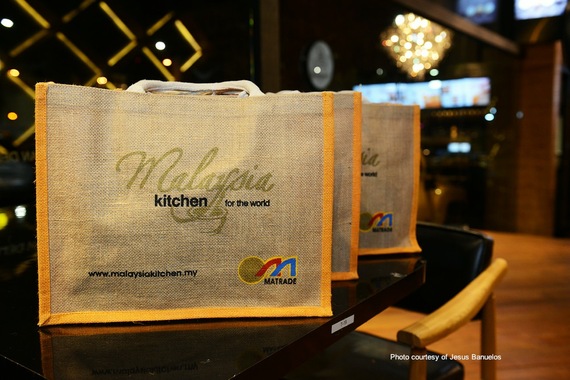 For more information about the Malaysia Kitchen Program USA, visit the website at http://malaysiakitchen.us.