We had driven about 35 miles off the interstate to have lunch at a James Beard American Classic and that first bite of the BBQ sandwich from Jones BBQ in Marianna, Arkansas was every bite as wonderful as we'd hoped for. Two thick slices of white bread stuffed with hand chopped and slow-smoked pork and a simple slaw. And at only $3.00 this sandwich may have been the culinary highlight of our trip. May have.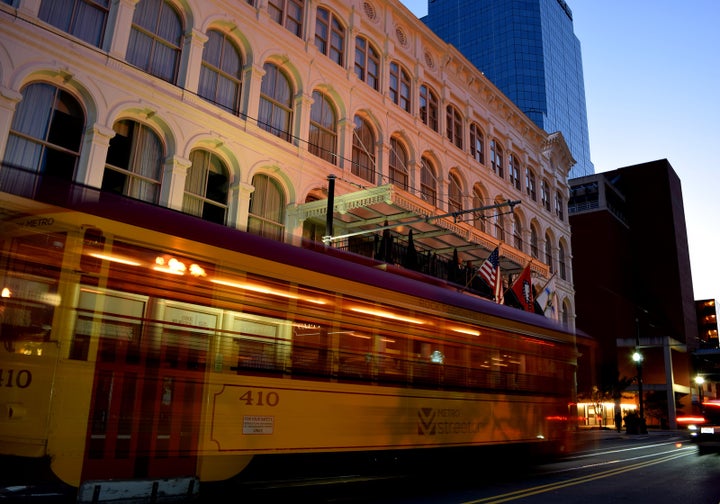 Is there anything better than a great road trip?
I'm speaking rhetorically, of course. Nevertheless, my bride and I love a great road trip, especially when we're sans kids and have a long list of food to try and restaurants to visit. Our primary reason to put a thousand miles on her Toyota Venza in the space of six days was a visit to Little Rock where my cousin and his bride have lived for the past five years and before they leave for Houston, we wanted to visit and dine with my old friend, Joel Antunes. Greenville, SC to Little Rock, Arkansas and back in six days. Why not?
Our first stop was Asheville's Hole Doughnuts. This is easily one of our favorite food destinations in the US. And I'm serious. Their doughnuts are unlike any other doughnut I've had, and while other well-known shops are prone to adulterate their 'nuts with bacon, kid's cereal, granola, and Halloween candy, Hole keeps it real with such artisan glazes and toppings as maple, molasses, cinnamon, and bourbon. You really should go.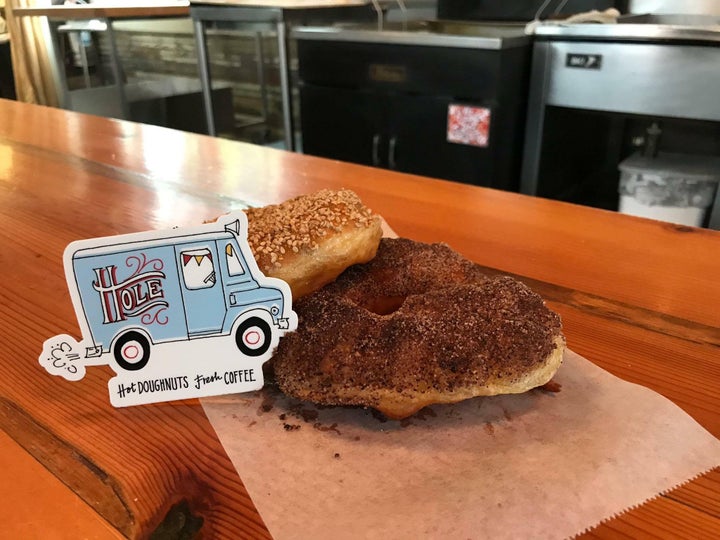 After four doughnuts and coffee, we were off to Knoxville, TN. I wasn't planning on writing about Knoxville, but we stopped for lunch and through sheer dumb luck landed at Frussie's Deli in downtown Knoxville. Imagine our surprise when we saw handmade bread, gorgeous corned beef, pork loin, and freshly baked banana bread. I'm a sucker for a solid work ethic and cooks that take the hard way out. And the guys at Frussie's Deli are making and baking 11 different breads from scratch, and that's Monday through Friday.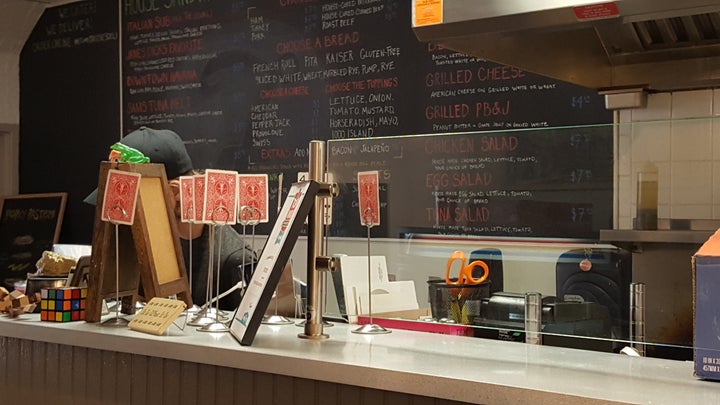 Plus, they're curing their own corned beef and slow-roasting their own sandwich meats. And you can enjoy all this love and attention on a $10 sandwich. If they so desired, they could choose from dozens of pre-cooked and cured meats, and hundreds of frozen breads courtesy their Sysco or US Foods rep. Yet they're making all this themselves and offering it up for the price of a combo meal at your favorite fast food joint. The city of Knoxville should be hoisting these guys up on their shoulder and parading them around Neyland stadium.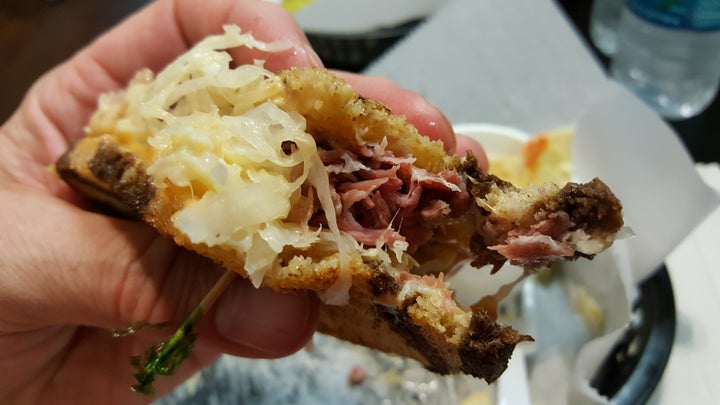 A few hours later we arrived in a chilly, rainy Nashville and headed out to the 404 Kitchen. If you're a reader of any of the major food media outlets, you've probably read about the 404. In a few short years they've garnered a serious amount of attention. It's in a shipping container, it's tiny, the food is wonderful, they've got 117 or so whiskeys at their bar, etc., etc. All those things are accurate.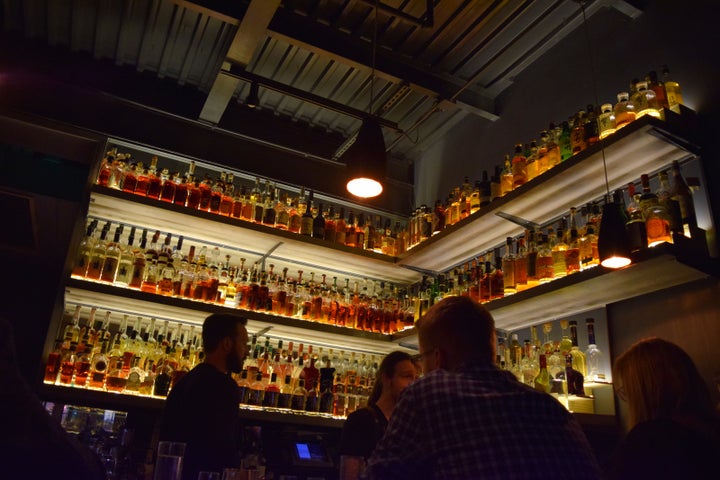 The salmon crudo (Italian, raw) dish, the one Instagrammed by every food blogger in 13 states, served on a thin glaze of local buttermilk, adorned with toasted benne seeds, bell pepper, and orange-infused olive oil, is a true delight. A single bite hits all the right notes on the tongue's spectrum; at once fatty, tangy, spicy, and creamy. It's a brilliant combination, a new-age carpaccio worthy of its acclaim. Our beef tartare was a model of hand diced raw beef; served with matzah crackers was exquisitely simple and delicious.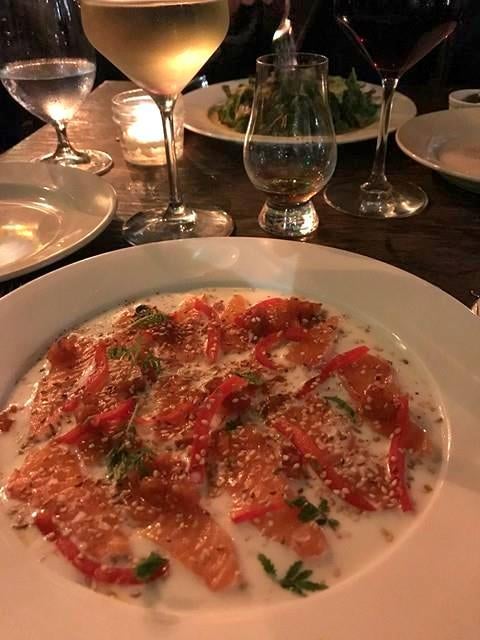 Be forewarned, the 404 is expensive, tiny, and busy. In our two hours there we were bumped into, stepped on, and inadvertently danced with several staff members and customers. And the staff could've been a bit more informed on the intricacies of the menu. The staff's level of attention and the restaurant's surroundings should match the menu's prices, no matter where one is dining. At the end of the evening we were told the 404 is moving across the street to a larger location and perhaps that means steel-toed boots won't be needed on our next visit.
The next morning dawned crisp and clear, the rain had moved on, and our destination, Nashville's Yeast Bakery, was only a mile walk from our Airbnb. My bride, at one time a pastry chef that made regular appearances in those food magazines, was thrilled about her first kolache.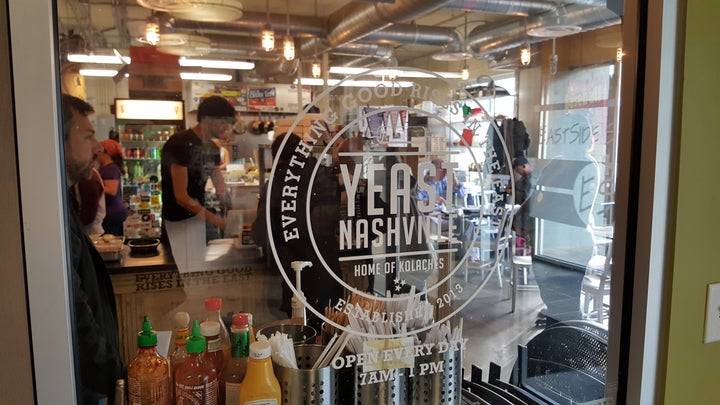 What's a kolache? It's a breakfast pastry, similar to a Danish, and instead of the dough being rolled or twisted into a knot, it's formed like a yeast roll. A depression is created in the center then the filling added and it's baked.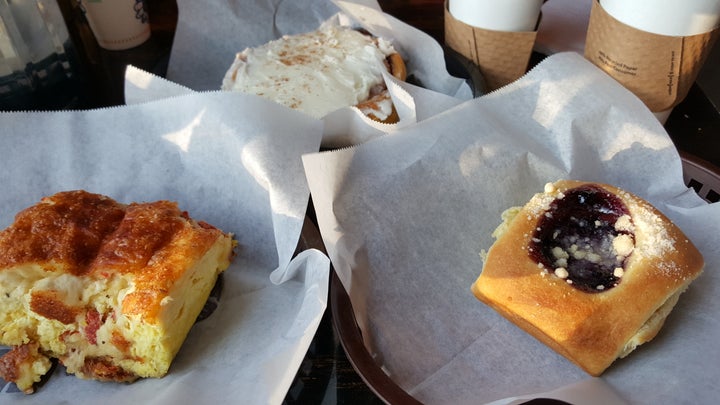 Kolaches are Czechoslovakian pastries and in the US, they're found in parts of Texas, Pennsylvania, and a small part of Nashville. Okay they're actually found at a bakery on a corner of Nashville.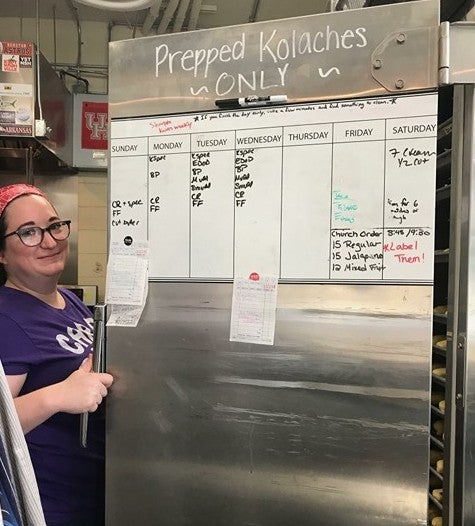 Fueled up with sugar and caffeine, we headed to Little Rock.
From the mid '90s through the mid '00s, Joel Antunes was one the top chefs in the country. Stars, diamonds, magazine covers, and James Beard awards were his provenance at the Ritz-Carlton Buckhead and later at his own Restaurant Joel. His cooking was the epitome of sophisticated American-influenced French cuisine. His food was prepared and served with a surgeon's touch and a cook's heart and when he graced my kitchen for our restaurant's five-year anniversary, it was (and is) the highlight of my professional career. When he left the states for London, his departure also heralded a sea change in fine dining and the restaurant business. Today Joel runs the kitchen of Little Rock's Capital Hotel, and it's a worthy destination for his artistic approach to cooking.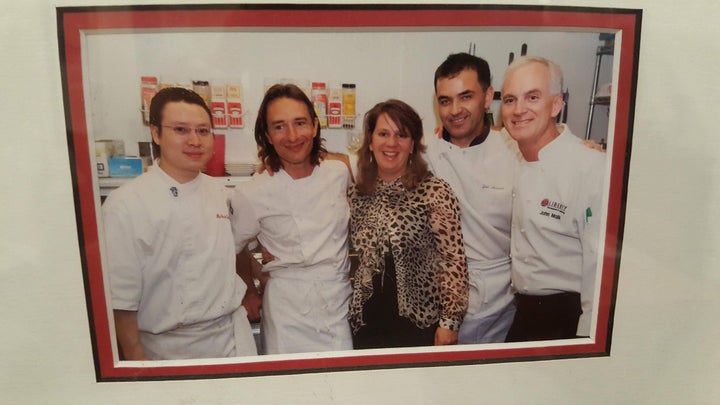 The Capital is one of those hotels that reminds me of why we love great hotels. From their service, to the linens, to their glorious marble bar, this is a destination of refined hospitality. There's a lot to love about Airbnb and it can really add a sense of adventure and personality to a trip, but even the best spare bedroom of someone's home can't compete with the level of refinement a grand hotel can achieve. And the Capital is all kinds of grand. It's draped in marble, wood, and brass, it's staffed with smiling, congenial and very professional folks. Just a walk through its lobby can make one wish for a free hour just to stare and admire.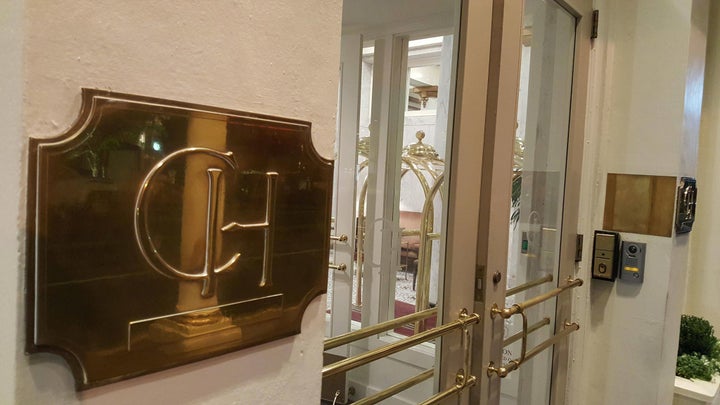 Their rooms are appointed with a multitude of details and the bed linens were so tight and crisp I thought Sargeant Lee Ermey was in charge of making beds.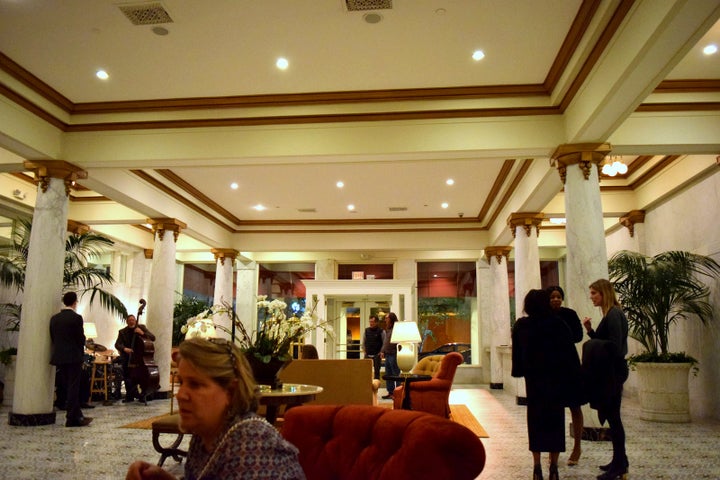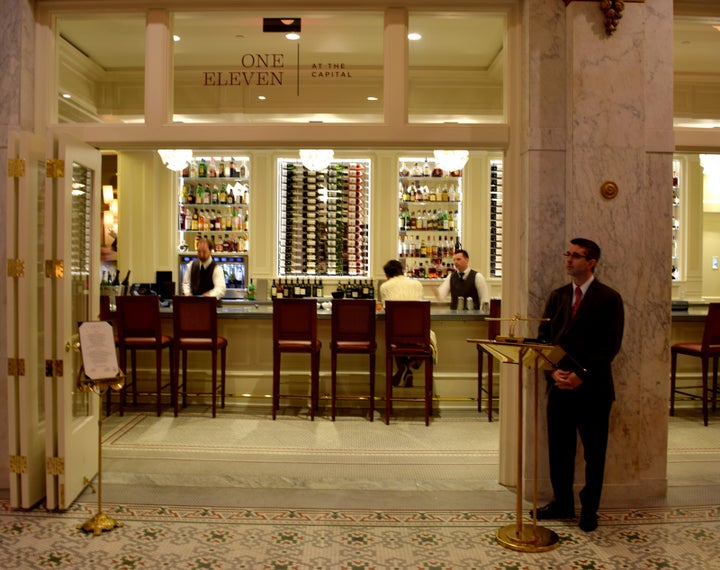 There's a still a market for white tablecloth dining in this country, though that market has shrunk considerably. Thankfully it's well funded at The Capital.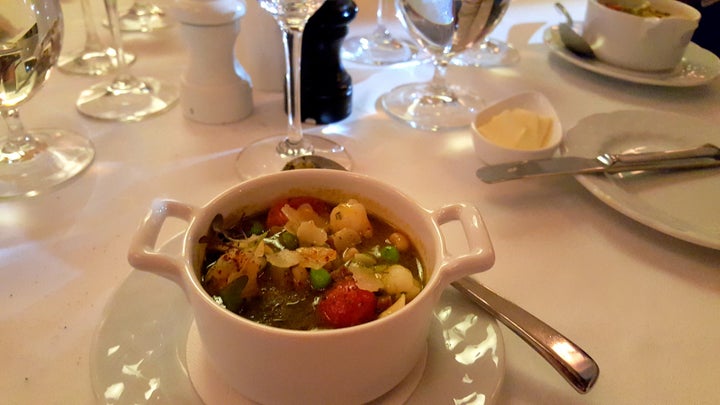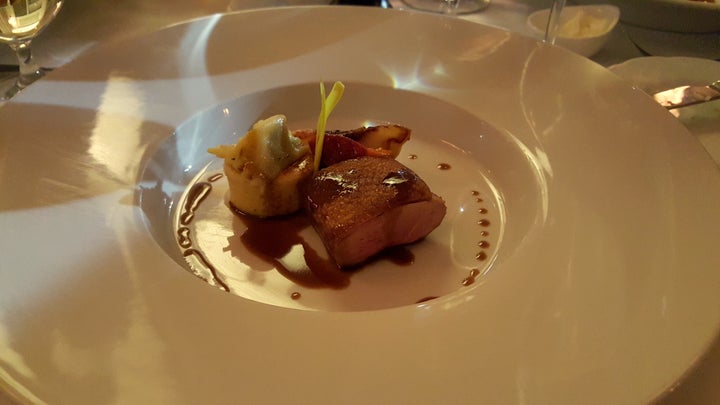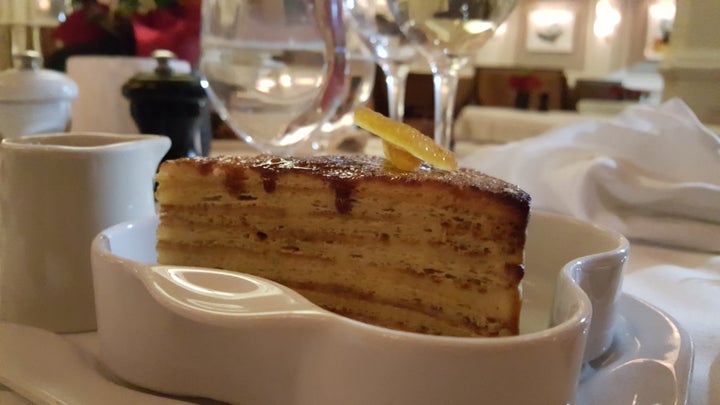 Service, the type restaurant professionals once aspired to, is an art form. And at the Capital Hotel, it's practiced to perfection. Wine is properly presented and poured, tables are crumbed, dishes are carefully served and tables are bussed with careful, practiced movements and a minimum of fuss.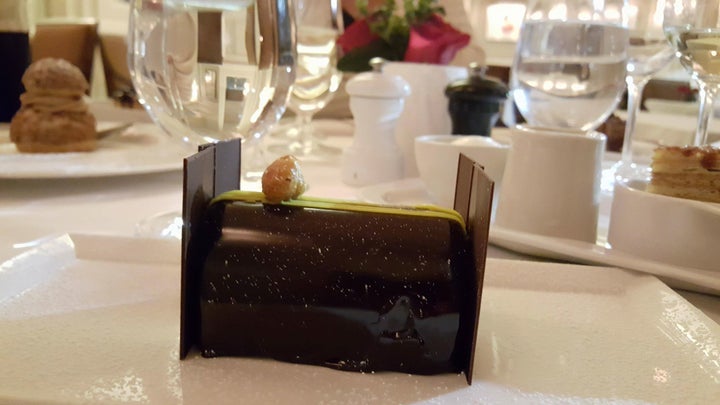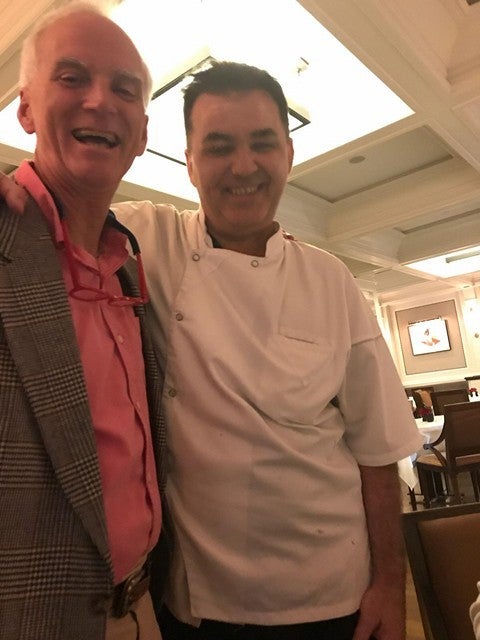 I'd like to think that fine dining will survive even in this day of taco everything and food truck traffic jams. One evening in the hands of an artist like Joel is an experience a serious diner should aspire to.
After a three mile walk and tour of Little Rock, it was dinner time. Every American city should have at least one brew pub like Little Rock's The Lost Forty. Housed in a former industrial space, Lost Forty produces crisp traditional and modern beers married with a hearty meat-centric menu. Indeed they feature locally produced ham from Petit Jean and breads made from their leftover mash. Their BBQ brisket served atop creamy grits was as satisfying as it sounds and their house made pickles were a great palate cleanser after all the bacon, BBQ, and fried okra. In the spirit of the new American style of brewpub, their seating is all communal tables.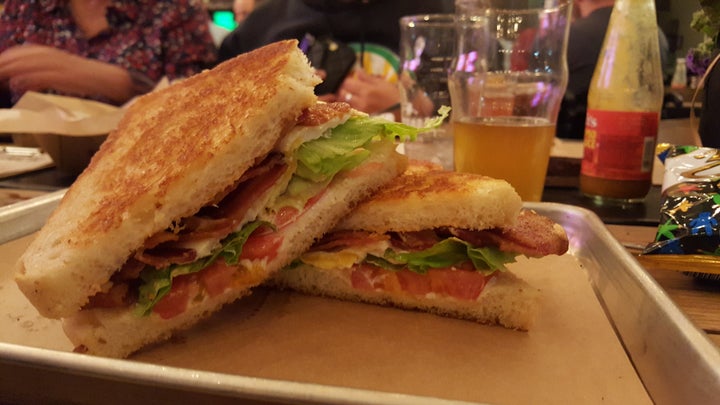 Ice cream in its purest sense should be made daily using a few simple ingredients; milk, cream, cane sugar, egg yolks and flavoring such as cinnamon, lemon, fresh strawberries, vanilla beans, chocolate, peanut butter, or caramel. And occasionally an ice cream shop should branch out and make Zombie Flesh flavor for Halloween. If that ice cream shop is feeling strong they may attempt to make their own cones, flavored syrups, Italian style sodas, and coffee drinks. Loblolly is that ice cream shop. In the SoMa neighborhood of Little Rock, it's run by a fun (who wouldn't have fun working here) group of characters that love what they do. Although making ice cream may sound easy (it is) it's a challenge to do so on a large scale.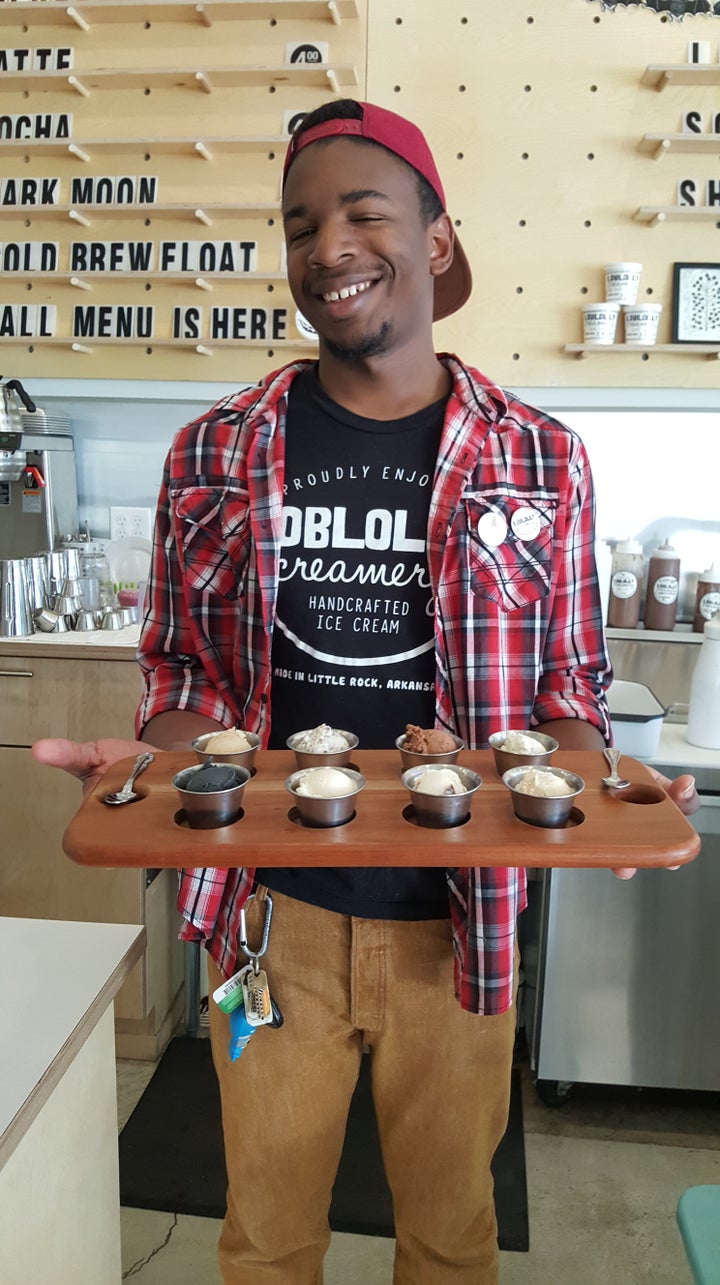 The afternoon we visited, Loblolly featured a couple dozen flavors plus the aforementioned sodas, cones, coffees, plus cookies and brownies. And all of it was handmade. Do you know how cheap and easy it is to buy a case of 2400 ice cream cones? And yet they're making fresh cones, from scratch. After sampling a dozen of their flavors I'm of the opinion that corporate shop in town should be embarrassed to call what they serve ice cream. In a just world, we would all have a shop like Loblolly within a mile's walk of our home.
As we were leaving the Capital on Monday morning on our way to Memphis, the Manager on Duty recommended a detour to Jones BBQ, about 35 miles off the interstate. When he mentioned Jones BBQ was a James Beard American Classic, that sealed the deal.
Marianna, Arkansas is in the middle of cotton country. And it was harvest time and the stuff was everywhere.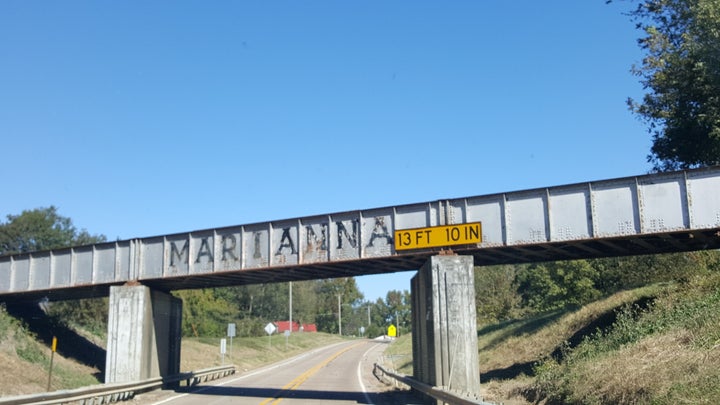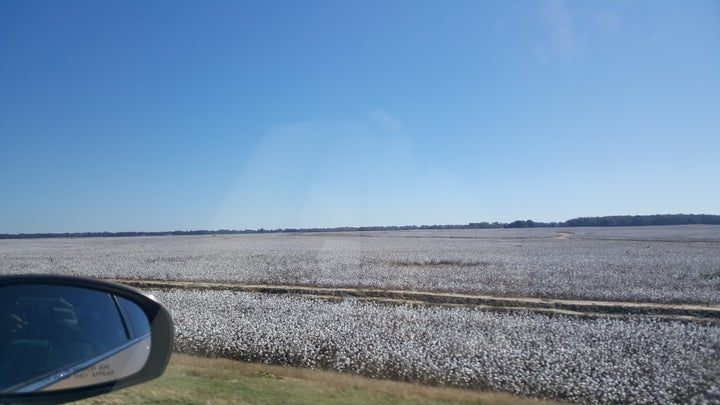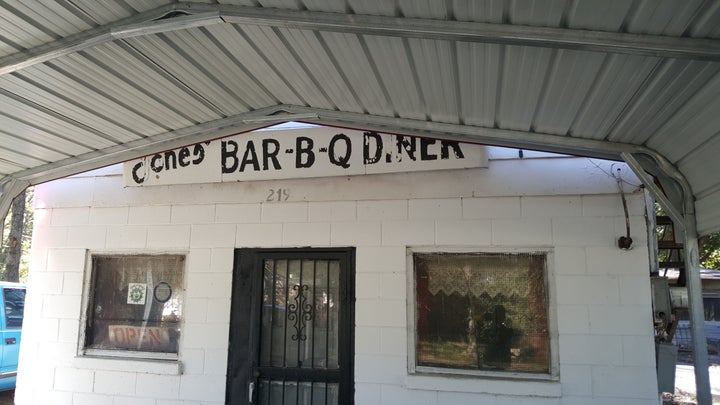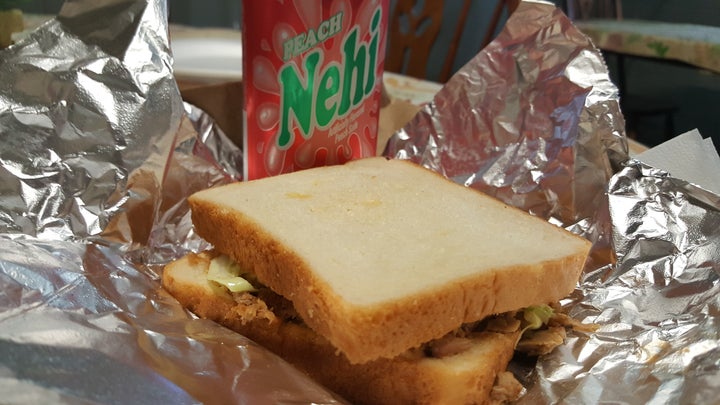 If you're on the road between Memphis and Little Rock, I can recommend a detour to Jones BBQ diner. The best decision the James Beard society has made in the last ten years was the creation of the American Classic award. It's not a popularity contest, it's awarded by a group of folks within the society and it's given places like Jones Diner unheralded publicity.
Off to Memphis where we only had one night and that meant one dinner. We chose wisely in Hog & Hominy. How good was this place? I'm rarely knocked out by Southern food. If you're serving it, I've cooked it many times over, for large and small crowds, and I can see and smell shortcuts and bullshit a mile away. And the food at Hog & Hominy knocked my socks off. A marriage of Italian technique and ingredients with American food stuffs from the south, this place is worthy of its accolades.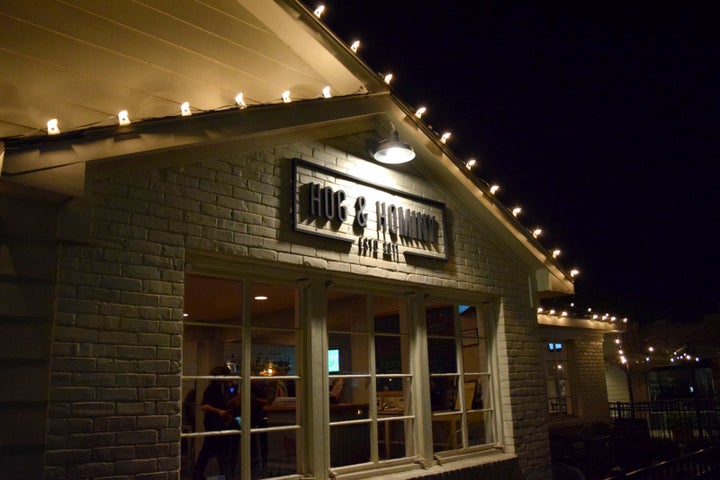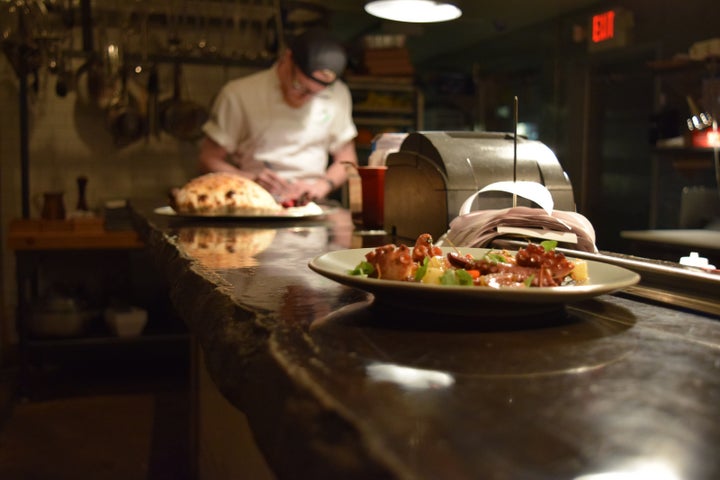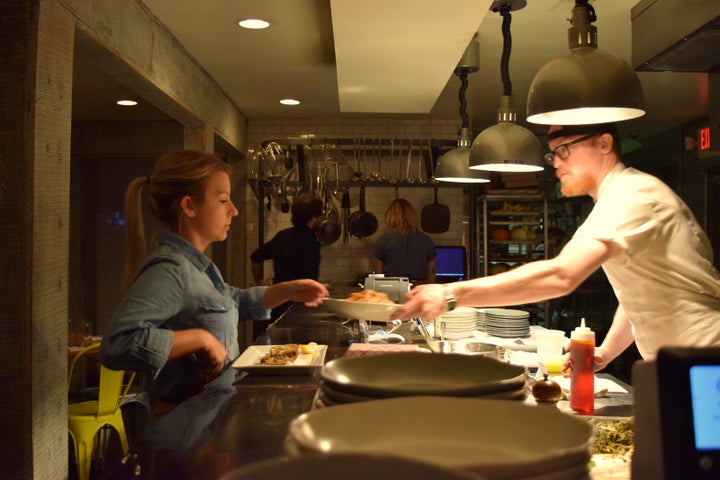 Where do I start? Wood fired oysters with fresh Parmesan and calabrian chiles, Poutine made from hand cut fries, smoked pork neck bone gravy and chili oil, wood fired Red eye pizza topped with local eggs, celery leaf, and pork belly, roasted half spaghetti squash filled with tomato sauce, topped with fresh mozzarella and bruleed under the salamander...I could keep going. Chef Josh T. Hunt has a knack for coaxing rich, bold flavors out of such low rent ingredients as pork neck and Nilla wafers while also bringing out the sublimeness of such precious ingredients as oysters and octopus. His food walks a line between perfect cut fries and hearty meatballs bound with pig's cheek (guanciale) and fresh grated Parmesan.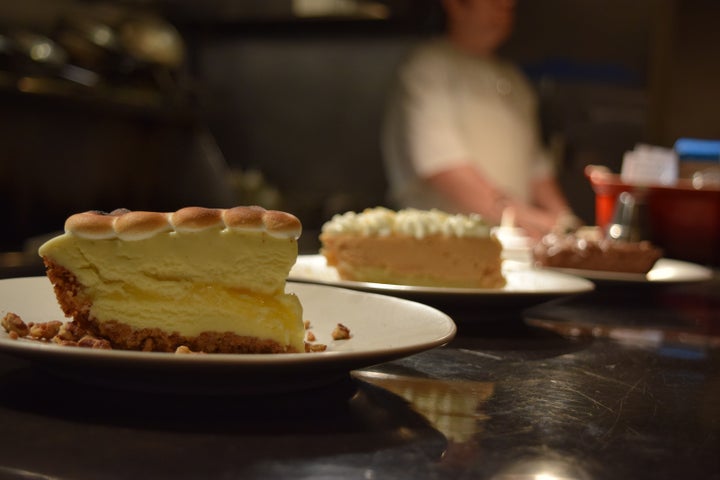 Hog & Hominy has rightfully attracted more press than Kim Kardashian's butt. It's one of the most intriguing Southern meals I've had since dining at Ben & Karen Barker's Magnolia Grill in Chapel Hill, NC. It's that good.
After a thousand mile across our South, and several thousand calories, one thing stood out. In these ice cream shops, brewpubs, bakeries, and southern brasseries, we met plenty of hard working, clever, industrious millennials. You've read about this subset of people before. They're the ones that are supposedly killing off everything from Dial soap to the American work ethic. I'm here to tell you this is a lie. They're out there making terrific ice cream from local milk, amazing pies from hundreds of hand squeezed lemons, brilliant pizza from sourdough, perfect beers from stacks of fifty-pound sacks of barley and hops, and stunning five star desserts for a discerning audience.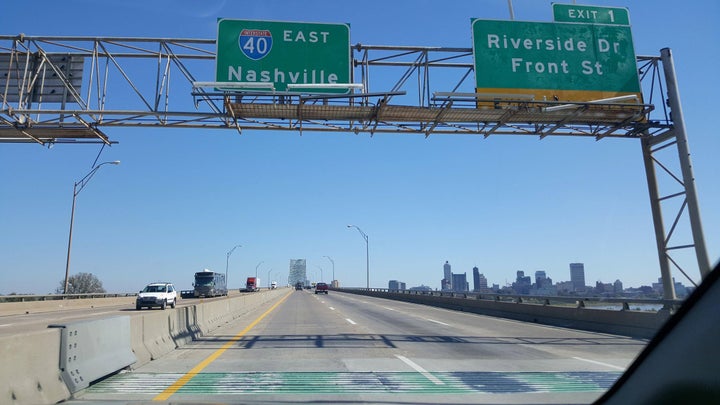 They're responsible for the state of Southern food in the fall of 2017. You're not going to find food like this in any roadside diner labeled "country cooking". Sadly the older cooks, the hometown cooks in the small town American south have long succumbed to convenience over craftsmanship, Sysco over their local farmer. The future of our handmade biscuits, real country ham, stone ground grits, and artisan Southern food that our grandmothers cherished is now in the hands of these so-called millennial slackers. And it's in very good hands, indeed.
Popular in the Community