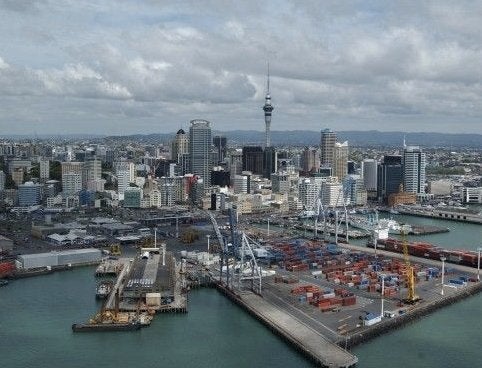 New Zealand cuisine has come of age.
When I was growing up here, restaurant culture was just beginning and eating out was considered to be an indulgence, a rare treat. Ironic really, considering that, as I remember, most of the restaurant offerings were pretty terrible: hardly a treat at all, more like some sort of culinary punishment. ("If you don't behave, I'll take you out for dinner!")
We seemed to be gastronomically adrift with restaurants offering a mish-mash misadventure of American and European dishes ("Chicken in a basket, anyone?"), everything shuddering and swaying under the oozing gravitational effects of avalanches of grated cheese, which I suppose may have been a reasonable kiwi attempt to cover up the nightmare lurking below. (Oddly, we added grated cheese to almost everything, maybe to establish flavour, or to make it more "kiwi") I remember dishes that madly combined ham, cheese, fruit and other mindless gloop; all of this was passed off as fine dining here in the 1960s and 70s.
So called "coffee lounges" (formerly tea shops) dotted the towns and cities in New Zealand then, and although the cakes and slices were home-baked and lovely, the savoury food was very limited and not much past ordinary pies and fish and chips, a shoddy anti-podean version of already questionable British fare. What is more, in a solidly masculine world of rugby and beer, food magazines and even food thinking was likely considered superfluous, frippery, the turf of tais tais and poofs.
And yet home food was always great here -- honest, robust dishes. I used to love the roasts and stews that my grandmother made: straightforward food that tasted like it was: lamb from the local butcher or farmer, cauliflower, kumara (New Zealand's fabulous sweet potatoes) and greens from the garden, pavlova, and puddings made from seasonal fresh fruits. High quality ingredients, to this day our strength, ruled the plate. It seemed that if we kept it close to the source, we did okay.
Maori food, however, was a complete mystery to me. In fact, I knew nothing about it at all and I dare to say that this was the same for most pakeha New Zealanders. Incredible that New Zealand indigenous food culture seemed to have disappeared from the typical kiwi table altogether and consigned to only show up at cultural events and funerals.
If you'd asked me, and most New Zealanders, as little as five years ago what New Zealand food was, you'd be hard pressed to get a consistent answer. We all knew we had great ingredients, we were farmers and terrific food producers, but asking about New Zealand "cuisine" would likely have elicited an embarrassed giggle. We didn't have one yet. In food, we were still finding ourselves, still constructing. Our food identity, so closely linked to cultural identity and sense of who we are as a people, was still being formed. We tended to look outwards rather than inwards for excellence, deferring to Europe and America as how we wanted to be.
Which is why what is happening now in New Zealand restaurants is so terrifically exciting. New Zealand chefs and foodies have emerged as a leading cultural force. Chefs like Al Brown with his wonderfully kiwi personae and no-bull restaurants, Martin Bosley with his technical brilliance, Samoan born Michael Meredith with his astounding Pacific gastronomy, Fleur Sullivan with her "Otago" cuisine, Charles Royal with his thoughtful approach to Maori food and anthropology, Annabel Langbein and her " garden fresh" approach, Peter Gordon, based in London and Auckland and known as the founder of "fusion" cuisine, Brett McGregor (our first Masterchef!) with his local-global dishes and sheer likeability, and many more have thundered onto the world stage. Food writers Lauraine Jacobs and David Burton, long champions of our agricultural assets, are voicing in writing what the chefs are doing in restaurants. We are intensely proud of our food heroes and rightly so: they have, in effect, bought us, as a people, back home. Culinarily, we seem to have found ourselves.
I was recently home and went to many restaurants that embody what I think is the best of New Zealand eating. I have opted to include here restaurants other than those of the famous chefs mentioned above -- each of them is due greater detail another time.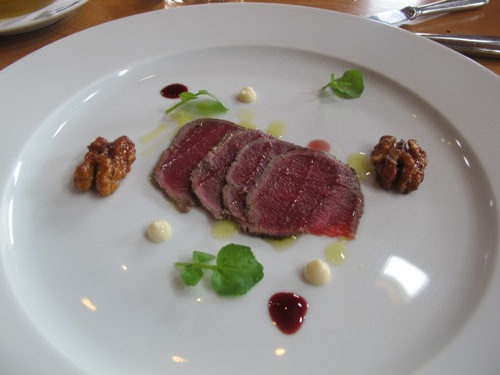 Hawkes Bay, known as New Zealand's fruit basket, is also one of the country's wine regions, and the home of the "Gimblett Gravels", an area where century old floods left a heavy bed of river stones that turns out is the perfect environment for the sunny wines of the region. My family lives here, so I know the area well, and love the weekend gatherings at the Hastings Farmers Market. I had a spectacular lunch at Craggy Range, a gorgeous vineyard based restaurant, which makes fine wine and food in evenly outrageously good proportion. I had two venison dishes- one a carpaccio with candied walnuts and aioli, and the second a roasted deer loin with potato fennel gratin, the venison from local producer FirstLight Foods (who, incidentally, produce the world's only grass fed wagyu beef). Aptly named "Terroir", the restaurant is surrounded by the grapes that made the Craggy Range Gimblett Gravels Syrah we enjoyed with our food, instant terroir gratification at its best. Craggy Range embodies the Hawkes Bay experience -- a place where fine wine culture begets great food culture, and it's all in plain view, all from the region itself.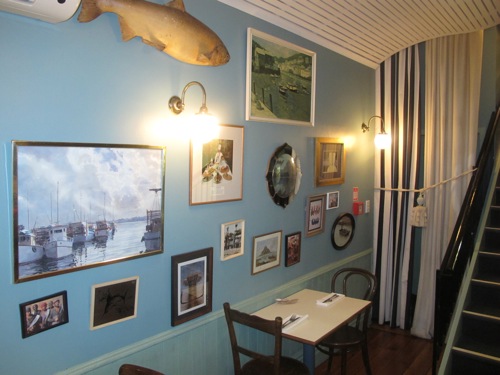 In Wellington, New Zealand's San Francisico-esque capital city, curled around an impossibly beautiful harbour, we ate at Chef Mark Limacher's "Ortega Fish Shack". First up were fresh in season Bluff Oysters -- the big ones, the famous ones that come from the bottom most tip of New Zealand's South Island. Huge, briny and creamy, New Zealanders ritualize the first few days of the season by swilling down numbers reminiscent of genocide. I then had pan roasted terakihi (a moist white fish, native to New Zealand waters) with ratatouille and crayfish butter, while my niece Willa gobbled down twice baked three cheese soufflé doused with butter sauce! Butter on cheese! Sinfully, wildly, crazily good! Dessert was lemon posset, a creamy, tangy mousse (New Zealand cream is fabulous), with local Otaki new season strawberries.
The next morning, still reeling with digestion, Willa and I brunched at "Floridita" in Wellington's outdoor Cuba Street Mall. We had rocket fuel coffee with porridge with rhubarb, brown sugar and cointreau, followed by organic poached eggs with a smoked mackerel and potato hash. Smart, urban, newspaper scanning Wellingtonian's packed the joint downing equally smart, urban food. The ambience was warm and unhurried. "Floridita" has a terrific cookbook that's worth picking up.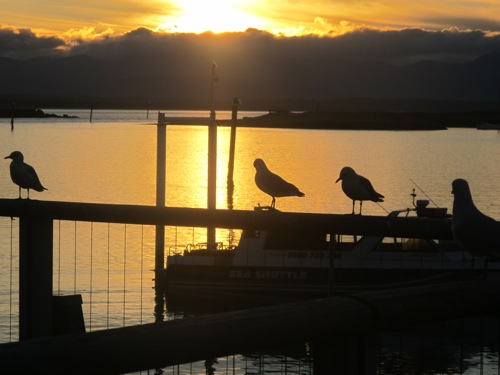 I flew over gaspingly good views of Marlborough Sounds and the mountains beyond to land in Nelson at the northern tip of New Zealand's South Island. The Boat Shed Café juts out over the water and I settled in time to watch the most spectacular sunset and dine on seared " sea run" salmon carpaccio -- New Zealand King salmon, sea farmed locally and as gaspingly good as the morning views-with fetta, pine nuts, raisins and tangy local olive oil. Delicious the whitebait fritters with arugula and soft white bread and butter. A rhubarb and raspberry eton mess for dessert: crispy crushed meringue, dense whipped cream with tangy rhubarb and summer berries. Lots of Nelson names peppered the menu: Neudorf Olive Oil, Whitestone Highland Blue Cheese and more, even the wine which was a Neudorf Nelson Chardonnay 2010. And I saw this everywhere I went: New Zealand restaurants supplied by local regional producers giving rise to regional cuisine varietals. Good inspiring stuff. Bravo Chef Dan Monopoli. This is why I travel.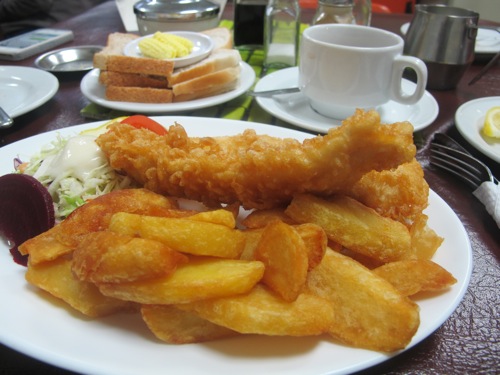 Fish and chips are part of New Zealand's food culture. It's our nostalgia food, what we eat on a family Sunday after a day at the beach. Everyone has their local favourite fish and chip shop, but few towns still have venues that you can dine in. The Best Café in Dunedin, New Zealand's fourth city near the bottom of the South Island, is one. Blaring neon lights and fluoro green linoleum floor, this is the real deal. It's not a relic, its part of our narrative and they serve some of the best fish and chips I have ever had after years of being a fried fish junkie. The chefs here really know what they are doing: to turn such basic fare into something memorable, that's magic. The menu offered a choice of many types of local fish, and Zoe the lovely server, was well informed on even what the fish ate: did you know that elephant fish eats other fish and shellfish? I had batter fried blue cod with hand cut chips, white bread with butter (and yes, I put hot chips into the bread and slurped it all down before the butter all melted in what is surely a nutritionists nightmare) all with a bracing cup of tea. A personal plea to The Best Café in Dunedin: please don't ever modernize, in fact, don't ever change at all!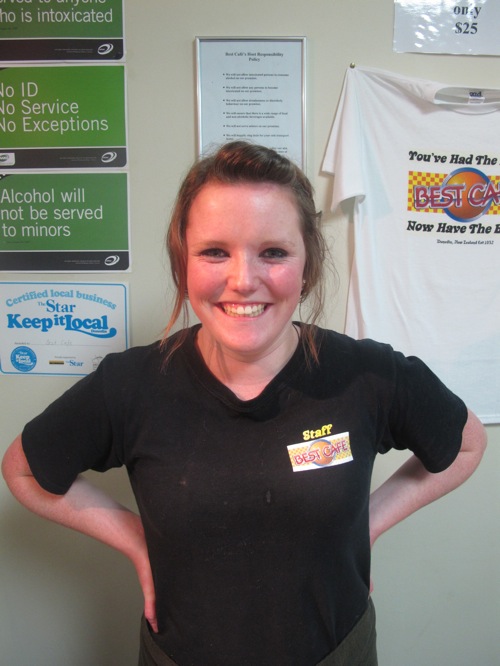 Everyone knows about Queenstown, it's the lake and mountain region most served up in New Zealand's tourism imagery. Oddly, I, a New Zealander, had never been here. Its clear why its iconic vistas have been so bandied: Queenstown is awe-inspiringly beautiful.
"Botswana Butchery" is housed in a colourful cottage on the lake and serves up great hearty food with big flavours. Meals are shared and generous, and the emphasis is on meats. Like cave men, we ripped apart a silkily tender slow roasted leg of lamb, served on the bone. I loved the summer pea risotto with local wild rabbit and heirloom carrots, and Southland lambs fry (liver) with bacon, potatoes, spinach, mushrooms, mustard & port wine glaze. Botswana Butchery serves up the "roast dinner" that you wished you had at home! Big portions fittingly in proportion to the big views of Queenstown right outside.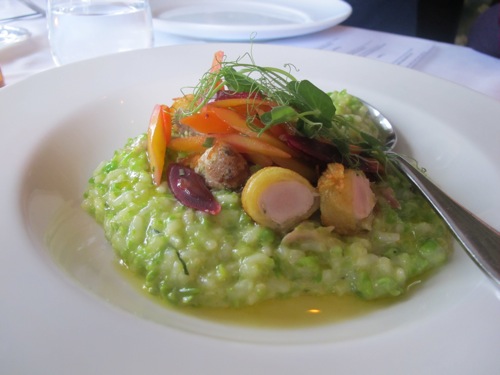 Auckland
Mamak, 50 Kitchener Street, CBD
Federal and Wolfe, 10/12 Federal Street, CBD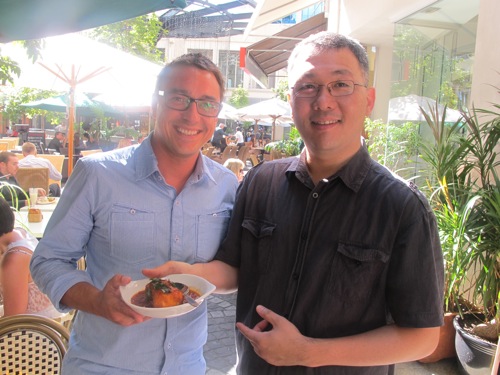 Mamak? Why would I include a Malaysian restaurant in a New Zealand restaurant round up? Simply put: Auckland, New Zealand's largest city, has grown up. Newcomers from Asia- China, Malaysia, Japan, Singapore and more have put their colourful stamp on this beautiful city, and restaurant life reflects this. And what a dazzling change it has bought to town. All manner of Asian eateries abound, with the whole neighbourhood of Balmoral housing a restaurant row that runs from Cambodia to Shanghai.
Jeffrey Sing (a name that goes well with his gorgeously sing-song Malaysian accent) is the owner and personality at Mamak in the central city area. It's my first stop when I come to town: inexpensive, authentic Malaysian fare in a cobbled courtyard right downtown. Terrific freshly homemade roti canai, roti tissue, satays, mamak mee goreng, laksas all bounce with flavour, and Jeffrey's personal warmth makes the world feel good.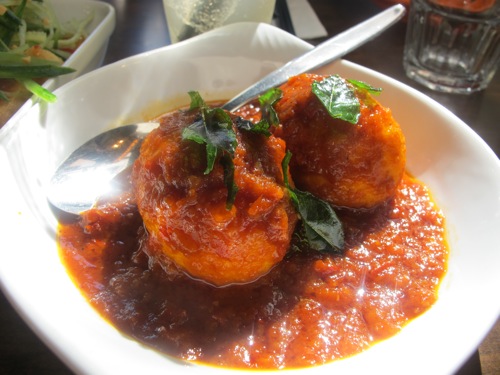 Auckland's CBD, formerly forlorn, is bursting with restaurant life. I love the big breakfast at Federal and Wolfe, on a quiet corner about two blocks back from the waterfront. It's a funky, urban cafe with a wooden communal table and a staff who clearly are good friends, and that camaraderie extends to customers. The coffee is great, as is the whole menu: corn fritters with haloumi and arugula, and organic beef burger with beet relish are good picks for lunch, but don't miss breakfast here: really great eggs dishes and brioche with New Zealand Pohutukawa honey and buffalo ricotta. I love that the menu proudly lists the names of the farmers that supply them. This is what New Zealand is all about, but is just learning to state.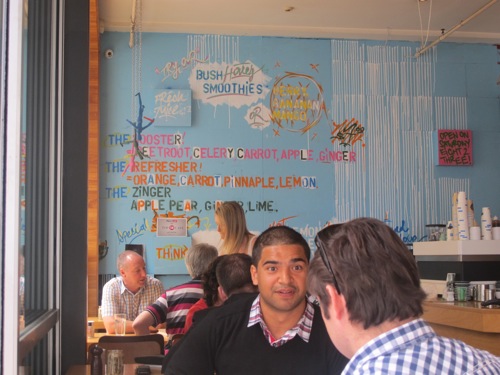 None of these restaurants are out to impress, rather they focus on delivering good food, REALLY good food. What all of these have in common is that they are all overtly connected to the point of supply. Profoundly good ingredients, as we can now softly say, are leading New Zealand cuisine. Potatoes that give you new rounds of flavour with each bite, spinach that sings, old fashioned apple varietals that make you think you've never eaten apples before. My father was recently on a cruise and he lamented being away from home and the "ingredients that speak for themselves" Flavour is the asset, not food intellect. Even that French-est of outposts, Le Cordon Bleu, has a "paddock to plate "philosophy at its Wellington campus. Pragmatic as a people, New Zealand cuisine is a no-nonsense expression of the land and its people. When I visit home, my mother only buys mushrooms from the mushroom farmer: he only farms mushrooms, so he has the best mushrooms. This detail, this type of excellence, is at the core of New Zealand cuisine. Even the service reflected these same values. Zoe at The Best Café, Jeffrey at Mamak and Kate at Federal and Wolfe all served with warmth and humour, rather than with impersonal slickness and style. The unfussed loveliness of New Zealanders is what you get here. I felt like I was visiting them in their homes.
Support HuffPost
A No-B.S. Guide To Life
Related
Popular in the Community