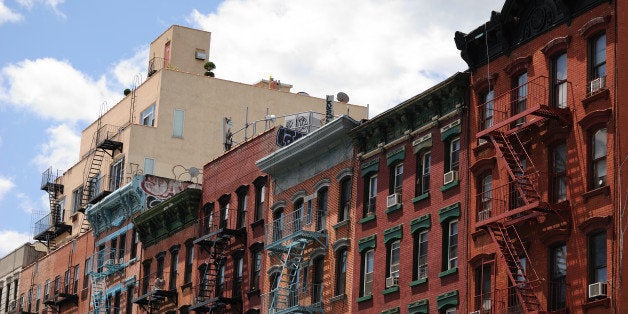 The French writer Marcel Aymé once wrote a short story in which the population of a small town, starving to death, suddenly discovered that if they looked at a painting of food with enough intensity, they would feel nourished, as if they'd eaten whatever was depicted on the canvas.
I've been working incredibly hard recently (poor me!), the winter weather weighing heavy, and like a member of Aymé's town, I needed to eat some art. So off I went to the Lower East Side seeking nourishment at the new Castor Gallery, featuring young, upcoming artists.
The gallery opened in January with a blockbuster show of household names--Banksy, Damien Hirst--but this exhibition focused on their proposed mission statement of featuring younger, but blazing hot artists, Christopher Beckman, Nick Farhi and Matt Jones among others.
In this terrific show, curated by Justin DeDemko, each artist created a monochrome work relying on form and medium, rather than a spectrum of colors, to convey emotion and meaning. As this was the coldest night of the year, I was hoping for a show featuring landscapes of Hawaii or the beaches of Mykonos, but strangely enough the monochromatic work generated a heat of its own.
Beckman's painting began the show: painted on canvas, a large, empty room with barred window seemed to float in a sea of grey, the saturated background having a crackled texture while some mystical white/grey light tried to illuminate the room (prison?). Maybe it was a ghost ship, floating in a storm tossed sea. In any event, grey has never looked so beautiful. This was a huge departure for an artist usually consumed by color, an artist who has been experimenting with new, iridescent materials.
Instead of his irreverent drawing aesthetic, Farhi exhibited one of his signature "drum head" paintings, the biggest I've seen; it had the soothing quality of one of Agnes Martin's sublime white paintings. As a musician, I always respond to Farhi's work although I often wonder what my drummer friends would think. Would they enjoy it for art's sake, or would Steve Gadd and Chris Parker need to take out their drumsticks and give it a good whacking?
Brooklyn Artist Matt Jones exhibited an ambitious landscape. Lately he has been working on a series of sci-fi/fantasy works such as this outer-space view of a distant planet. The work subtly changes color as the light morphs in the gallery, which made the painting seem other-worldly. To achieve this space-time effect, the surface was first layered with acrylic paint, painted black, then covered in an iridescent pigment+urethane combo. After it dries, it's coated in resin.
All in all, this trip was a much-needed solace in the middle of winter's coldest night.
Filling as the Castor Gallery show was, this is the Armory Show Week so the city is a smorgasbord of tasty shows and exhibitions; I couldn't resist a good binge and the fourth annual SPRING/BREAK Art Show specializing in the up-and-coming fit the bill.
This year's theme, Transaction, "which explores visions of and commentaries on exchange in all its forms, ...aims to turn observation into interaction and reimagine the trade show platform as an opportune playground, instead of the curator's exhibition ideal." To continue the metaphor (last one, I promise,) just because the menu is in a foreign language doesn't mean the food won't be delicious, and although I hadn't a clue what that art-speak press release meant, the exhibition was sensational.
Installed on two upper floors of the old Post Office Building on 31st Street (soon to be condos), each office became an individual curator's playground, filled with art instead of worker drones slaving away at whatever they did before they went postal.
Brooklyn artist Agustus Nazzaro exhibited directly across from the Baltimore-based Seth Adelsberger; Nazzaro's dark, anguished work with titles such as "Language 1" and "Rifle Locker II" served as a stark counterpoint to Adlessberger's sensuous, untitled pieces, each with a single color -deep blue, sea green, purple-red--modulating on a translucent, black background. Actually after seeing this room, I almost understood the theme of the show as Nazzaro's works, with their angular verticals and shadowed tonalities, subtly argued with Adelsberger colorful biomorphics.
Aaron Gemmill's "To live where other pass (nest II)," lithographic ink, adhesive, and Plexiglas on cotton paper, was another highlight. I had known his brooding series of black, grey and white work with its geometric lines slicing through the darkness, but I had never seen his lighter more ethereal blue work with bolts of white dancing across the luxurious background of undulating color. No surprise these works quickly sold out.
Rachel Rossin, an artist new to me, works on CAD software manipulating painting from a digital environment to reality, and although that all sounds a bit technical, her Flower Series lit up the dingy postal office, each flower working its magic, blossoming in the environment. She kindly took me behind the scenes (into an even dingier corridor) where she placed goggles on my head and I was hurled into her virtual 3D landscape; all of a sudden I was actually in one of her paintings. Amazing!
Moving into the sculptural world, I loved Frank Zadlo's "Setting," cast, cracked and sanded cement with a pigment in a maple wood frame. The fractured, cement sphere in the center of the flat sculpture became a planet losing its center while a corona of white-hot energy, the energy of destruction, surrounded the sphere. And yet, all this existed in the middle of a calm sand-colored background framed by a simple maple wood frame.
"Private Eye," by Adam Parker Smith was the most monumental sculpture of the exhibition. The 8' by 6' work of resin, steel, foam, plastic and wood, exploded with unbridled enthusiasm, as if enormous pieces of construction paper, purple, white, grey and sienna were bisected by a giant orange straw while explosive bits of pale blue and yellow burst forth from the center of the sculpture, a real eye-full.
This work was in a room curated by Erin Goldenberger + RJ Supa and hiding unceremoniously near the back wall, well out of the gravitational pull of "Private Eye," I discovered eight disturbing but magnificent tiny sculptures by Chris Beckman, whose work I'd seen at the Castor Gallery. Beckman's "Bedazzled," consisted of melted down and then reconstructed Blackberry's, some of acrylic, some of Bisazza tile, some of cast polymer; Beckman's sculptures were perhaps a post-apocalyptic remnant of our entire society and culture: scary, intense, perverse and ultimately beautiful in their destruction: the entire modern world summed up in eight tiny works. Brilliant and delicious.
Related
Popular in the Community