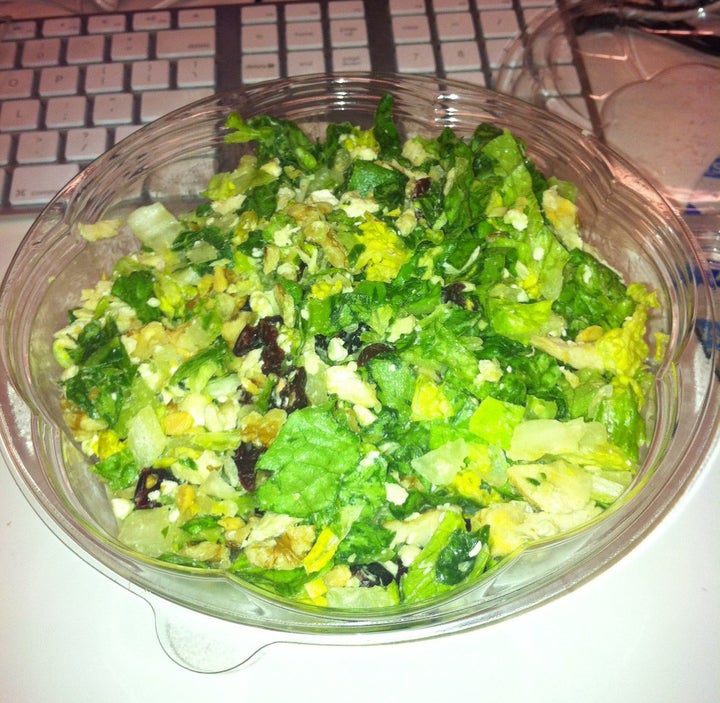 When I walk into my deli, I don't have to say a word. The guys behind the counter see me and reach for a big silver bowl. Occasionally, I have to nod reassuringly as their tongs hover over an ingredient bucket, but more often, I don't even have to look up from my e-mail until I reach the register. They know not only what goes into my salad but that it requires so much chopping that my male co-workers say it looks pre-chewed. I don't know the employees' names, but as they pass it down, they indicate to the next person in the assembly line that it's "para Lori." When I pay, I hand over both my credit card and my frequent-diner card, and I move one rubber stamp closer to a free meal.

For the past three years, I have eaten the same salad almost every single weekday. Romaine lettuce, grilled chicken, walnuts, dried cranberries, chickpeas, blue cheese. I leave my office with a few co-workers, but after we cross the street, they may head to Au Bon Pain, Wichcraft, Cosi or Chipotle. I go to my deli. My co-workers didn't notice my devotion at first, but slowly, it became a joke within my group.

Co-worker: "You want to get lunch?"
Me: "Yeah, I'm starving."
Co-worker: "Where were you thinking?"
[Laughter]

When I moved to the city six years ago, I knew enough people that it didn't feel like a particularly difficult adjustment. There were a few people from school, a few I'd grown up with in Houston, a few whose names I had been given by others. I didn't feel lonely or out of place, but New York wasn't immediately home either. There was no established entity that recognized me as part of the community. I wanted a Central Perk like on "Friends" or, to reference a show I discovered later, a MacClaren's like on "How I Met Your Mother." I wanted a place where I'd be greeted in a way that set me apart from strangers, where the barista/waiter/bartender would know my order or at the very least my face. I was terrible at making this happen.

Despite what my current lunch habits might indicate, I care deeply about what I eat. I come from a family whose stomach capacity is well known among friends. I also interned at Citysearch, then worked at New York magazine, so I was constantly reading about new and new-to-me restaurants in the city. Because I wanted to try them all, I was hesitant to go back to even places I liked -- rather than pay them a return visit, I generally rewarded them with recommendations to friends.

I once went on a date with a guy who took me to a midtown bar, and it soon became clear that this was not his first, second or tenth time going there. He knew the waitresses by name and the menu by heart, and though he'd achieved the type of familiarity I wanted in my own life, I found myself judging rather than admiring. Didn't he ever want to try somewhere new? Was he not concerned that he was missing out? We never went out again, but that's mainly because he didn't ask.

There was an inherent conflict in the way I wanted to experience the city, and I quickly realized that being a regular wasn't something I could force. I would have to gravitate to the spot naturally, and if it wasn't convenient, I probably wouldn't go -- a philosophy that also applies to the gym. Three years into my time in my city, I moved into an apartment across the street from a beloved diner, and I thought my dream might finally come true. I liked the idea of making the place my own, of ordering my usual coffee and eggs on a Sunday morning while I read the paper or chatted with a friend. This didn't happen either. Brunches elsewhere, the bagel shop downstairs and packaged oatmeal all got in the way, and I went to the diner only a handful of times. When a rent hike forced it to close, I partially blamed myself.

I didn't go to my deli with an agenda. There was no "Come on, Fradkin, you can do this" moment. I went because, like many New Yorkers, I have a job for which a lunch hour is nonexistent. I eat at my desk and read blogs and drop little bits of food into my keyboard. My goal for those ten or fifteen minutes is to eat something that's quick, filling and relatively healthy. When I'm out to dinner with friends, I want to find room for dessert. When my parents visit and we gorge on bread baskets and cupcakes and squid-ink pasta, I want to fully partake. When I'm checking e-mail at my desk, I just don't care. And I like knowing that, no matter what I eat at other times, my salad will be there to balance things out. I don't get sad when it's over the way I do with ice cream, but it works. There's a sweetness to the cranberries, a saltiness to the blue cheese and walnuts, and the chicken and chickpeas are packed with protein. There is no dressing because the blue cheese gives the mixture enough flavor without making it soggy. Also, I didn't eat vegetables until college, so, in a way, I'm making up for lost time.

Last fall, when I returned from a trip to the United Kingdom, I was putting on my jacket, about to embark on my first trip across the street in almost two weeks when another co-worker asked if I thought the deli guys had missed me. I said they probably had, though I wasn't actually sure they would have noticed. Despite their enthusiasm on my occasional morning trips to get oatmeal -- "Lori! Good morning! You're early!" -- I knew they saw hundreds of people daily, so it was possible that my absence hadn't registered. I'd also heard them address other customers by name, but I tried to ignore that. I entered the deli and got my food without instructions as usual. The guy working the register was the one who once asked me about our plans for the weekend -- not to be confused with the one who stops the flirting of his fellow employees with "Hey, watch it, that's my girlfriend."

At my previous job, I had pretty much the same midday routine and would dash to the deli downstairs to get a similar salad (corn was the precursor to chickpeas). They knew me there, too, and would give me a small discount on what they called the "special." Still, when I left the company, I felt weird announcing my transition to the employees and didn't say goodbye. I wondered if they gave any thought to my disappearance. Now, in the new place, I had the opportunity to find out, albeit with a different audience, if such brief but consistent interactions really resonated. I approached the cashier, who was stuffing my lunch into the standard brown paper bag.

"Lori!"

He asked where I had been.
Do you have a place in your city that makes you feel like you belong? Send a picture of yourself there and a description of why it's "your" place to women@huffingtonpost.com, and we'll post it in a slideshow here!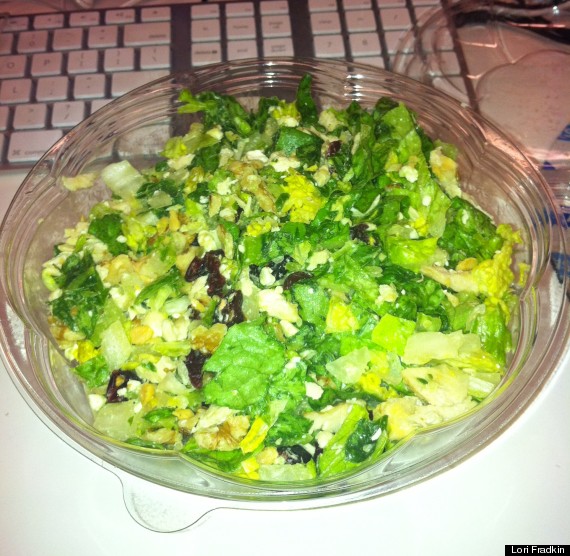 Popular in the Community