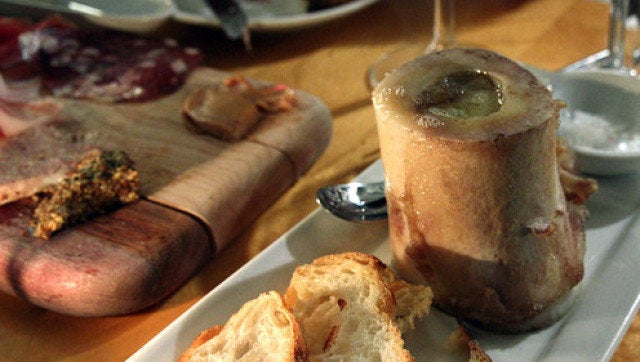 What was the main course of a gala wine dinner crafted by an award-winning chef at a highly acclaimed Napa, California restaurant last Thursday night?
Three guesses. No, not brisket. Not bass. Hint: Australopithecus might like it. Rhymes with "Guantanamero."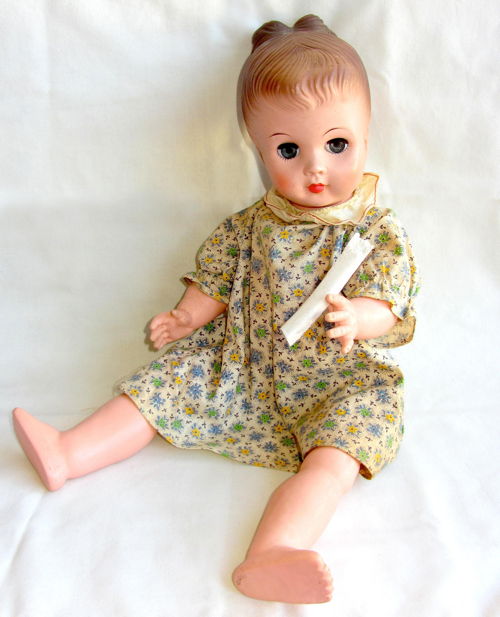 At this dinner, the Somm Sister Soirée at La Toque in the Westin Verasa Napa, visiting chef Jennifer Puccio -- chef-partner of San Francisco's Marlowe and Park Tavern -- prepared a series of courses, each one paired with a wine from Napa-area winery. (More wines were poured at the hotel the following day, at a grand tasting organized by the all-female vintners' confab Women of the Vine.) Puccio's masterfully plated meat-to-the-third-power main course (which she also serves at Park Tavern) comprised tangy venison carpaccio, hearty Angus beef tartare, and crispy, lightly batter-fried dollops of bone marrow. Which left me no choice but to call them: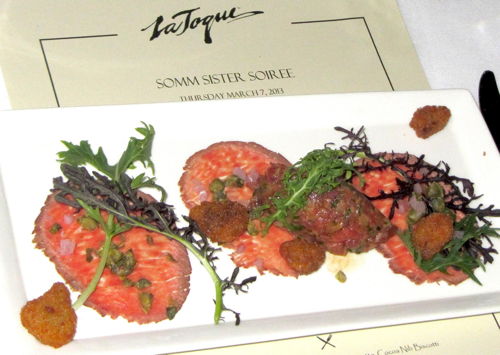 Their golden crusts offered just the slightest resistance; the marrow inside literally melted in the mouth, almost instantly, like the lightest mousse, just a savory tap on the tongue and -- poof. Its beefy taste was not the safe, straight slap on the back of, say, steak but rather the outré, adult ecstasy of organ meats. But while liver and kidneys can be chewed and marrow cannot, marrow feels and tastes even more subversive, intimate, forbidden and hidden: the animal's last juices, hermetically sealed in bones until we break them. The body's most buried treasure, you might say. Or the final plunder. Crack! We win.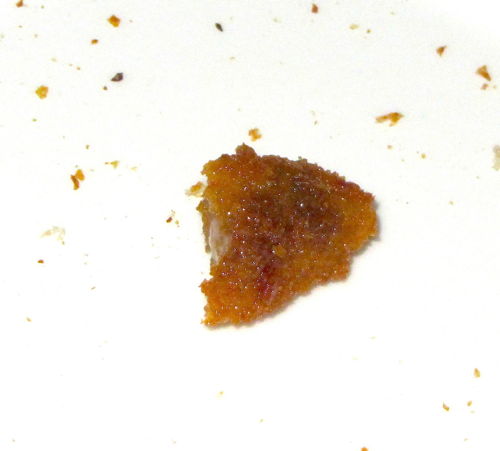 Studies suggest that early hominids ate bone marrow -- hey, it comes with its own straw! -- over two million years ago. But like bacon and trotters, this protein-rich paste -- once the humblest of foods for the poorest of the poor, the last resort, literally dog food, as in Throw me a bone -- is turning up on the trendiest and most elegant menus, mixed into butter or on its own. At San Francisco's Hog & Rocks, executive chef Robin Song -- who just last weekend was named one of the San Francisco Chronicle's Rising Star Chefs of 2013 -- serves marrow with Castelvetrano olives, preserved lemon, currants and toast for $14. That's more money than some of our ancestors, who boiled bones because they had to, earned in a month.
I know it's annoying to keep saying that X is the new Y, but watching the rise and fall of food trends is like watching waves at the beach: As one wave crests, it's beautiful and glorious and sucks into it all the water and creatures and motion and foam, and for that towering moment it's all there is. Then it falls and, seconds later, the exact same water and creatures and motion and foam are doing something else, something similar yet not exactly the same, in the exact same place.
And so: Bone marrow is the new pork belly.
At La Toque, it was paired with a 2009 Handley Cellars pinot noir "because pinot noir is slightly more acidic" than other wines, explained Handley's Lisa Harrington. "So pinot noir cuts through the fattiness of things like marrow. A lean piece of meat wouldn't be as good with it."
La Toque's proprietor, longtime celebrity chef Ken Frank, told me he was glad to see guest-chef Puccio serving marrow -- because "I've been cooking with marrow since before most of my staff here at the restaurant was even born.
"One night in 1976, when I was 21, I was served bone marrow and cèpes in wine sauce on a New York steak. Bone marrow is mostly about texture and mouthfeel. I tend to like rich, decadent stuff. So I was sold," Frank explained.
Seeking more marrowy meditations, I visited the Fatted Calf Charcuterie in the Oxbow Public Market, within sight of the Westin Verasa Napa's bocce-ball courts and sparkling saltwater swimming pool. There I met meat maven Ryan Harris, who noted that marrow is nothing if not paleo.
"Beyond that, it's part of a general return to the land, to using the whole animal, nose to tail. Meanwhile, people are starting to open their minds to how delicious things like bone marrow are -- that unctuous quality reminiscent of melted butter and olive oil," Harris said. "I even grind bone marrow into my burgers."
He's not the only one. San Francisco's luella restaurant has an off-menu bone-marrow burger: Half a pound of ground sirloin is mixed with bone-marrow butter. The pan-seared patty is topped with aged white Cheddar, then tucked into a house-made bun, served with house-made pickles, mayo and Kennebec French fries.
Chef Ben DeVries of luella also makes Kennebec potato chips, and March 14 is National Potato Chip Day. Which is giving me ideas: Sour cream, chopped onions, herbs and a scoop of you-know-what to make a mellow marrow dip? With a marrow milkshake (aka marrkshake) on the side and sweet-savory marrow meringues (aka marringues) or marrow macarons (aka marrcarons) for dessert?
La Toque and doll photographs by Kristan Lawson. Marrowburger photograph courtesy of luella. All images used with permission.