I'm not one to normally stand in judgment of the whimsical... even the silly. We can all use a dose of light and meaningless to lessen the load of everyday drudgery and stress.
I can laugh when hundreds of dachshunds line up at the Del Mar thoroughbred race track each year, their little legs scrambling furiously down the stretch, a number of them stopping to pee mid-way, others distracted and off to chase butterflies on the infield.
What a hoot to see the transvestite pageant of Patsy impersonators, dead ringers for the over-the-top Absolutely Fabulous star.
What about the golf tournament for the worst golfers in America, where some players are too girthy to see the ball below, others take as many as 30 strokes a hole... from water hazard to sand trap to yet another water hazard to 10-putting, etc? And the rule is that these must be golfers who belong to a club and play a minimum of 12 times a year!
As high-minded as we'd like our lives to be, we all need some levity.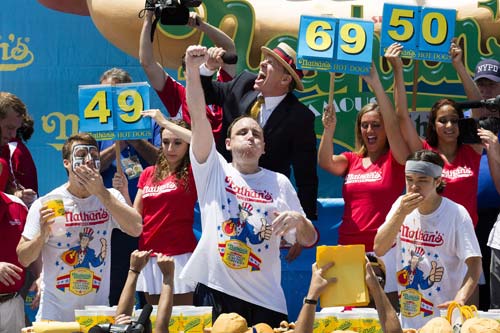 (AP Photo/John Minchillo)
But the eating contests that rage across America? I'm disgusted.
Last week in Clearwater, Fla., it was the chicken wing contest. Some 15 wings, bones and all, hit the gullet in 10 minutes. The pros have their "sports science" tips, such as drinking warm water before they start gorging, to relax the stomach muscles.
Then there's Nathan's famous Fourth of July hot dog eating contest every 4th of July. This year's winner -- a 7th consecutive victory -- inhaled 69 dogs in 10 minutes.
Nathan's champ enters some 20 contests a year. And there's now actually a "season" for competitive eating, March through August. Lobsters to crab cakes to shrimp wontons to fruit pies.
To be fair, these contests are popular in other countries, too. Singapore and China and South Korea and other countries host popular eating contests.
But here in America it seems particularly revolting, a blatant commentary on our over-consumption in general.
Most foreigners I know who come to the U.S., either to visit or to live, overridingly have one negative observation of our way of life... and that is that we waste so much. Our dinner plates are gigantic. We not only eat too much but we discard more than most individuals and families have in the first place in other lands.
The horror of watching someone gorge for 10 minutes -- and often vomit violently mid-way -- is an affront on so very many levels.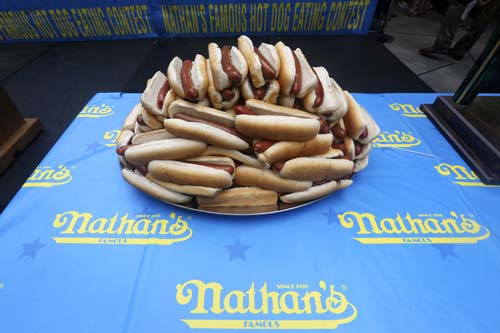 (AP Photo/Mary Altaffer)
The body itself, for starters. What does a person fighting esophageal or stomach or rectal cancer, hoping one day to return to normal function, thinking of their organs with desperate tenderness, feel when they witness the assault on the digestive system of these professional gorgers?
What is the commentary on our waste of food, our nation of obese overeaters?
Eating contests? Let's get rid of them.