One woman asked the public to love and support her -- and they did. 
In the video, West is wearing nothing but underwear and a blindfold as she holds markers and pens with a sign that reads: "I'm standing for anyone who has struggled with an eating disorder or self-esteem issue like me… To support self-acceptance draw a [heart] on my body."
At first, people seemed confused but one by one people approached West.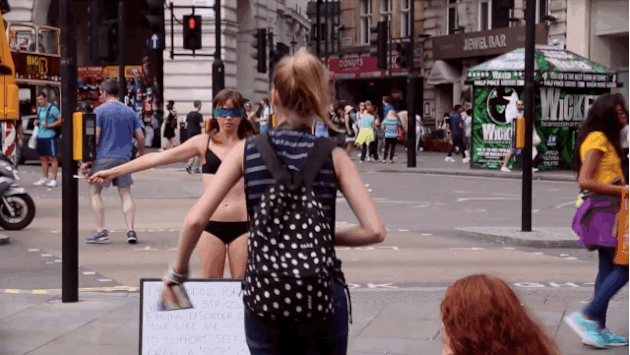 West, who suffered from an eating disorder throughout high school and her early 20s, wrote on Inspiralight that she felt extremely vulnerable and was nervous she was going to be "ridiculed."
"All of a sudden I felt one of the pens in my left hand slip out of my grasp," she wrote. "The feeling of the felt pen was on my skin was one of the most overwhelming feelings of relief, gratitude and love that I've ever felt. I just burst into tears." 
More and more people drew hearts on West, including adults, teens and children. "I think it's amazing what you're doing," one man said. "It's a very strong message. You're brave," another woman told West.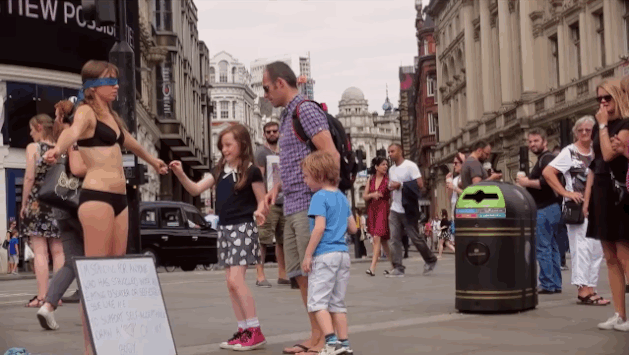 West added on Inspiralight that one of the most moving moments came when a father explained to his kids what she was doing. "He was acknowledging the fact that everyone should love themselves exactly as they are and appreciate the bodies that they are given."
By the end of the video, West's stomach, chest and arms were covered in hearts. "I knew this was a global concept that many people could relate to," West wrote on Inspiralight. "So putting myself in that situation really was a stand for everyone out there that has been confronted with self-doubt in relation to the way they look."
PHOTO GALLERY
Meet Our Body Image Heroes
Calling all HuffPost superfans!
Sign up for membership to become a founding member and help shape HuffPost's next chapter