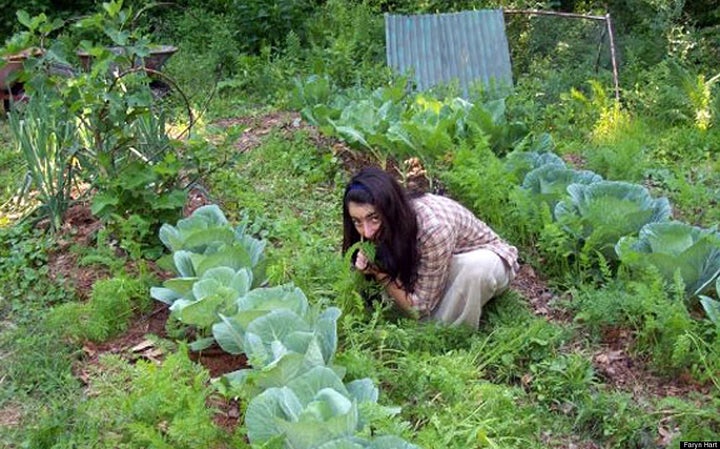 By Eleanor Goldberg
Religion News Service
(RNS) When Faryn Hart settled into her seat at the weekly Shabbat table set for 20 at her home in Johannesburg, South Africa, she also settled into the role her grandmother expected her to play.
Yes, she would study medicine. Yes, she would marry an engineer. Yes, she got an A on her exam. And yes, she'd take another helping of whatever was coming from the kitchen.
Even as the ballerina and popular Hebrew day school student effortlessly spit out the right answers, her mind was awash in torment. As the food was passed around--fried sole, fish cakes, salad oozing with mayonnaise--her instincts to binge and purge became uncontrollable.
"I was not present," Hart, now 24, recalled. "I was in the conversation but completely thinking about the food. It wasn't about the ritual, it was about the ego. Perhaps it was a way to deal with the discomfort of a family that put so much pressure on me."
The eating disorder Hart struggled with throughout high school and at the University of Florida reflects an alarming trend that's long been a hidden problem for Orthodox Jewish women.
Though statistics are few, eating disorder expert Dr. Ira Sacker found in a 1996 study that one in 19 Orthodox Jewish teenage girls in Brooklyn had an eating disorder--about 50 percent higher than the general population.
The Philadelphia-based Renfrew Center, which treats patients with eating disorders at nine U.S. locations, reported this year that 13 percent of its Florida and Philadelphia patients identify as Jewish--up from 5 percent just three years ago.
Renfrew recently launched a first-of-its-kind treatment track geared specifically for Orthodox Jewish patients.
"It could no longer be swept under the rug," said Adrienne Ressler, Renfrew's national training director. "But we were not as aware of all that was involved in the treatment of this population."
There were no such programs when Hart sought treatment two years ago, so she constructed her own program when she took a job as a manager at the eco-friendly Hostel in the Forest sustainable farm and retreat center in Brunswick, Ga.
"It's not this evil thing anymore," Hart shared of her relationship with food. When she toils in the garden's acre of produce, she often thinks, "this is what a zucchini looks like--it's beautiful. It's magical."
The Orthodox Union sought Renfrew's help last year, just a few months after the organization released "Hungry to be Heard," a documentary that profiles observant Jews who struggle with eating disorders, and a community reluctant to acknowledge them. The two organizations have since hosted conferences and workshops in New York and Bethesda, Md.
"It took a lot of courage for the Orthodox Union to approach us," Ressler said. "They wanted to help families get past the shame of admitting they have a problem--(one) that may reduce the chance of making a good marriage contract."
The challenge of treating Orthodox Jewish patients is twofold: dealing with the logistics of kosher food requirements, and addressing the subtleties and complexities of the tight-knit culture that surface during recovery.
When Rocky Horwitz, 19, was admitted to Renfrew's facility in Coconut Creek, Fla., two years ago, the center wasn't equipped for kosher dietary laws. The staff ordered in from a kosher restaurant, but being served eggplant Parmesan--while the rest of the patients ate bean fajitas--added stress to an already fraught situation.
"I was freaking out that I was having more calories (than the other patients)," Horwitz recalled. "My plate looked different from everyone else's. My portion looked bigger."
Julie Dorfman, nutritional director for Renfrew's Philadelphia center, recalled tensions when Orthodox patients were served a cheese sandwich while others were served pizza.
"Some foods are categorized as 'scary,'" Dorfman said. "The fat in a cheese sandwich is contained, not as visual. But the grease on the pizza is visible and there's the temptation to blot it with a napkin."
Since then, the Renfrew kitchens in Florida and Philadelphia have been retooled to serve kosher dairy and kosher vegetarian fare.
Dietitians and therapists were also taught how to discern problems related to religious rituals from those related to an eating disorder.
"The control of food that's necessary in Judaism is very different than control of food around someone who has an eating disorder," said David Hahn, a psychiatrist at Renfrew's Philadelphia center. "It may look the same, but it's not."
At the same time, though, treatment staff have learned to be wary of patients who actually use their kosher observance as a stumbling block to recovery.
Becca Shrier, 27, a graduate of Renfrew's Florida program before the Orthodox track was implemented, often relied on her kosher practice--fasting from breads or pasta during Passover, for example--to secretly limit her caloric intake.
"I used my religion as an excuse to engage in my eating disorder over and over again," she recounted.
The problem is as much cultural as kosher, experts have learned. They discovered that a skinny bride in her early 20s is often idealized as the ultimate prize, as well as her quick evolution into a mother of a large brood.
"I speak to boys who tell me they want someone who's a size zero or size two," said Frank Buchweitz, director of community services and special projects at the Orthodox Union.
Such issues are now incorporated into Renfrew's group therapy sessions and Jewish-themed classes, starting with the text of a traditional prayer sung by husbands on Shabbat.
"There's many things your wife is supposed to be--gracious, kind and wise," Hahn said. "Thin is not one of them."
Support HuffPost
The Stakes Have Never Been Higher
Related
Popular in the Community