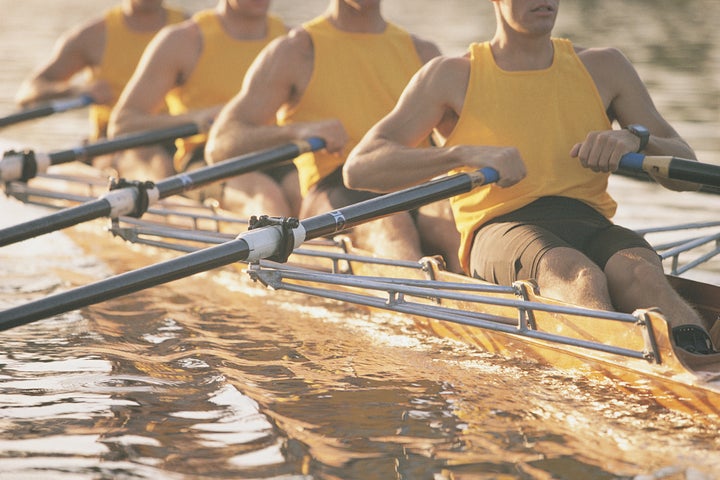 During his junior year at Wesley College in Delaware, Patrick Bergstrom was fighting for playing time on the college's lacrosse team. He desperately wanted to excel at the sport he loved, so he began eating less and working out more.
"I think people probably couldn't see the effects," Bergstrom, now 28, told HuffPost, explaining that at the time, his behavior could best be defined as disordered eating. "I was in great shape and I was still able to play."
But after graduating, Bergstrom all but gave up food. Soon, he was diagnosed with anorexia nervosa and told that if he did not get help, he would be dead within a year.
In the minds of many, eating disorders are a problem that women -- and female athletes specifically -- experience. Olympic stars like Nancy Kerrigan, the figure skater, and Nadia Comaneci, the gymnast, reportedly struggled with them. And according to the Los Angeles Times, studies suggest that more than one-third of female college athletes "have some type of eating disorder."
But far less is known about eating disorders and disordered eating -- irregular and harmful eating patterns -- among male athletes, which means many may not get the treatment they need.
"It is hard to measure, since more research is done with women," said Roberto Olivardia, Ph.D., a clinical psychologist with Harvard and author of "The Adonis Complex: The Secret Crisis of Male Body Obsession."
The National Eating Disorders Association estimates that approximately 33 percent of male athletes are affected by eating disorders in aesthetic sports, such as bodybuilding, gymnastics and swimming, and weight-class sports, including wrestling and rowing. Wrestlers have been known to drop weight quickly using a combination of food restriction and ridding themselves of excess fluid, relying on steam rooms, saunas, laxatives and diuretics. Many keep their body fat levels as low as 3 percent.
But while specific sports get the most attention when it comes to eating disorders, the problem is more widespread. According to a NEDA resource guide, athletic competition can create psychological and physical stresses that can increase the risk of athletes developing eating issues, whether or not the sport is an aesthetic or weight-class one.
"I have treated runners with anorexia, wrestlers with bulimia, and football players with binge eating disorder," Olivardia said. "There are also male athletes that may not fall into these distinct categories but have disordered and idiosyncratic eating patterns."
Bergstrom agrees. In the years since getting treatment, he has become an eating disorder activist who works with athletes and runs the website I Chose To Live.
"I actually haven't met or spoken with a single wrestler or rower," Bergstrom admitted. "But I've talked to plenty of lacrosse players, soccer players and definitely cross country runners. I have even talked to big-time football players. So I have seen wide range of sports."
One issue that impacts male athletes more than females is muscle dysmporphia, which leads to a pathologic preoccupation with becoming muscular. A 2005 article in the Journal of Athletic Training explained that it affects men in sports that stress "size and strength," like body building and football.
Part of the problem is that male athletes and their coaches just don't talk about such issues, which results in many eating disorders going unnoticed. Bergstrom, for example, said that none of his teammates or coaches had any idea what was going on with him and were extremely surprised to learn about his eating disorder after the fact.
Since the late 1980s, the NCAA has made a specific effort to target eating disorders in college athletes, conducting prevalence surveys and sponsoring screening days. But recent efforts -- like a 2003 survey of coaches and athletes to determine what resources are needed -- have focused on women specifically.
"With male athletes, it's not something that's spoken of as readily as with females," said Simin Levinson, a registered dietitian with Arizona State University's Athletes' Performance program. "It's information that's plastered all over female locker rooms -- the signs to look for."
Levinson said she believes that change is coming with coaches, who often spend more time with athletes than anyone else. They are learning to look for the signs of eating disorders and disordered eating, making sure they ask questions about whether their players have eaten, what they've eaten and what they ate the night before. But change, she said, is slow, particularly given the "macho" culture surrounding many sports.
For his part, Bergstrom said he would like to think that coaches are more aware, but admitted difficulty in picturing male coaches readily and regularly addressing eating issues with their players.
"It was never the sport that caused my eating disorder," he said. "But unfortunately, it's still something that guys just don't talk about. It took me two to three years to say anything, and I have guys contacting me all the time saying, 'I haven't told anyone.' It makes it hard for them to get the treatment they need."
Popular in the Community