Of all the food and drink events I have attended in the past year (see my list of top summer and fall events in NYC), my favorites have been those that serve a purpose (i.e. supporting a charity). The annual TASTE Williamsburg Greenpoint always tops that list, not only because all proceeds benefit the renovation of the Northside Town Hall Community and Cultural Center, but also because the food and drinks served here are absolutely delicious and the event is executed flawlessly every year.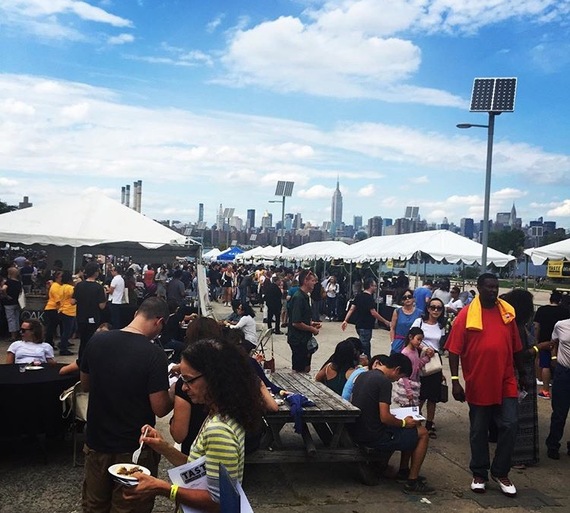 TASTE Williamsburg Greenpoint is an annual block-party style tasting event that features sweet and savory bites and refreshing drinks from more than 50 restaurants, bars, breweries, and wineries in North Brooklyn. This outdoor event takes place by the waterfront at the East River State Park, where attendees can enjoy a stunning view of the Manhattan skyline while noshing on tasty food and listening to live music. Here are some of my favorite eats from this year's event!
Jane's Favorite Savory Bites
Freekeh Bowl from Lighthouse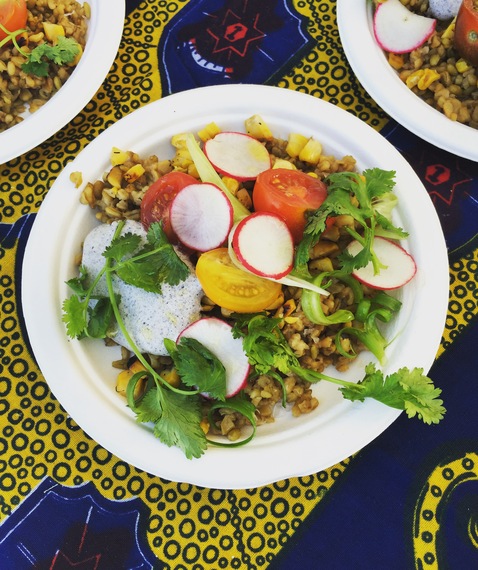 Often times, the first bite is the most memorable. This healthy and hearty plate of grains mixed in with colorful and fresh tomatoes, grilled corn, scallion, and cilantro with a side of creamy eggplant yogurt was so delicious that I kept coming back for more. The chef told me that this particular item is not on the restaurant's menu, but I strongly suggest that they make this their signature dish!
Spicy Chilled Corn Soup from Anella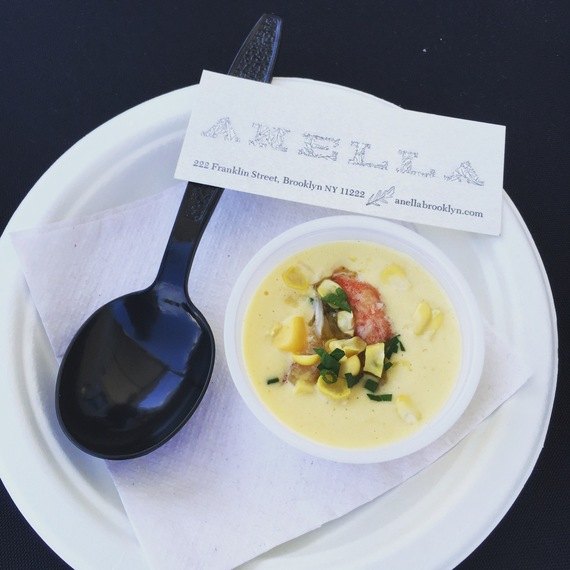 There is nothing better than a cup of (or, in this case, a shot of) chilled soup on a hot day. While I could not taste much spiciness from the "spicy" chilled corn soup, the little shot of creamy soup contained so many natural ingredients like the corn, parsley, and crab meat that played well together.
Andouille Sausage from Rosamunde Sausage Grill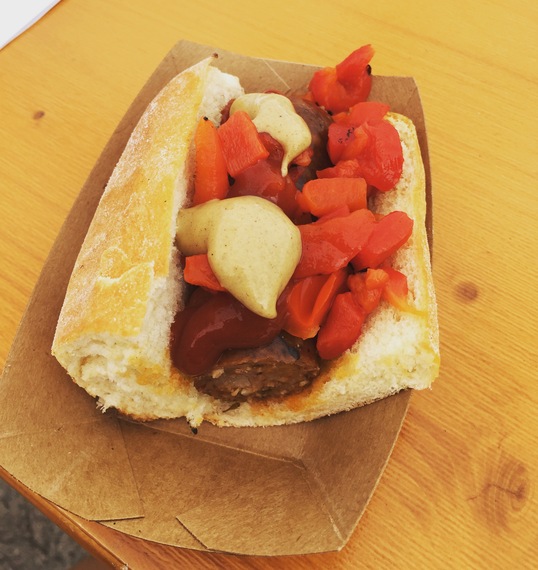 Don't mistake this halved hot dog as something you would get at a ballpark or from a street cart. The andouille pork sausage packed so much flavor - spicy, juicy, and smokey, just to name a few. Blanketed by a lightly toasted French roll, this cajun sausage was topped with crunchy sauerkraut, sweet red peppers, curry ketchup, and wasabi mustard for additional flavor and texture profile.
Fried Chicken and Waffle from the Brooklyn Star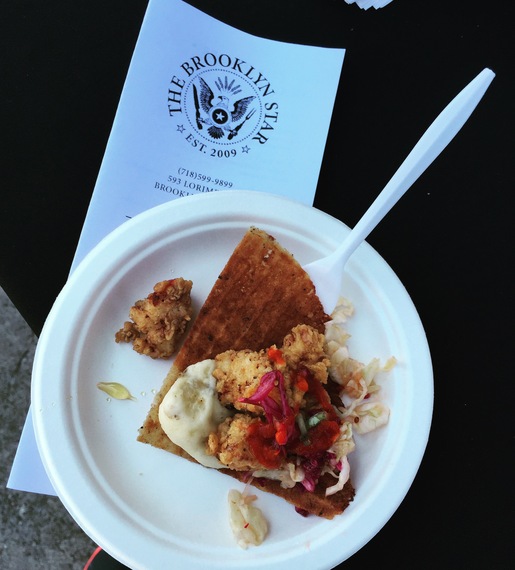 The Brooklyn Star has reinvented this classic Southern favorite with boneless bites of fried chicken that resemble popcorn chicken and thin, crispy cheddar cheese waffle cone. The dish is garnished with colorful cole slaw, creamy mashed potatoes, and a drizzle of sriracha and honey.
Pulled Pork Chili and Ricotta Donut from Teddy's Bar & Grill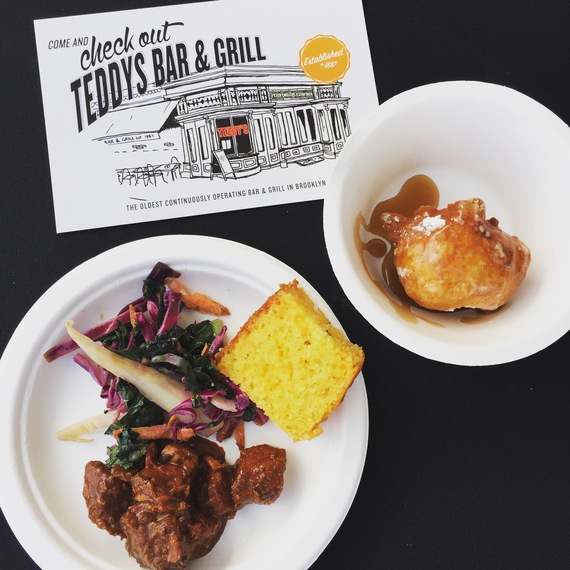 Teddy's Bar & Grill was the only venue that paired its savory dish with a sweet bite. The tender pulled pork chili packed bold flavors, especially when accompanied by crunchy kale and cabbage slaw and jalapeno cheddar cornbread. The fluffy ricotta donut was topped with a dust of powdered sugar and a drizzle of praline sauce for that extra sweet kick.
Speaking of sweets...it's time for dessert!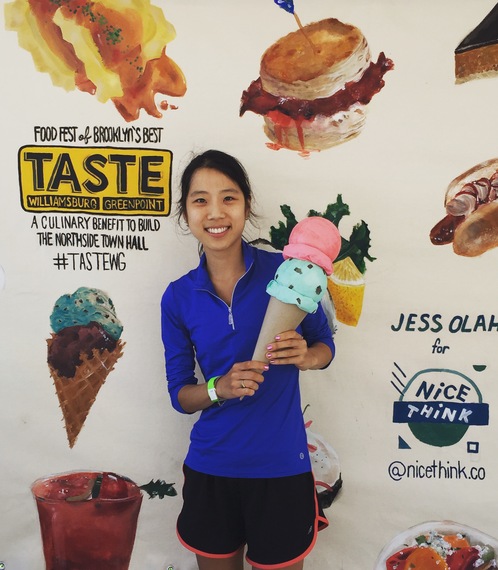 Jane's Favorite Sweet Treats
Red Velvet Cupcake from Brooklyn Cupcake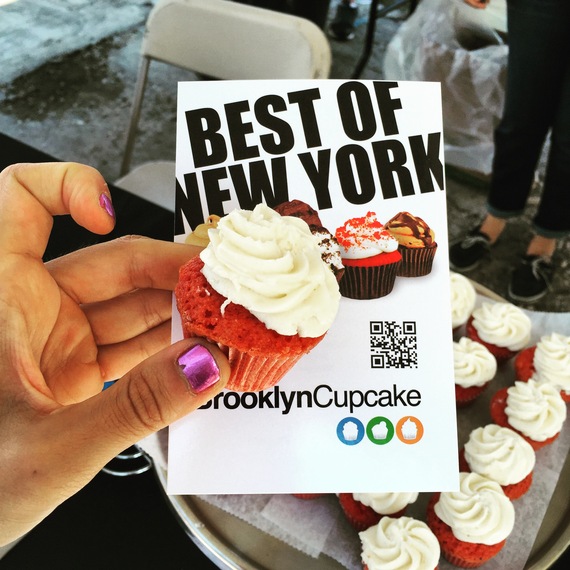 In the city full of little cupcake shops, what could be so special about Brooklyn Cupcake? The bold and unique flavors. The owners of Brooklyn Cupcake celebrate their cultural backgrounds by infusing the traditional flavors of Puerto Rico and Italy in their cupcakes. Although flavors like Tiramisu and Coquito are popular, I loved the bite-sized Red Velvet Cupcake made of moist buttermilk cake with a hint of cocoa, and then topped with a dollop of traditional vanilla cream cheese frosting.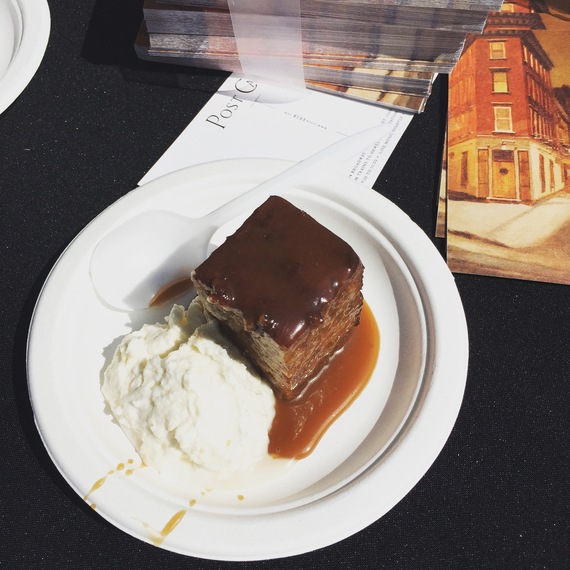 Warning: biting into this warm date cake will make the inside of your mouth explode with happiness. The dense date cake is topped with a generous pour of buttery toffee sauce and a side of fresh whipped cream, which help to moisten the cake. Don't be surprised if you find yourself licking that last bit of toffee sauce on the plate.
Coconut Macaron from Bakeri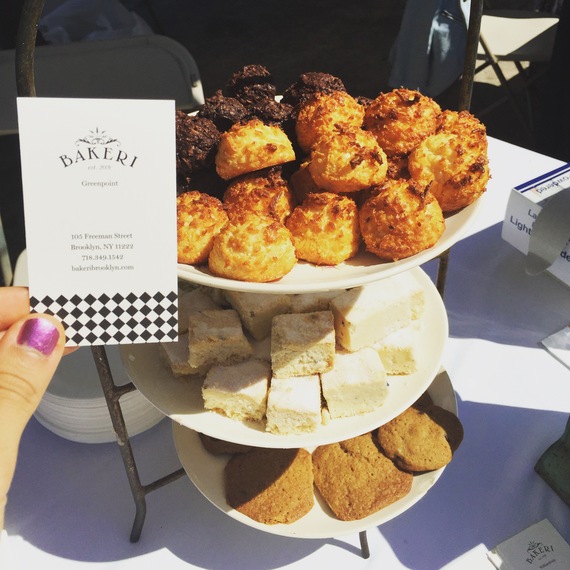 It's tea time at Bakeri! This three-tiered bakery goods featured coconut and chocolate macarons, shortbread, and cardamom cookies. The coconut macaron I tried was just sweet enough without giving me a sugar high, while the slightly toasted coconut flakes on top added a bit of crunchiness.
Assorted Ice Cream from OddFellows Ice Cream Co.
OddFellows is not afraid of bold flavors...especially if it means churning in a bit of savoriness to a batch of ice cream. The Black Pepper Strawberry flavor - made of black pepper ice cream swirled with strawberry compote - was surprisingly addicting. The description of the ice cream flavors were also very accurate: the Caramelized White Chocolate had real, big chunks of white chocolate and almond pieces!
Berry & Balsam Misfit from Tea and Jam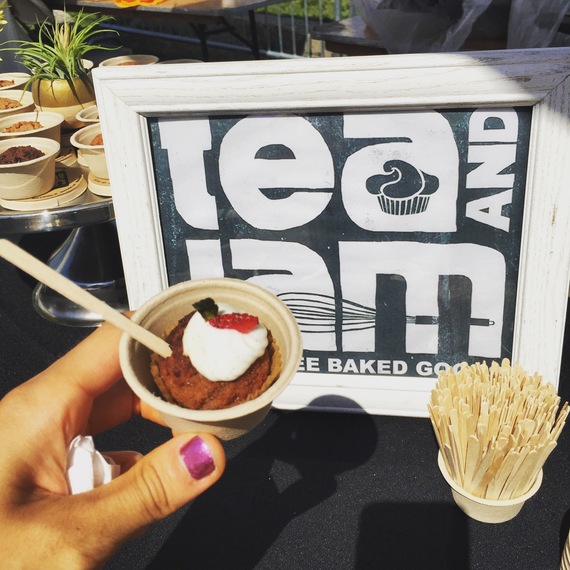 Not quite cupcake, not quite muffin...it must be a misfit! This delicious morsel of "misfit," which is also grain-free, low carb, and protein-dense, had everything you love about the muffin (i.e. the crispy muffin top) and the cupcake (i.e. moist inside and creamy frosting). The Berry & Balsam is made of strawberry flavored coconut flour batter with lemon and balsamic vinegar, and topped with vanilla bean frosting made of coconut milk, raw honey, and vanilla bean.