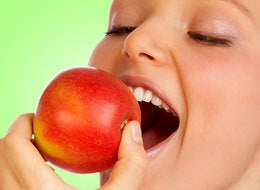 After imagining all his life that he would never, ever be anywhere near this desperate, an unemployed friend of mine recently went onto the food-stamp program. When it first kicked in -- it's more of a credit card than actual stamps -- he had to realign his thinking on a major scale. He feels ashamed -- heck, he has a graduate degree and his family used to own hotels. Having been accustomed for decades to eating whatever he liked, whenever he liked it, from natural-food stores and macrobiotic restaurants and the occasional prime-rib house, Brent suddenly had to learn to eat on $6.50 a day. He asked me for advice, because he knows I'm a scavenger. This means I seek out the cheapest food possible. It's even better if it's free. ("Possible" is a subjective term, of course. Because I'm a hypochondriac with a low gross-out threshold when it comes to food, I don't fish my meals out of trash bins, though some do, and I don't begrudge them this.) Brent used to tease me for being the way I am. "You love that free food," he'd smirk. He's had to stop smirking.
So what did I tell Brent?
First, I asked him whether his area has any discount grocery outlets. Selling the exact same name-brand (and often organic and fair-trade) items as do mainstream supermarkets, but at a fraction of the mainstream price, these stores acquire their inventory in closeouts -- often because of company bankruptcies, changes in packaging, or the impending arrival of expiration dates. From staples such as coffee and pasta to exotic ice cream, these emporia are a scavenger's Xanadu. But beware: an inventory based on happenstance is an ever-shifting inventory. That pomegranate yogurt in stock right now might never come this way again.
I also told Brent to check out 99-cent stores and ethnic markets in his area. I'm a regular at our local Chinatown stores, where I am ever-thankful for whatever well-priced produce we can't grow in our own backyard. (And we do grow a lot. Without a yard, Brent can't.)
Brent has another problem that impacts his food-stamp usage. Semi-homeless, he is living in a space without cooking facilities. Nonetheless, it has a sink. So whatever food Brent acquires must be ready-to-eat, or can be prepared just by adding water. His neighborhood supermarket is a mainstream supermarket, but at least it has a bulk section. So I told him what to seek there; it's not Cordon Bleu dining but I've done it and it works: Mashed-potato flakes. Tabouleh. Instant/powdered chili, refried beans and hummus. (Fantastic Foods is one company that supplies yummy versions of these to supermarkets' bulk sections.)
I directed Brent to a story in the Conway, Arkansas Log Cabin Democrat about common-sense culinary dollar-stretchers. Oats top the list, then eggs, ever-versatile potatoes, dried beans and rice -- with fried rice, my own favorite fallback plan, recommended as a filling high-carb but potentially also high-protein family pleaser that comes out to a few cents a plate, even given the notable increase in worldwide rice prices this past year. But Brent would have to borrow cooking facilities for that.
I told him: canned chickpeas with chopped (or powdered) garlic and a spritz of lemon juice. As for that juice -- well, here we rise to the second tier of scavenging, which does not entail stores at all. As urban-foraging organizations such as Los Angeles-based Fallen Fruit want us all to know, America's city and suburban streets are rife with fruit trees growing in public spaces, or whose branches overhang the sidewalk. Pick that fruit. It's free.
So are the food samples announced at web sites such as Hey, It's Free and Free Stuff Times. Brent won't go hungry. He also won't be having prime rib anytime soon, unless someone else is paying. But somewhere between starvation and luxury lies this other realm, familiar in a long-ago America and now becoming real again: Goodbye, fifty-buck meal. Hello, fifty-cent meal. Yes. We can.