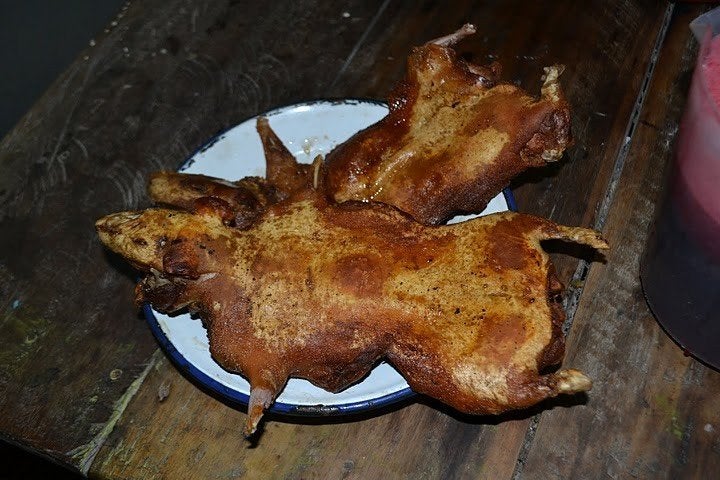 I would never admit this to the average third grader. But at an Ecuadorian cooking school, I dined on guinea pig.
It wasn't my favorite of the many dishes I learned to prepare at this out-of-the way cooking class in Panecillo, a tiny village outside Otavalo, but it was certainly the one that got my classmate's tongues wagging and cameras clicking.
In Ecuador, particularly in indigenous communities, guinea pigs are considered a delicacy. The furry creatures are roasted whole, cute little paws and all, over an open fire. In the local language, Kichwa, the name for this epicurean oddity is cuy, supposedly an imitation of their bird-like peep. They're so highly-prized that a mating pair is considered the ultimate wedding gift, and the parents of the family I lived with in nearby Quinchinche slept outside next to their cuy every night to discourage predators.
Ecuadorians also have a fondness for beetle larvae and a soup made from bull penis, but luckily Claudia Furez-Anrango, the anako-wearing beauty who hosted our cooking class, stuck with some of the more palatable specialties. A creative mix between Incan heritage and Old World dishes, Ecuadorian cuisine is known for its innumerable varieties of potato dishes, its incredible soups and the fiery heat of the aji pepper that's ground into a sauce and served at nearly every meal. To show off, a couple boys from the neighborhood gulped down a pair of the spicy aji peppers growing in the backyard. The resulting dancing and hooting made Spongebob Squarepants look almost catatonic.
Claudia reigns over a big indoor-outdoor kitchen in her family home, the same one used by her mom and three sisters for everyday cooking. Just to get there requires a 15-minute bus ride from Otavalo and a rather precarious walk down a hillside.
It's not only an authentic cooking experience, but a true cultural experience. While we were peeling potatoes for llapingachos, the traditional fried potato and cheese pancakes, adding raisins to the quimbolito batter and folding canna leaves into the packets in which they're steamed, Claudia's mother, sisters and adorable younger brother popped in to nod "hello," grab a spoon and giggle at our inability to properly pinch the sides of an empanada.
Ingredients for the class are either plucked from the family garden or purchased hours earlier at the outdoor market. The cuy that -- dare I say it? -- tasted like chicken was donated by the family next door. And at the end of class, Claudia presented each of us with a hug to go with our pile of recipes.
When she's not arranging guinea pigs spread eagle on a spit, Claudia attends a tourism class. She's learning English and how to grow a small sustainable business that will benefit her family and the small community where they live. We heard about the class -- that isn't likely to show up in the back page ads of Cooking Light anytime soon -- through the Tandana Foundation.
This U.S. based non-profit offers volunteer opportunities in both highland Ecuador and in Mali's Dogon country. Started by motorcycle-riding Anna Taft, Tandana (it's a Kichwa word that means "to gather together") is not about "helping the poor unfortunates" or imposing a particular world view. Rather, it offers volunteers the opportunity to live with host families, participate in their communities and experience their culture firsthand. Sure, we taught vacation English courses, planted trees and worked in a health clinic, but the crux of the program was connecting with someone who looks at life through a different lens.
Sometimes that lens means eating guinea pig.