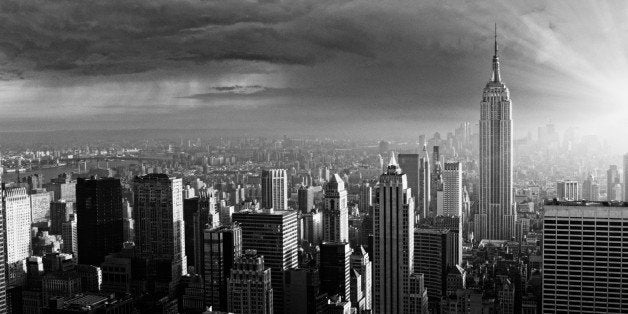 Everyone has to face the facts: New York isn't a cheap city. That said, there is a way to explore The City That Never Sleeps on a budget, including chowing down at the most delicious, affordable, and hole-in-the-wall eats not found on any tourist map.
In order to satisfy every taste bud without spending a ton, make sure to make a pit stop at each of these restaurants!
These no-frills burgers do the trick to satisfy any meat-lover's craving. Plus, they're only around $8 each. If feeling extra hungry, definitely head to Midtown-West for a cheeseburger with "The Works": lettuce, tomato, onion, sliced pickles, mustard, ketchup, and mayo. A good tip is to call an order ahead, since the line can get pretty long.
Skip the Halal trucks that line New York streets, and explore Tribeca for some of the tastiest Pakistani food around town. It's named after a famous teahouse in Lahore, Pakistan, and the food will make any customer think they've just stepped into the Middle East. They have great lunch combos for $7.99 -- a good to-go option considering there is limited seating.
Make sure to visit Chinatown in New York for some authentic (and delicious!) dumplings. Prosperity Dumpling is known for serving a "4 star meal" even though an order of four dumplings is as cheap at $1. Quick tip: If staying at a hotel with a kitchen, buy the frozen dumplings and cook them at home. Fifty dumplings only costs $10!
Arepas, which are made from scratch daily at Caracas, are a must-eat in New York City. These Venezuelan pita-lock pockets are golden brown, dense-yet-spongy, and even gluten free, and are stuffed with cheese, beef, avocado, beans--you name it! Plus, each arepa is only $8. Pick two favorites for a perfect lunch, or order the house-made chips and guac if feeling extra ravenous. There's a sit-down and take-out menu at their restaurant in the heart of the East Village. (Note: there's a restaurant in Brooklyn, too!)
No visit to New York is complete without a slice of pizza, and it's hard to argue with a pizza place named this. Best Pizza, located in Williamsburg, Brooklyn has slices, sandwiches, and subs perfect for lunch or dinner. Go with a grandma slice, or branch out and get the meatball sub. The atmosphere is chill, and the pizza is known for having a smoky crust and a tangy sauce. Plus, they don't skimp on sizes! If traveling with a crowd, make sure to order their famous white pizza pie for $21.
Looking for some Bahn Mi? Look no further than Cobble Hill. Bahni Mi is a Vietnamese term for bread; here, they take baguettes and toast them with butter or mayo, then stuff them with perfectly spiced chicken, grilled pork, or even sardines. The best part is each sandwich is just $7. Wash it all down with a large bubble tea under $5!
Sit down and stay awhile without blowing through the bank at this Mexican joint in South Williamsburg, Brooklyn. From nearly a dozen different tacos to choose from (that are only $2.50 each!), to $3.50 quesadillas and enchiladas, it's impossible to go hungry. The service is quick, the atmosphere is comfortable, and both the food and price is spot on.