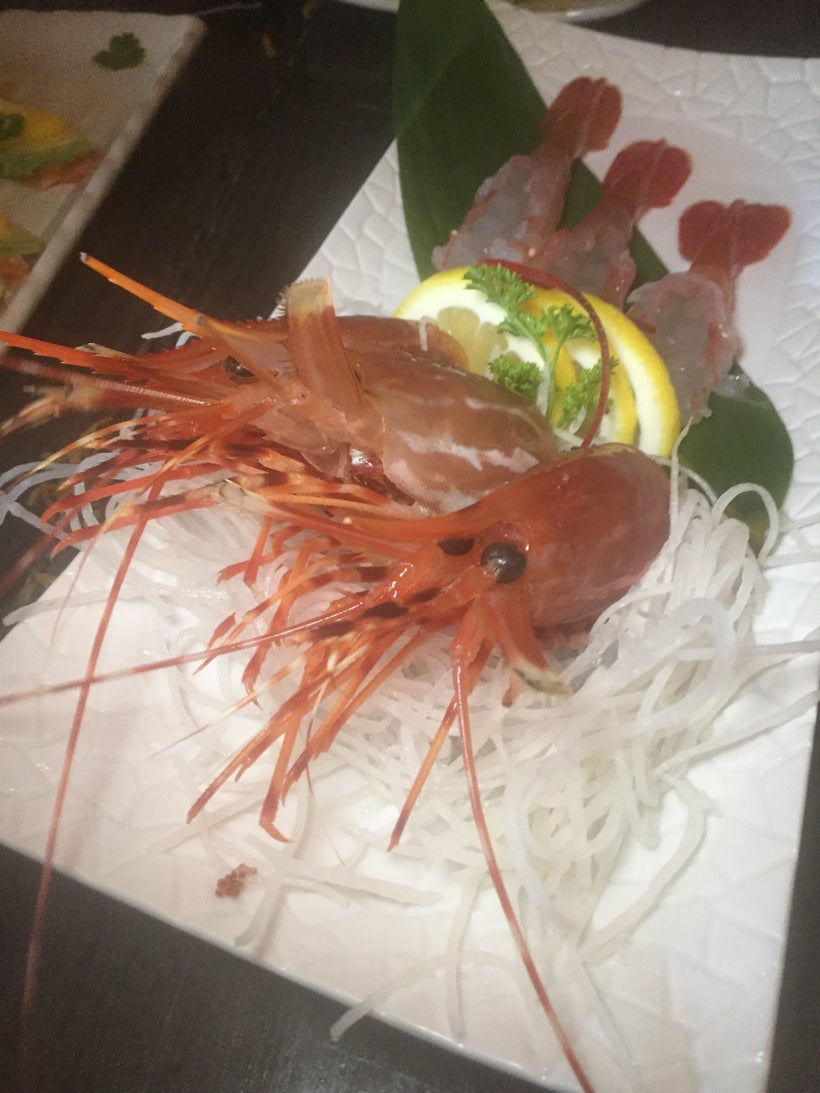 Those famous words uttered by Dr. Frankenstein, "It's alive, it's alive," echoed in my head at the thought of eating a live shrimp. It all started so innocently. I was having lunch with a good friend of mine when I noticed a neon sign showcasing the day's lunch specials. The words "Live Shrimp" immediately caught my eye.
I said that means the shrimp was alive just before they serve it to you, right? And my friend Chris Temple, a know it all of sorts, and I mean that in a good way as he's well versed on many topics, corrected me and said, "No, it's a fuckin' live shrimp. It's alive and it's fucked up."
Yes, my 'compadre' speaks in a colorful manner, but he was dead serious when he said, "It's looking at you in fuckin' terror," talking about the live shrimp as it's served as a meal while it is indeed still alive.
It made me think, could I bring myself to eat that? I'm game to eat just about anything, at least once, but the idea of killing something myself for what is pretty much a novelty didn't seem right. I asked Temple if he could do that and his first reaction was no, but then after a few seconds he switched to maybe.
I'm what most people would consider a "foodie," whatever exactly that means, so I tend to think of myself as game to try anything. I mean, if I'm a food critic, shouldn't I be open to all possibilities? But the notion of eating a live shrimp stuck with me and bothered me slightly.
I started asking everyone I ran into if they could eat a live shrimp? With the exception of one person who had already done so and liked it, the consensus was unanimous, no! Most people didn't have an issue that an animal is killed for their meal but they couldn't do it themselves, or have it watch them as they ate it alive. My friend Celia, a Pescetarian, even commented about the fear one would ingest eating a live creature. But I've heard meat-eaters joke how good fear tastes (just like in the dinner scene in the film August: Osage County).
After a lot of going back and forth, and a little soul searching to be honest, I decided I'd give it a try. Or at least attempt to do so. So Temple and I went back to Slow Fish in the Miracle Mile district of Los Angeles for lunch where Chef Sean An would serve us live shrimp. I felt a bottle sake would be needed for some liquid courage or at least to wash down the guilt of eating something while it was still alive.
The practice of eating live seafood, from oysters to lobster to shrimp to octopus, is widespread. Marinate live shrimp with alcohol and it's called "drunken shrimp." Eating a live shrimp while it's body wiggles and its antenna waves is called "dancing shrimp," which is what we were going to eat. I heard multiple versions of how to eat live shrimp, from killing it with your bare teeth to having to cut off its head yourself at the table. More reasons why I was getting squeamish come game time.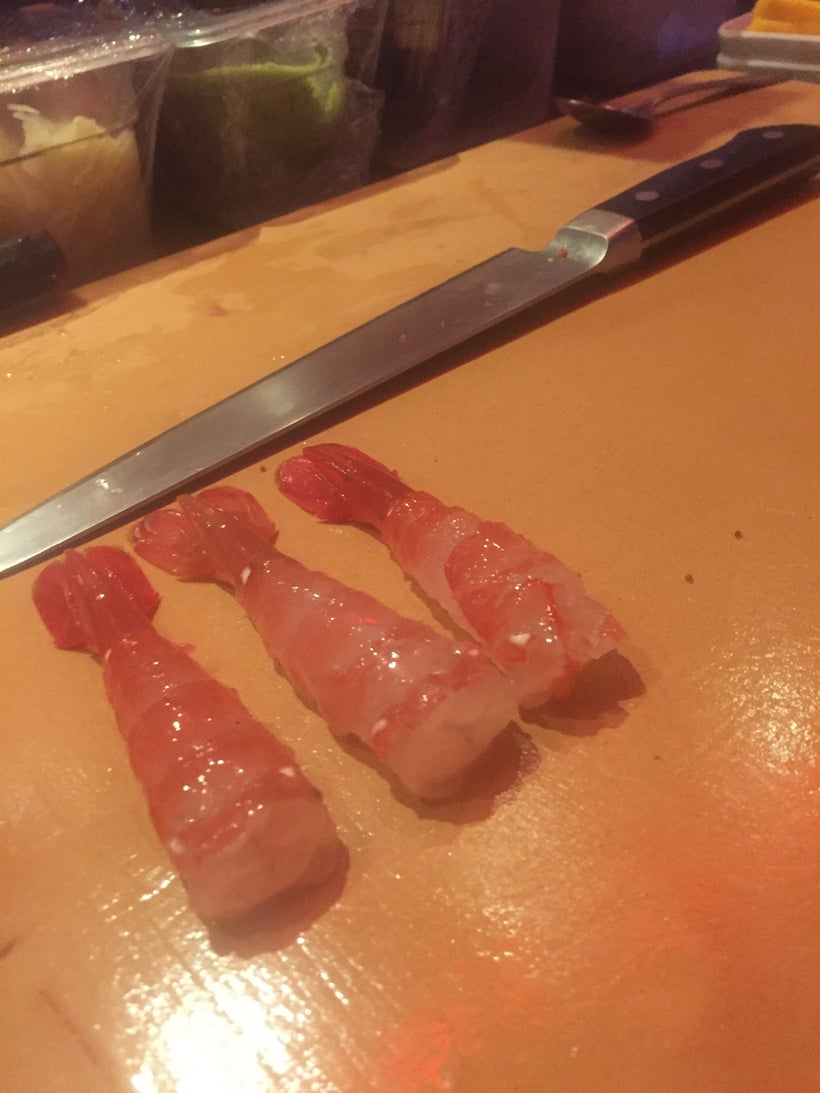 But Chef Sean An told us he would do the preparations himself, although that didn't mean I didn't want to watch. Running to Chef's cutting board, I couldn't help but notice that the shrimp made a mad dash for it as soon as they were brought out. As Chef collected the shrimp, he cut their heads off. That was followed by removing their shells and quickly arranging the plate just before serving us the shrimp. According to Chef Sean, the shrimp head is sharp and can cut a guest and the idea of letting guests handle a knife to kill a moving object just isn't good business.
So as our shrimp were staring at us, head and antennas moving about, we picked up our shrimp and ate them. The taste was bland to be honest, although it was very fresh and clean. But it almost didn't seem worth it as the heads kept moving about even after we had eaten the shrimp bodies. And as Chef collected our plate, the heads, one in particular, really started moving wildly. Then the heads were deep fried and served to us again. Temple wolfed his down in seconds flat as I took my time to even try. Guilt maybe? At first it was just crunchy but as I started eating the meaty head (would you even refer to it as the brains?) I really started to relish the taste. It was so rich and flavorful. It caught me off guard as I didn't expect it to be a real delicacy; a bargain for only $9 a shrimp.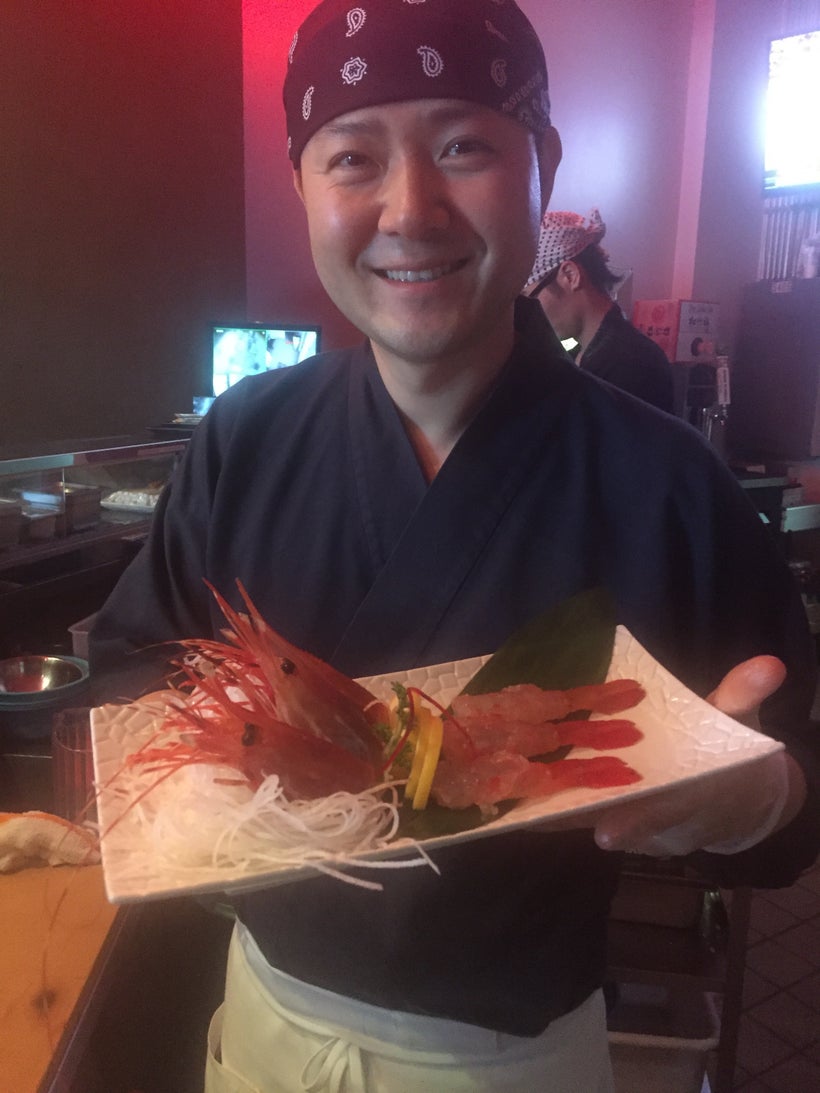 A few weeks later, we were back at Slow Fish with a large group for my birthday lunch. Temple and I were willing, ready and looking forward to more live shrimp. And this time we had two more willing participants. A couple of people were on the fence but backed out as they just couldn't bring themselves to do it. As Temple and I cheered our shrimp bodies together, I said "Salud" and he howled in laughter as we chowed down while others at the table starred in absolute horror. My friend Megan felt guilty as others looked on in disapproval, so much so that she couldn't even eat her fried shrimp head—more for the birthday boy!
I've heard stories of eating live lobster as it's claws are tied together and that just seems excessively cruel. I've watched youtube videos of people eating live octopus and that just doesn't seem pleasurable—plus it seems dangerous as its tentacles can stick to your throat and choke you.
Eating live shrimp wasn't dangerous but it did make me think how far would I go for a meal? In the past I've toyed with the idea of going vegetarian or Pescetarian but since that choice wasn't really a moral one, I decided it didn't really make sense to me as a food critic. But never say never. But for now, I'm up for culinary challenges I guess, just like Adam Richman (Man v Food) or Anthony Bourdain.
Yes, the shrimp was alive and I ate it and I liked it. God only knows what's next?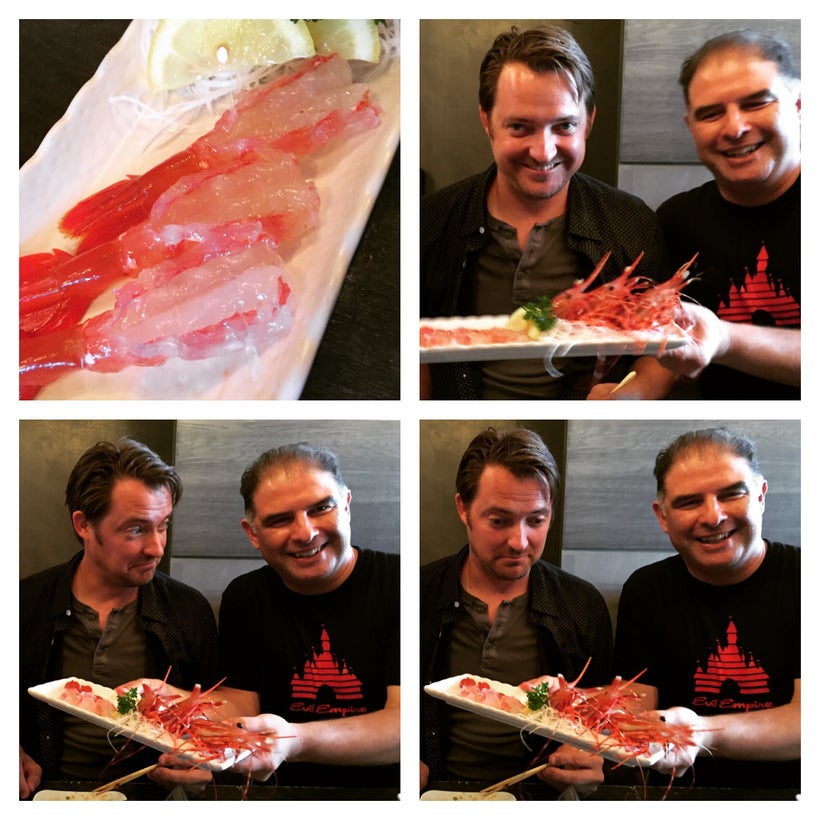 Calling all HuffPost superfans!
Sign up for membership to become a founding member and help shape HuffPost's next chapter
This post was published on the now-closed HuffPost Contributor platform. Contributors control their own work and posted freely to our site. If you need to flag this entry as abusive,
send us an email
.