Cape Town

A few months ago my husband and I decided to tick off a bucket list destination, after debating on Toyko and Cape Town, the decline of the Rand sealed our trajectory to South Africa. I carefully studied the Western Cape's safari's, wine country, hiking trails, culinary scene and mapped out our 11 day holiday. Best known for for its natural beauty, sandwiched between the magnificent plateau Table Mountain and the icy Atlantic, Cape Town is so much more than a pretty face. From the wine estates of Constantia to the colorful homes of Bo Kaap and the shacks of the suburban townships to the hipster enclave of Woodstock, Cape Town is a cultural cocktail with a rich history to say the least. I was told that 11 days in the Western Cape was too much time, the truth is it was the perfect combination of discovery and relaxation.
It was just enough time to spend a lazy Saturday at Camp's Bay beach indulging in langoustines at Zenzero and an evening watching Sixto Rodriguez perform Sugar Man to a sold out crowd. It was just enough time to hike Lion's Head then reward ourselves with dinner at V&A Waterfront and drinks at Cape Town institution House of Machines. It was just enough time to rent a car and explore the rigid cliffs along Chapman's Peak drive before stopping off at Boulders Beach to visit the infamous penguin sanctuary then climb Cape Point to the southern most tip of Africa. It was just enough time to meander in the clouds atop Table Mountain and get lost at Kirstenbosch Botanical Garden's searching for the Tree Walk Canopy before late night dim sum at Haiku. It was just enough time to embark on a safari nearby and spend a few days exploring the vineyards of Franschoek. Above all it was just enough time to explore the Western Cape's notorious wine and food scene, a scene that did not disappoint, here are 8 to try.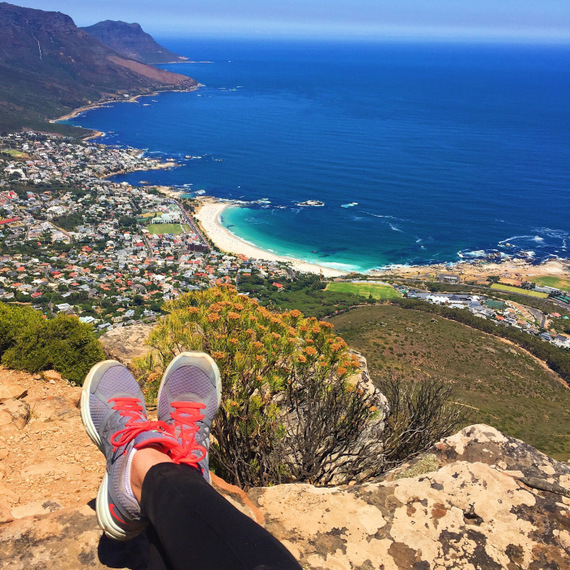 When you can't get a reservation at Cape Town legacy The Test Kitchen, #1 restaurant in Africa and the #22nd in the world, you make a reservation at sibling establishment, The Pot Luck Club. Mastermind behind both restaurants, Chef Luke Dale Robert's reputation is synonymous with great food with influences from South America, Europe, Asia and Africa. The Pot Luck Club has quickly become one of the coolest dining rooms in Cape Town taking up residence atop the Silo in Old Biscuit Mill in the heart of regentrified neighborhood, Woodstock.
The space illuminates in 360 vista's of Cape Town and marries edgy industrial finishings with art gallery sophistication. An open kitchen provides behind-the-scenes adrenaline, a glimpse into the magic that goes into the restaurants tapas-style menu, appropriately reminiscent of a pot luck. The avant-garde chef pairs unexpected ingredients like Springbok Carpaccio with burnt honey and Chocolate Fondant with Halva Ice Cream. Be sure to make a reservation a couple months in advance and don't miss the Smoked Beef Fillet with black pepper and truffle cafe au lait and the Ceviche with Jalepeno, Tigers milk and quinoa.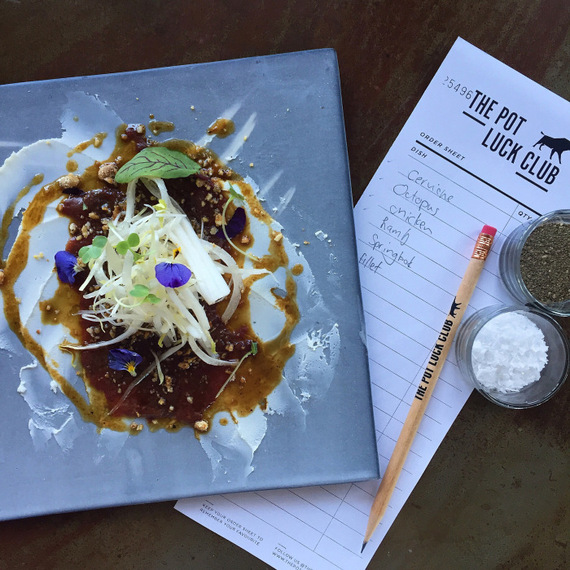 Tucked away behind the blonde waterfront in Camp's Bay sits The Codfather, home to the best fish I had in Cape Town. Appropriately named as its been the godfather of seafood to the preppy suburb for the last 17 years, the unassuming restaurant sits above a local watering hole in the shadows of the Camp's Bay promenade. Part casual fresh fish eatery, part sushi bar complete with an a conveyor belt of raw Japanese delicacies, The Codfather does justice to fish both ways. The establishment doesn't believe in advertising and has earned its word of mouth reputation all without a menu. Diners are welcome to select their fish and sauce which are then subject to a secret spice blend and a flat top grill.
3. Neighbourgoods Market - Old Biscuit Mill
No trip to Cape Town would be complete without a Saturday morning spent at the shabby-chic Neighbour Goods Market at Old Biscuit Mill, a mecca for gastronomy and artisan goods. The vast farmers market spans two warehouses of food stalls from around the globe, from seafood paella, poutine and kebabs to curry, risotto and vegan sushi, there is literally something for everyone. With overwhelming options, don't miss The Test Kitchen's obscure stall serving up the best Eggs Benedict over rostis you'll ever taste.
Aside from the monogrammed aprons, the restaurants presence is rather discrete, look for Luke's Rostis signage near the entrance and a long queue, a sure sign that Chef Luke's hollandaise and potato fritters are the main event at the farmers market. Go to breakfast but stay for lunch, sip on an Origins coffee in-between and meander through the stalls of handmade leather, custom jewelry and statement t-shirts. Don't leave without snapping up a few bars of handmade Cardamom and Orange Dark Chocolate bars from local chocolaterie Cocoa Fair.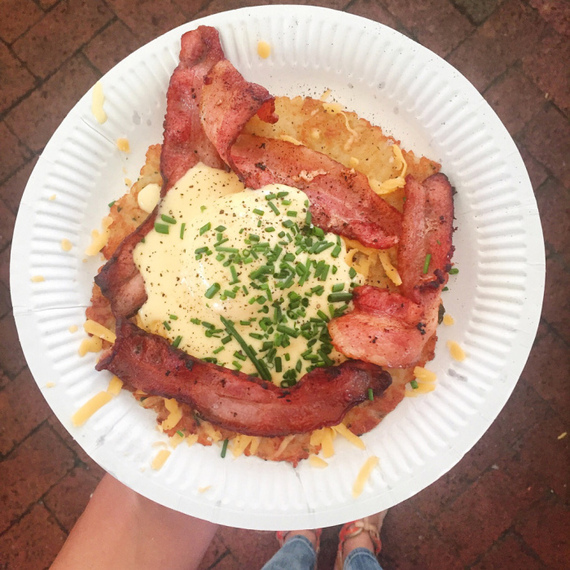 You'll find Honest Chocolate just off of Cape Town's latest epicurean empire, Bree Street, situated between a row of trendy eateries. Honest both literally and figuratively, the discerning chocolate shop is home to so much more than just raw, organic chocolate and vegan, gluten free desserts. If the vintage finishings and cheeky packaging don't lure you in, the Sweet Potato Chocolate Chunk Brownies or Spiced Nut and Salted Caramel Dark Chocolate Ganache Tart, will. Don't leave without trying Honest's sweet take on a South African savory classic, Bunny Chow, which sees a hallowed loaf of banana bread stuffed with chocolate macadamia nut spread served with ice cream.
Late at night the chocolate shop doubles as a narrow corridor to a secret gin bar in the courtyard, a tiny space which is laden with checkered titles, brick walls and dainty lights and is overrun with hipsters. Be sure to grab a hand full of the chocolate-dipped Peanut Butter Pretzel Sandwiches for a late night snack before making your way over to the bar.
Franschoek

Not only famous for its rustic vineyards and sprawling estates, the sleepy town of Franschoek is at the epicenter of South African gastronomy. Franschoek may be home to on one of only two South African restaurants atop the World's Best 100 Restaurants and farms boasting some of the highest quality ingredients in the country, but grapes are the heart and soul of this picturesque village. With the importance of wine to the Western Cape, a trip to South Africa wouldn't be complete without a few lazy days in wine country, a joyride on Franschoek's notorious Wine Tram and an afternoon sipping on Cap Classique, South Africa's rendition of Champagne, at Delaire Graff Estate.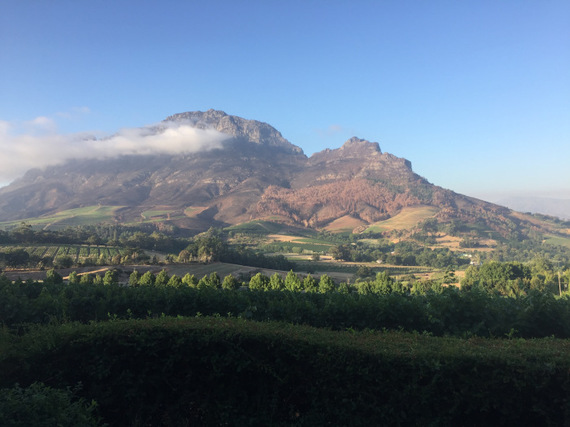 The Franschoek Wine Tram allows you to see South Africa's beautiful wine country from the comfort of a charming open air trolley. With 5 or 6 stops, depending on whether or not you opt for lunch at one of the estates, sobriety isn't an option. The half day excursion includes several wine tastings complete with a history lesson and inevitably, new friends. With a choice of four different routes, each including stops at varying wineries, do your research and choose wisely. We opted for the Red Line which strategically stops at both Maison and Grand Provence, both of which came highly recommended.
6. The Kitchen at Maison Estate
Do plan lunch at The Kitchen at Maison Estate, a stop along the red and yellow line tours. The urban-inspired design mecca meets rural bistro is finished with stark white walls, funky chandeliers and wooden picnic tables and spills out into a quaint garden. With no lunch reservations available, we talked our way into dessert and a wine tasting and experienced firsthand the interesting flavor combinations that Chef Arno Janse van Rensburg is so famous for. Don't miss his sophisticated dessert simply known as Dark Chocolate, Banana, Coffee & Beer alongside a crisp glass of Maison's finest Chenin Blanc, among my favorite wines on the tour.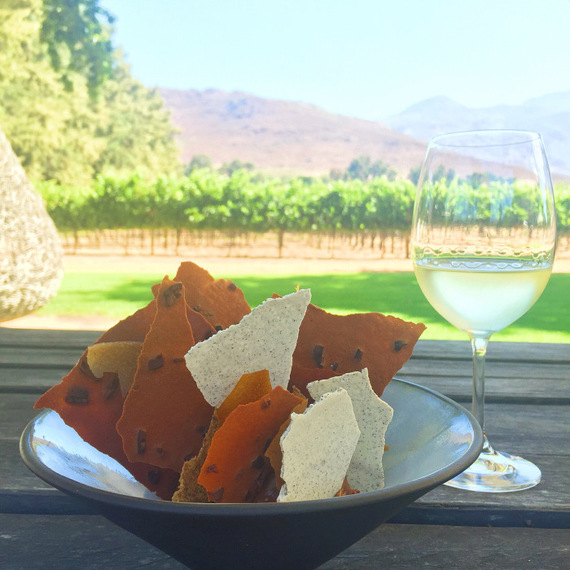 Nothing screams farm to table more than dining on a farm and in a barn, not just any barn, an old cow shed. Set amongst a garden and converted into a rustic, authentic and luminous restaurant, Babel is nestled among the magnificent Cape Dutch farm hotel Babylonstorn dating back to 1692. Inspired strictly by seasonality and the 300+ plants available on the property, Babel's farm-to-fork philosophy certainly takes center stage, don't be surprised if you find over a dozen fruits or vegetables on your plate. Don't miss (if available) the Fillet of Beef with Japanese mustard dressing and the Pistachio, Rosewater, Raspberry and Chocolate Meringue along with a glass of Babylonstoren's very own Pinotage wine, a red grape unique to South Africa.
Set against a colorful and carpet-laden dining room among a sea of baby boomers, The Tasting Room is home to some of the most inventive and playful plates we consumed in the Western Cape, a true paradox. Chef Margot Janse most certainly deserves a round of applause for her African-inspired menu and her ability to keep The Tasting Room among the World's Top 100 Restaurants for 12 consecutive years until 2015.
Chef Margot certainly doesn't play it safe when it comes to her cuisine, with an earthy visual approach and a nostalgic emotional approach, her use of ingredients are bold and original. From the brioche biscuit with brown butter served in an empty tin of sardines to a pile of caramel with a variety of chocolate intended to resemble a Dutch potato immersed in mud, the 8 course surprise menu lives up to its promise. Do opt for the wine pairing and allow 4 hours for the meal, reservations needed.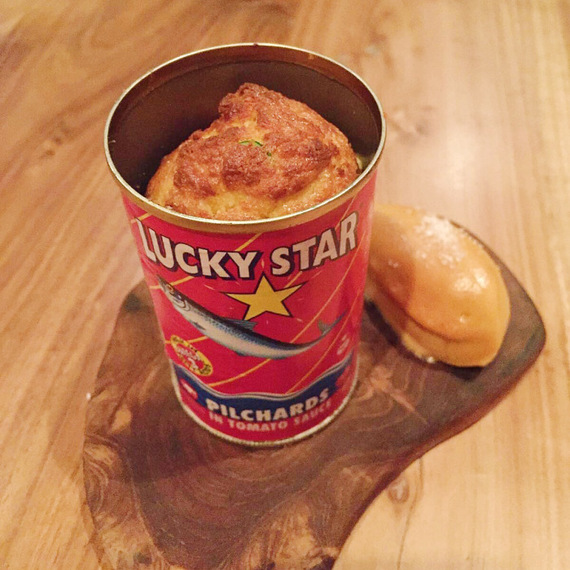 Related