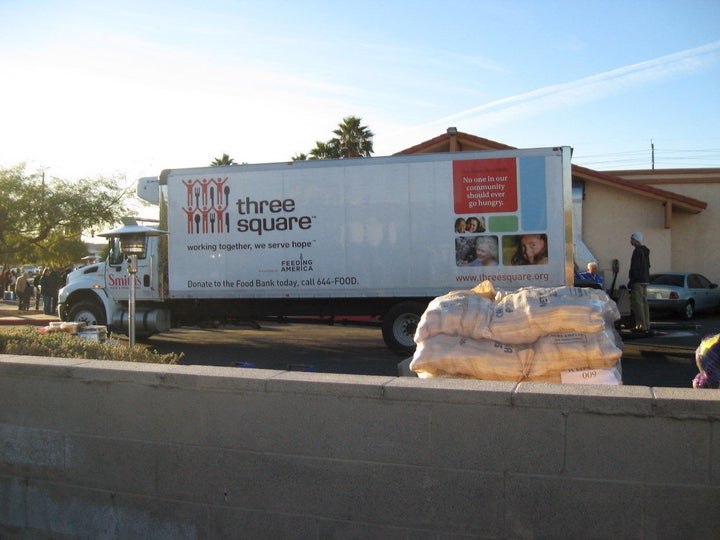 The wretched state of Nevada's economy is being felt by a widening swath of the state's social and economic classes, says Jody Tyson of Three Square, Southern Nevada's largest food bank.
I joined Tyson, a public health professional, at a Las Vegas food distribution point at 7:30 a.m. Wednesday, January 25. She explained the situation as we unpacked loaves of bread from large crates outside of Living Faith Assembly. The weather was cold, about 50 degrees. To the right of us an estimated 200-250 people in hoodies, including women with children, stood in line.
Tyson said that they start lining up at 5 a.m. because they are afraid that some items would run out. This week, there was not enough meat.
"At the beginning of the month, when food stamps are distributed, we usually have less than 200 people. By the end of the month, it is higher," she explained.
Nevada still suffers from the highest unemployment rate in the nation -- 12.6% as of December 2011. It also has the highest foreclosure rate. According to Three Square, one in six Southern Nevada homes are "food insecure," meaning hungry.
This is not limited to Las Vegas's poorer areas. Tyson says that Summerlin, an affluent neighborhood west of the Strip, has 14% reported food insecurity. She is careful to say, "reported."
"These upper-middle class areas were not designed to have food distribution points. No one ever thought they would be needed," she explains.
"It is also a case of 'not in my backyard'," she adds.
Tyson says that many residents of these neighborhoods drive to the poorer neighborhoods to pick up food.
"People are embarrassed. They have never been in this position before. They don't want anyone seeing them."
She points out that there is only an 8% rate of utilization of food benefits in Summerlin.
"People have a middle-class mindset. They often don't know they're eligible. They may think they're only going to be like this (in economic straits) temporarily. If they research benefits, it means their situation is not going to change."
At least, probably not in the immediate future.
A recent story in the Las Vegas Review Journal estimated that some 30% of Nevada's long-term unemployed who have exhausted their benefits are not aware that they are eligible for state and local help. According to the Journal, Three Square has set up a bilingual team to help people fill out Supplemental Nutrition Assistance Program (SNAP) -- formerly known as Food Stamp -- applications. They have enrolled over 7,500 people in the past two years.
In the State of Nevada, more than 329,000 persons were enrolled in SNAP at its high point in 2011. In Clark County, the state's most populous county with Las Vegas as its seat, 50 percent of students in the school district, who are enrolled in free and reduced-price meal programs during the school week based on their family income, also receive weekly food packages from Three Square so that they will not go hungry over the weekend.
In 2008, Three Square distributed 10 million pounds of food. This year, the food agency will distribute some 26 million pounds.
Three Square reports that in the federal year 2010, SNAP recipients in Nevada received $414,596,369 in benefits which stimulated the economy by $746,273,464. According to the Journal article, this occurs because, based on USDA calculations, every $1 in food stamp benefits generates about $1.73 in economic activity in Nevada.
"Grocers and farmers pay their employers and suppliers, who then shop and pay their own bills," the Journal explains.
USDA statistics show that SNAP has grown from 26 million recipients in 2007 to a record 46 million around the nation today. According to the U.S. Census Bureau, nearly 50 million Americans are living in poverty, the highest number since 1960, when record keeping began.
Even when enrolled in the SNAP program, people don't have it easy. To demonstrate the every day reality for SNAP recipients, Three Square recently held a public, participatory, SNAP experiment. Volunteers in Southern Nevada willingly lived for a week on a budget of $4.06 a day, for food -- the average daily benefit for a single person on food stamps. That amount goes down to $3.93 in a two-person household; $3.63 in a three-person household; and $3.39 each in a family of four or more. They were given a budget and sample shopping lists, and asked to report their experiences in a blog on Three Square's website. Among the 100 participating households were those of Mayor Carolyn Goodman and Assemblywoman April Mastroluca. Two Three Square participants were Jodi Tyson and Three Square COO John Livingston.

A SNAP participant identified as "Tess" mentioned the cost of milk in her SNAP Experience Blog entry: "I had to opt for a small container of milk to integrate a bag of greens and a couple of pears into our diet. I am not an unlawful or covetous person, but watching a total stranger nibble on (presumably) a candy bar while strolling down the street almost made me run over her with my car ...I promise to do better tomorrow."
Another, named 'Jocelyn,' wrote, "I can't think! How do children who skipped breakfast or even more meals concentrate and learn in school?" She added that she was relieved she did not subject her children to the SNAP Experience.

Las Vegas Mayor Carolyn Goodman blogged, "What have I been missing? Well, I didn't get to put any fruit on my meal plan this week. And there aren't any vegetables in my day. It's a good thing that I love tomato soup!"
As the SNAP Experience reached its end, Jocelyn wrote, "For me, it will end. I am counting the days and I think of the families that don't have an end day for their struggles."
A film called "Food Stamped," available at Las Vegas public libraries, on Netflix and elsewhere, explores the experience for those who missed it in Las Vegas.
Darcy DeMarco was not able to take part in the SNAP experiment, but does write about social issues in Nevada. This is her first piece for Off the Bus. If you would like to contribute as a citizen journalist to The Huffington Post's coverage of American political life, please contact us at www.offthebus.org.
Popular in the Community